LGA2011-3
Last week MSI introduced its new X99A Workstation motherboard, part of the X99 refresh we've seen over the past couple of months following the launch of the Broadwell-E processor line. Despite the name 'workstation', this board is based on the consumer-grade Intel X99 PCH rather than the server oriented parts, and as a result it supports overclocking. Part of the 'Workstation' feature set means that it has qualified support for NVIDIA Quadro PCIe cards, compatibility with ECC memory, and a U.2 connector for storage. The manufacturer claims that the mainboard uses special components that can improve the endurance of the board, although the warranty is still listed as three years. Typically, workstation-class motherboards for Intel Xeon E5 v3/v4 processors in LGA2011-3 packaging are based on...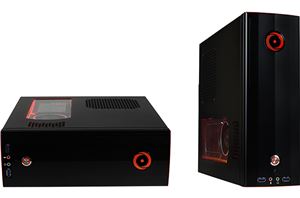 Boutique system builder Origin PC on Monday officially launched its new Chronos SFF gaming PCs. Initially announced at CES 2016, the new Chronos SFF is the latest design in...
12
by Anton Shilov on 3/7/2016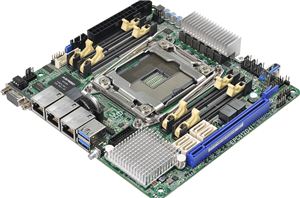 Hot on the heels of the recent announcement of a Haswell-E based mini-ITX motherboard from the main motherboard division of ASRock, the ASRock X99E-ITX, the server division has decided...
10
by Ian Cutress on 5/4/2015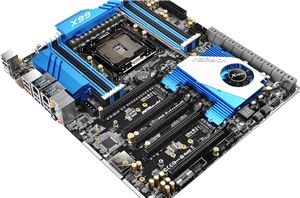 If there is one thing I like about ASRock, it is their ability to do something different in an increasingly difficult market to differentiate. One of these elements is...
58
by Ian Cutress on 3/11/2015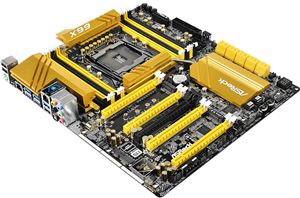 Within each motherboard manufacturer, there is typically a design team for each market segment they are targeting, be that server, channel or gaming. Overclocking is slightly different as most...
17
by Ian Cutress on 12/30/2014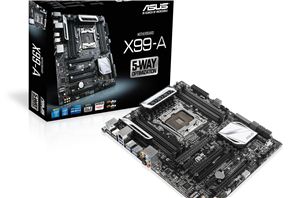 X99 and Haswell-E, due to the price, the performance and the feature set, ends up being very expensive compared to the mainstream. It is an odd state of affairs...
37
by Ian Cutress on 12/22/2014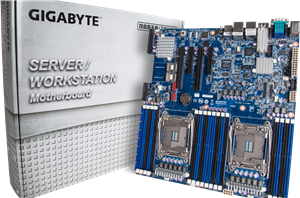 Ever since GIGABYTE's Server team and I first started discussing reviews, it was interesting to see what a purely B2B (business to business) unit could do. Since then, GIGABYTE...
17
by Ian Cutress on 12/3/2014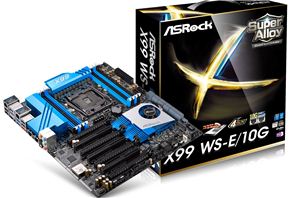 Edit: Read our full review here: http://www.anandtech.com/show/8781/ Regular readers of my twitter feed might have noticed that over the past 12/24 months, I lamented the lack of 10 gigabit Ethernet...
50
by Ian Cutress on 11/24/2014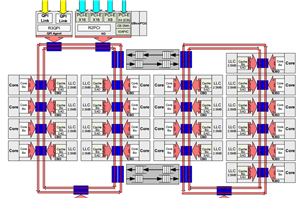 Moving up the Xeon product stack, the larger and more complicated the die, the lower the yield. Intel sells its 14-18 core Xeons from a top end design that...
44
by Ian Cutress on 11/20/2014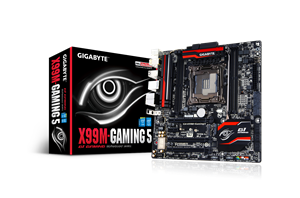 One noted trend in computing is the desire for more compute in a smaller space. Imagine mixing High Performance Computing with Small Form Factors, if such a thing could...
31
by Ian Cutress on 11/19/2014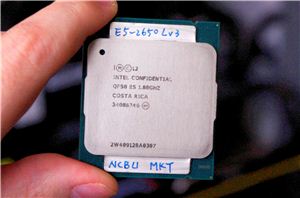 As part of our Haswell-EP coverage, the next two processors on our test beds are both 12 core variants. The E5-2650L V3 is a surprising monster, giving 12 Haswell...
52
by Ian Cutress on 11/6/2014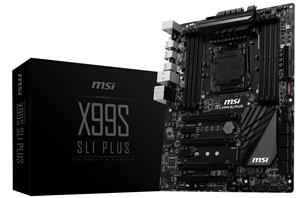 With every generation, motherboard manufacturers are increasingly using social media to provide teasers about their upcoming products. MSI had already shown one of its X99 motherboards, or at least...
10
by Ian Cutress on 8/4/2014