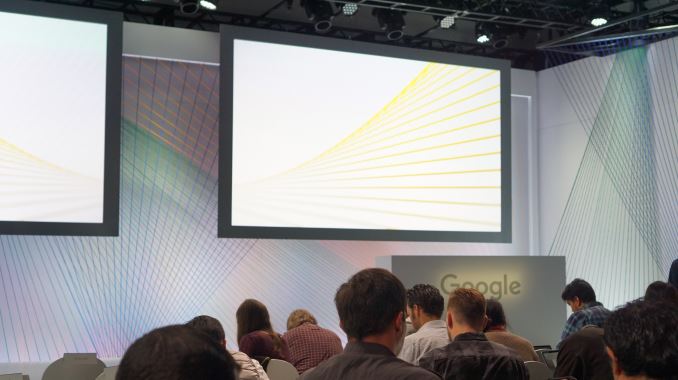 01:16PM EDT - Hands on posts coming soon
01:16PM EDT - And that's the end. Time for hands on
01:15PM EDT - Will be coming in time for the holidays, more info in the coming months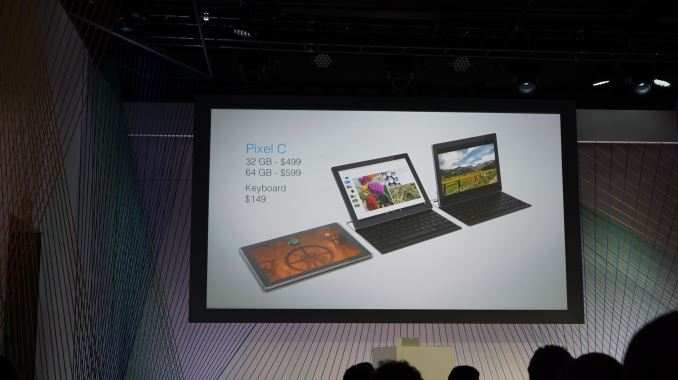 01:15PM EDT - It'll be nice if it has USB alt modes for the Type-C port
01:14PM EDT - Charges with Type-C. Has the double tap to check battery feature from the Pixel laptop.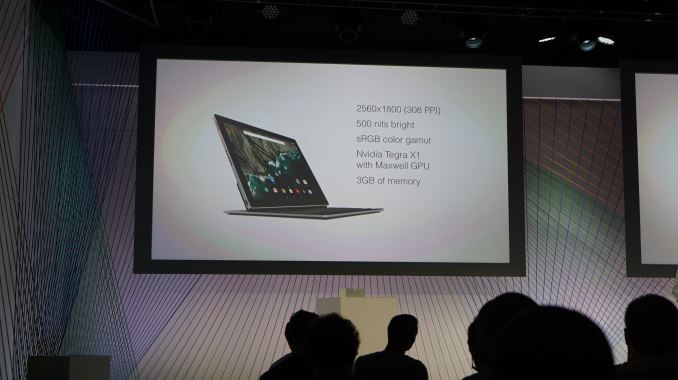 01:14PM EDT - Tegra X1 SoC, 3GB of RAM. Impressive.
01:13PM EDT - Note, sRGB doesn't really mean anything. The normal Pixel is sRGB without being very accurate
01:13PM EDT - 308ppi, 500 nits, sRGB
01:13PM EDT - Keyboard has a small battery, but you don't charge it because it's charged inductively by the tablet when attached to the back
01:13PM EDT - Keyboard attaches to the back using the magnets
01:12PM EDT - Display can be put at many angles without any kickstand or lock-in mechanism
01:11PM EDT - 10.2" display. 1:sqrt(2) aspect ratio. Very close to paper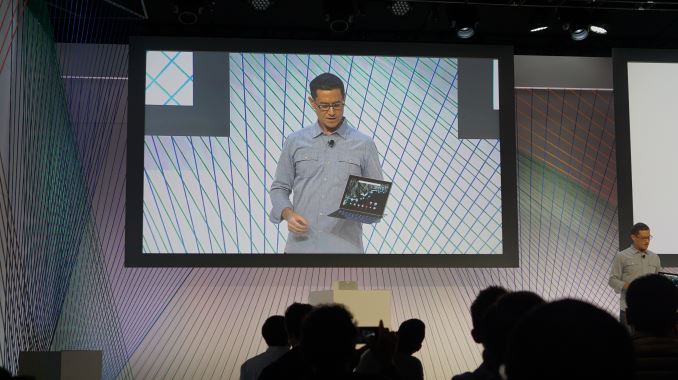 01:11PM EDT - Tablet attaches via self aligning magnets, keyboard connects via bluetooth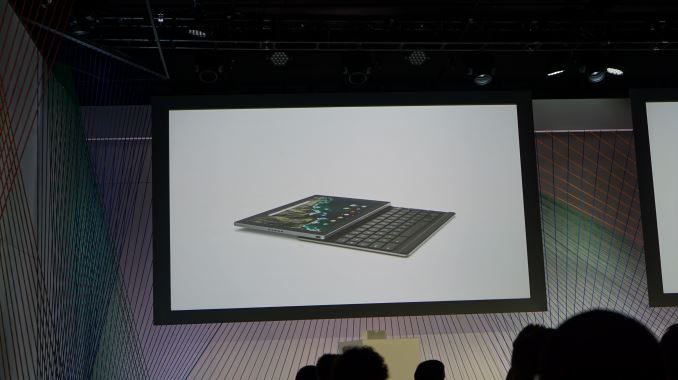 01:09PM EDT - I think they still need to fix the software situation
01:09PM EDT - Google trying to rethink tablets that can be used for productivity
01:08PM EDT - Both Nexus phones and the new Chromecast have been covered. Pixel C is next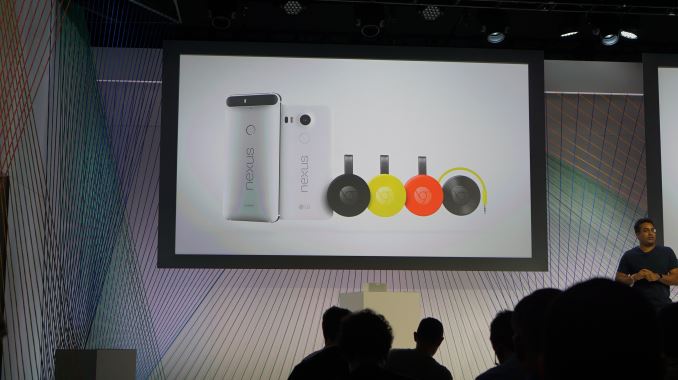 01:07PM EDT - Also $35.
01:07PM EDT - You can also play chromecast songs on several chromecasts connected to different speakers, which could play a song across your whole home
01:07PM EDT - Can mirror any audio on your Android device, and from Chrome tabs on any device
01:06PM EDT - Chromecast audio supports RCA, 3.5mm, and optical
01:05PM EDT - Coming to older generation Chromecast over the next few weeks
01:05PM EDT - Spotify is now supporting Chromecast and Chromecast audio
01:04PM EDT - No complicated pairing for Chromecast Audio. Could this be abused? Hopefully not.
01:02PM EDT - New Chromecast available today for $35
01:01PM EDT - Showing demo of Angry Birds Go. I didn't even know this existed, but now I'm confident that I want Mario Kart for Android and iOS
01:00PM EDT - Games can be rendered on phones and cast to the TV. APIs for this were announced at I/O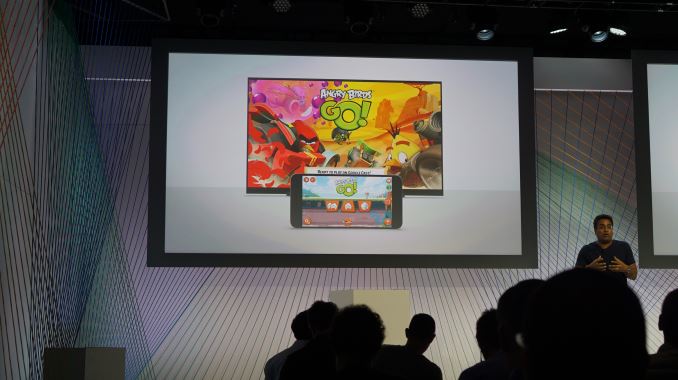 12:59PM EDT - Now talking about gaming
12:59PM EDT - Means your House of Cards episodes will be pre-buffered as you're finishing your current one
12:59PM EDT - It can also allow apps to pre-buffer content
12:58PM EDT - New fast play feature allows apps to pre-buffer the casting, which means it will show up and load on the TV much faster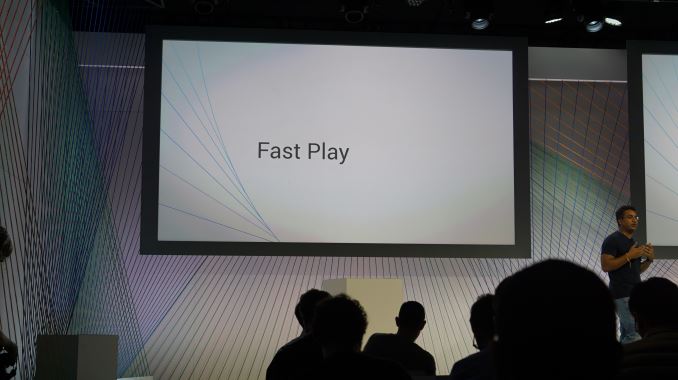 12:56PM EDT - New app also has a devices tab. Makes sense, as now you may have many different Chromecasts and devices controlling them
12:55PM EDT - Big problem with the current Chromecast app model is that you have to check every app to see if it supports Chromecast. New app now shows which apps support it.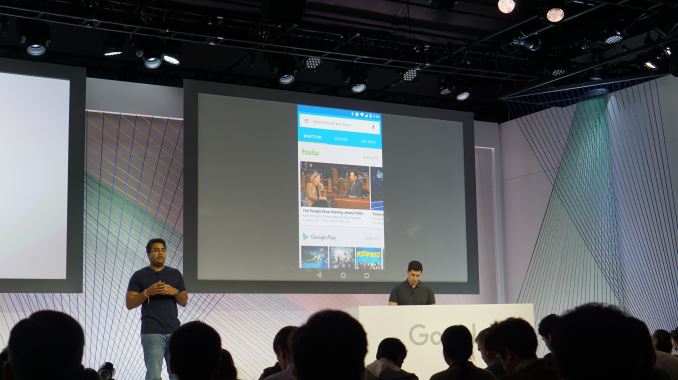 12:54PM EDT - New app shows popular content on Youtube, in apps you have on your phone, sports, etc
12:54PM EDT - New Chromecast app for Android and iOS to allow users to discover new content
12:53PM EDT - Now going over software improvements to Chromecast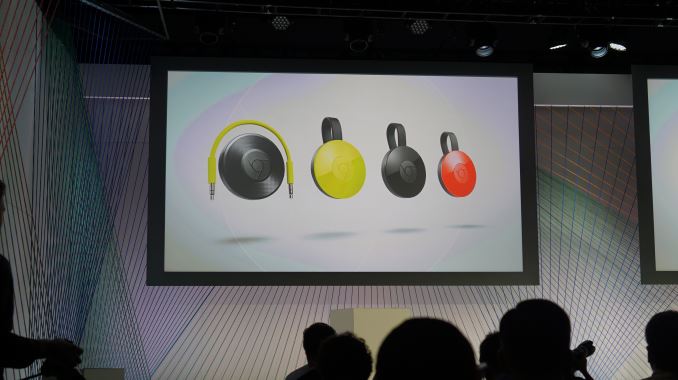 12:53PM EDT - Essentially the same design as the video Chromecast. Uses a 3.5mm cable though, and needs power obviously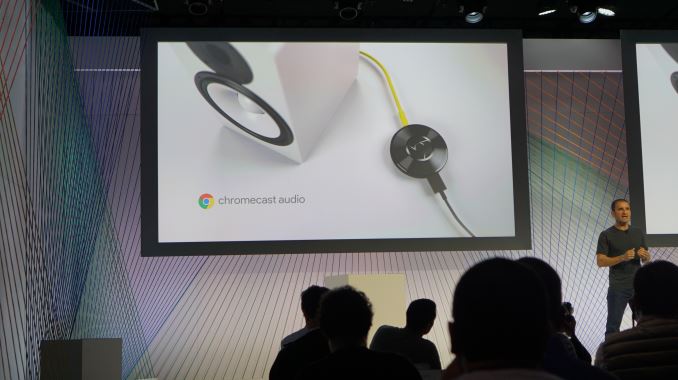 12:52PM EDT - Second new product is Chromecast audio. Connects to existing speakers to allow wireless streaming over WiFi
12:52PM EDT - Google claims superior WiFi performance on the new Chromecast than competing devices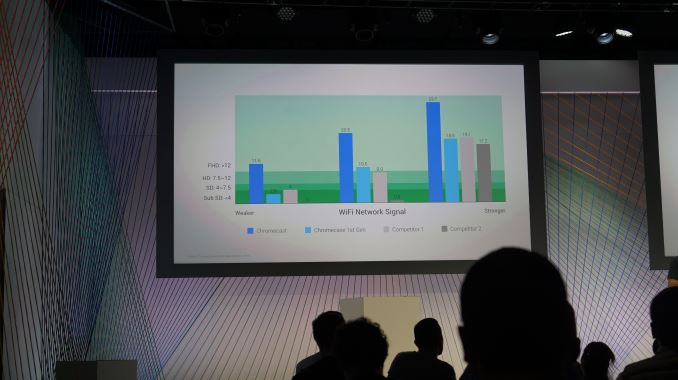 12:51PM EDT - Improved WiFi. Dual band 802.11ac and 5GHz, big improvement over the original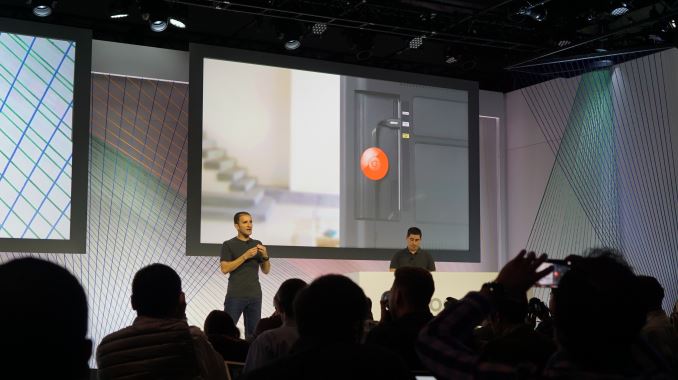 12:50PM EDT - Comes in yellow red and black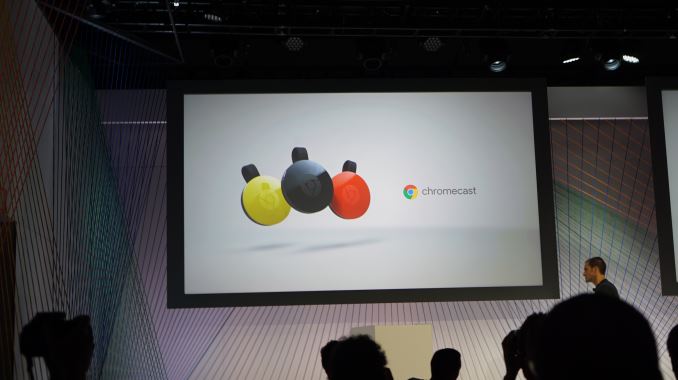 12:50PM EDT - Is now a disk with the HDMI port on a small flat cable
12:50PM EDT - New design
12:49PM EDT - Two new Chromcast products today. First is new Chromecast
12:49PM EDT - More than 20 million Chromecast sales globally
12:48PM EDT - Cast support is also coming to sport apps from MLB and NBA
12:47PM EDT - New content partnerships. Sling TV and Showtime are bringing their content to Chromecast.
12:47PM EDT - Discussing how Chromecast has moved beyond TV mirroring to also enable wireless audio
12:46PM EDT - Hopefully a hardware update coming. Chromecast currently doesn't support above 1080p30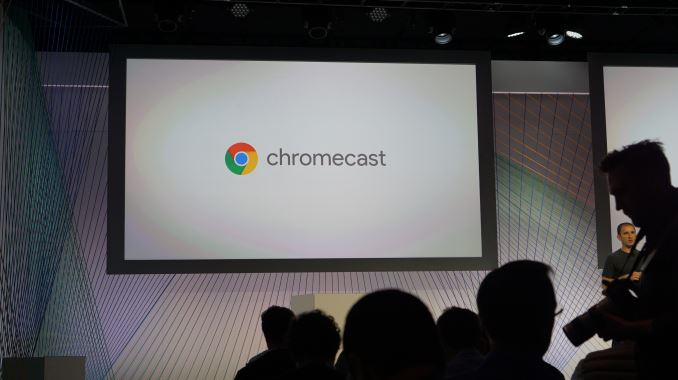 12:45PM EDT - Now moving on to Chromecast
12:45PM EDT - Scrolling in Google's Photos app demo is really janky, I wonder if anyone is working on fixing this?
12:45PM EDT - The application intelligently displays on the TV. While you're seeking through the app you don't see that on the TV, which is better than mirroring
12:44PM EDT - Photos app works with Chromecast. Can cast photos to TV
12:44PM EDT - Discussing a better way to share photos than huddling around a tiny 5" rectangle
12:43PM EDT - This feature is coming this week to Photos on Android and iOS
12:43PM EDT - Can give nicknames to people and associate their photo. You can then make searches like "Maggie Hiking" and Photos will show photos that contain that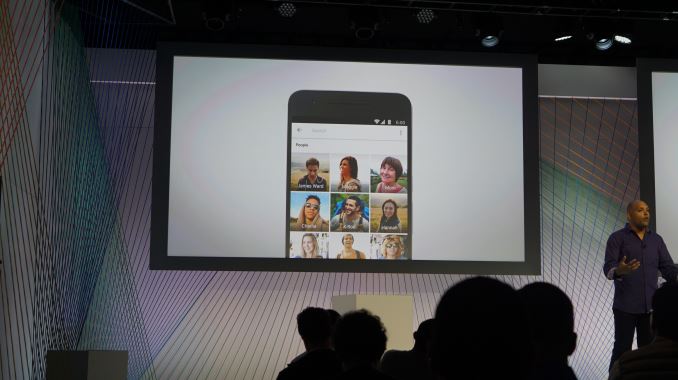 12:42PM EDT - Discussing new search abilities and how they're enabled.
12:42PM EDT - Also I apologize for the color banding in the images, it's due to the scaling in order to make them small enough to upload.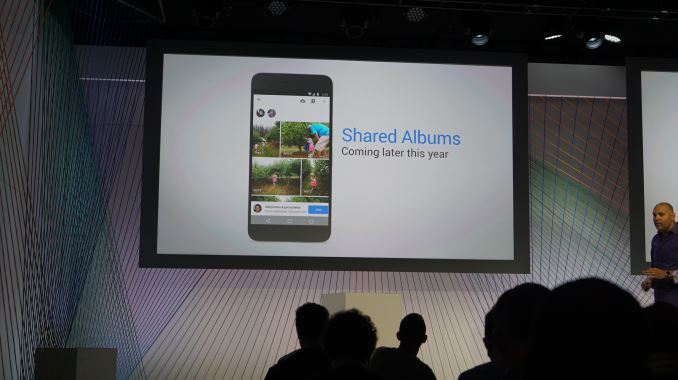 12:41PM EDT - Shared albums is coming later this year
12:40PM EDT - This lets everyone else know that someone has viewed the photos
12:40PM EDT - Someone who is sent the album can also "join" it in order to be notified whenever a photo is added
12:39PM EDT - Other users of the album will be notified that someone else added photos. Photos have name attributions to show who took which
12:39PM EDT - Can share albums using a single link, and the receiver can add their own photos as well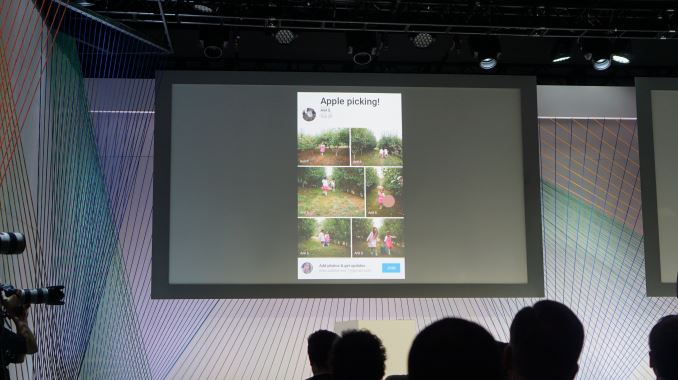 12:38PM EDT - Google wanted to make a feature like this which required no setup and worked everywhere
12:37PM EDT - New feature to pool family photos into single albums
12:36PM EDT - I sure wish they would make a real Windows + OS X app instead of a painful web UI though
12:36PM EDT - Google seeing tremendous adoption of Google Photos. I'm definitely in that group.
12:36PM EDT - Now moving on to Google Photos
12:34PM EDT - New Google Play Music family plan.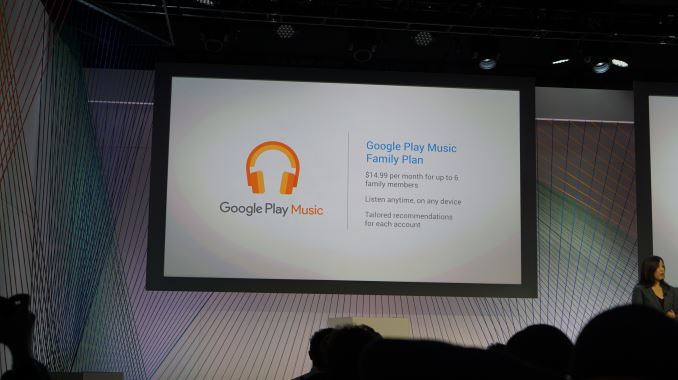 12:33PM EDT - Discussing improvements to Google Play and family friendly features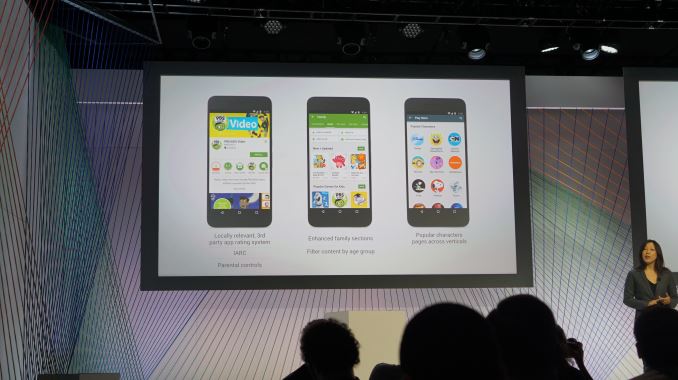 12:32PM EDT - Now moving onto the entertainment space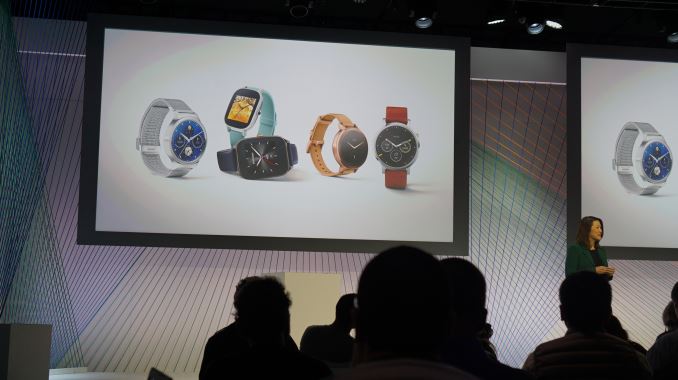 12:32PM EDT - Discussing Android Wear, and how it now works with iOS
12:31PM EDT - Both new devices also work on Google Project Fi
12:31PM EDT - Unsure if there's a payment required to use the damage insurance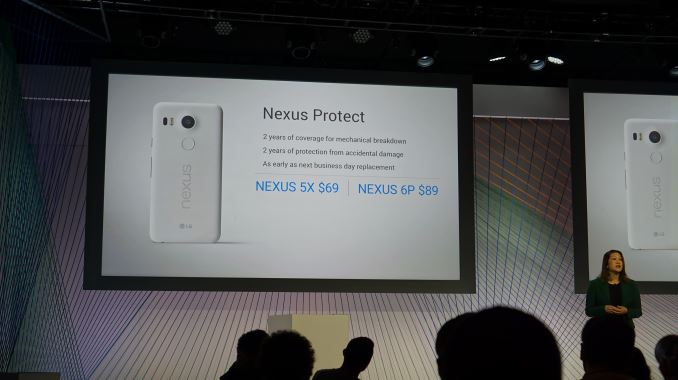 12:30PM EDT - Can file a claim 24/7. New device
12:30PM EDT - Nexus Protect: new warranty program, similar to Applecare it seems. Extends warranty to 2yrs, provides damage insurance
12:29PM EDT - Also a $50 Google Play credit in the US
12:29PM EDT - All new Nexus devices come with 90 days of Google Play Music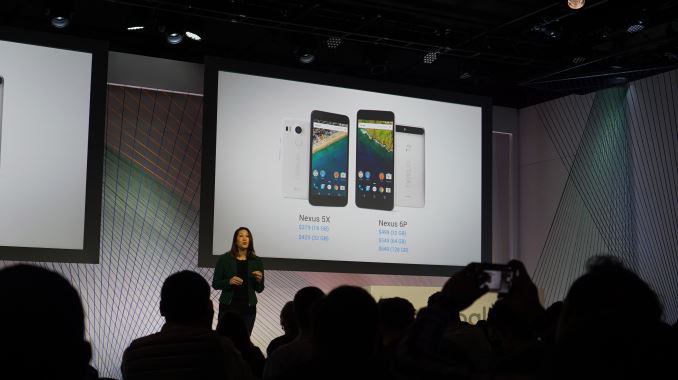 12:28PM EDT - Nexus 5X starts at $379, 6P starts at $499. Higher and lower than I expected respectively
12:28PM EDT - No Canadia ;-;
12:28PM EDT - Starting today the 5X and 6P will be available for pre-order on the Google Store in US, UK, Ireland, Japan
12:27PM EDT - The new Nexus 5X and 6P can be purchased at the Google Store (online store)
12:27PM EDT - The Android Marshmallow OTA will be rolling out to Nexus devices next week
12:26PM EDT - Marshmallow runs 30% longer when screen is off on the Nexus 5 and Nexus 6.
12:26PM EDT - Using motion detection to determine if the device can go into deep sleep or not.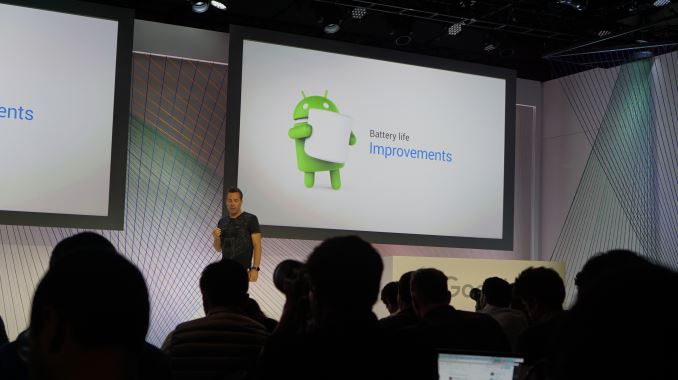 12:26PM EDT - Now going over Android Marshmallow power management improvements
12:25PM EDT - Android Marshmallow also allows you to interact with apps using your voice. This is an important accessibility feature.
12:24PM EDT - Obviously there's are privacy vs convenience to consider, but Google can only do this because of all their info indexing
12:24PM EDT - This is something hard for any other company to do
12:24PM EDT - Doing a demo of using Now on Tap. Example is a message asking to go to a restaurant at a certain time, and Now on Tap gives a button to make a calendar reminder and a yelp preview.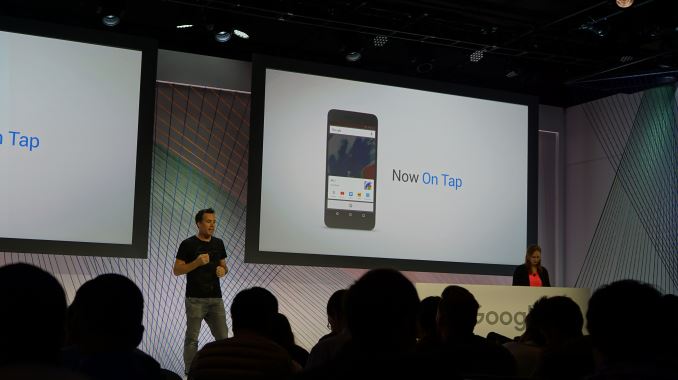 12:23PM EDT - Now discussing Now on Tap. It still isn't in the latest Android developer preview which means there's not much known about how expansive it is.
12:22PM EDT - New Nexus devices come with fewer preloaded apps. More apps can also be uninstalled.
12:22PM EDT - New permission system. This was covered at I/O. Run-time permissions are long overdue but it was definitely a huge effort to overhaul the system.
12:21PM EDT - I wish the animations ran as smoothly on the Nexus 6 as they do in this keynote
12:21PM EDT - Heads up notifications now have a bouncing animation and can be swiped away.
12:20PM EDT - Lock screen now has a way to quickly access voice commands. Lock screen also states when the phones are fast charging.
12:20PM EDT - Going over some of the Android Marshmallow improvements. New announcements on top of those given at I/O
12:19PM EDT - Switching gears to Marshmallow and how it works on the Nexus 5X and 6P
12:18PM EDT - Also learns over time. This is something I've noticed many other Android devices seem to neglect.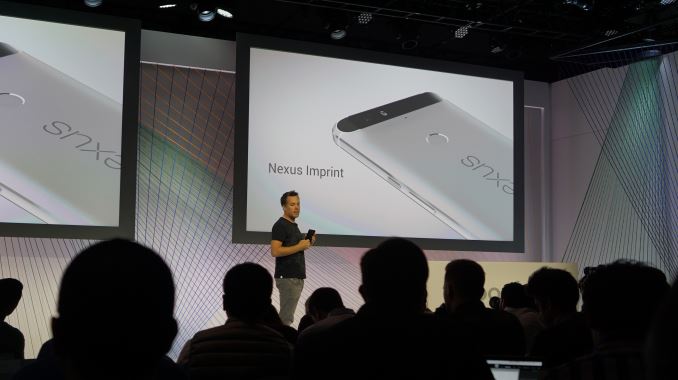 12:18PM EDT - Recognizes fingers in under 600ms.
12:18PM EDT - Nexus Imprint uses Android Marshmallow's fingerprint API so developers can use it with apps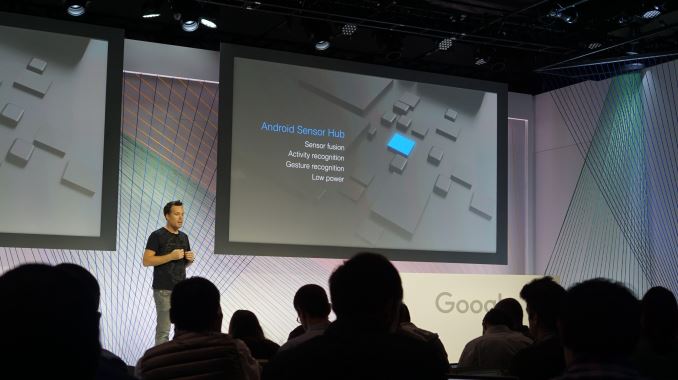 12:17PM EDT - Discussing sensor fusion, and offloading sensor processing to a dedicated processor
12:15PM EDT - Both phones also support 4K at "normal rate", assuming 30fps
12:15PM EDT - Slow motion video is now coming. Nexus 5X does 120fps, 6P is 240fps. No resolution mentioned.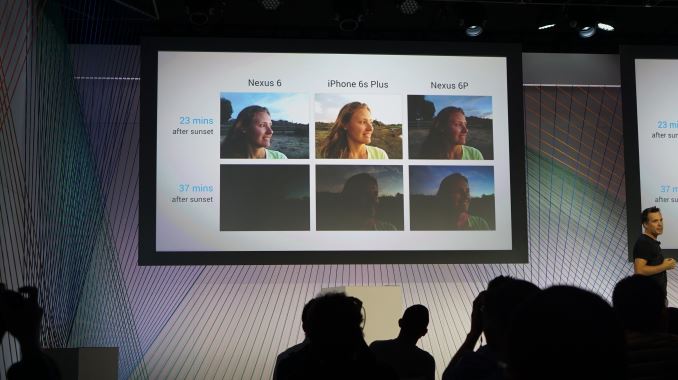 12:14PM EDT - Google showing how the Nexus 6P outperforms other devices in low light
12:14PM EDT - Nexus 6P has laser autofocus. HDR+ also improved.
12:14PM EDT - No OIS because the larger pixels mean you don't need as long of an exposure time. Not a fan of that justification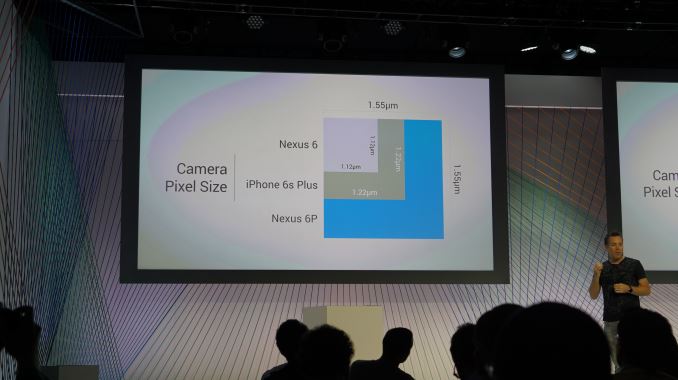 12:13PM EDT - Talking about optimizing the Nexus cameras for lower light photography.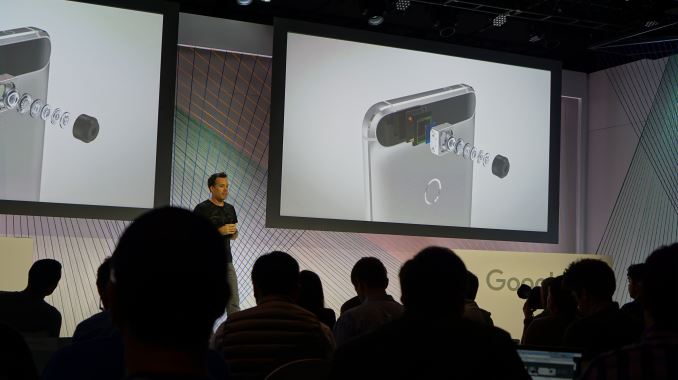 12:12PM EDT - 5X camera also has 1.55 micron pixels. Unknown if it's the same resolution as the 6P
12:12PM EDT - 2700mAh battery. 5.2" display. "64bit processor", S808 most likely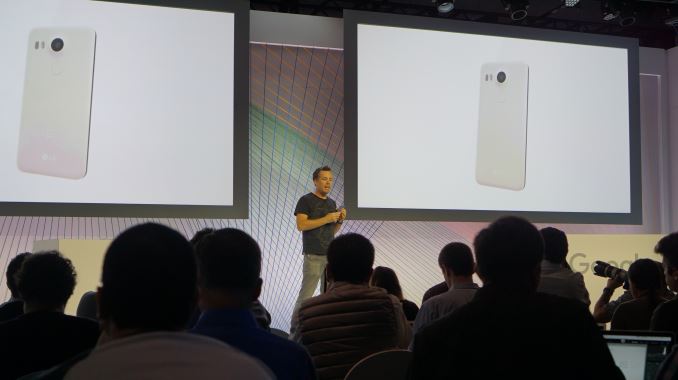 12:11PM EDT - Now moving onto the 5X. Made by LG
12:10PM EDT - The fingerprint sensor is called "Nexus Imprint". On the back of the phone. Touching wakes up the device
12:10PM EDT - 8MP FFC
12:10PM EDT - NExus 6P has a 12.3MP image sensor. 1.55 micron pixels.
12:10PM EDT - Foward facing stereo speakers
12:10PM EDT - Also has USB type-c. Charges in "About half the time of iPhone 6 Plus"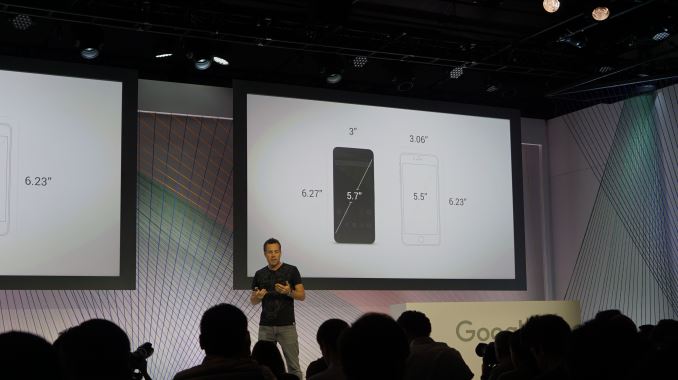 12:09PM EDT - 2560x1440 display, 5.7"
12:09PM EDT - Available in white, graphite, and aluminum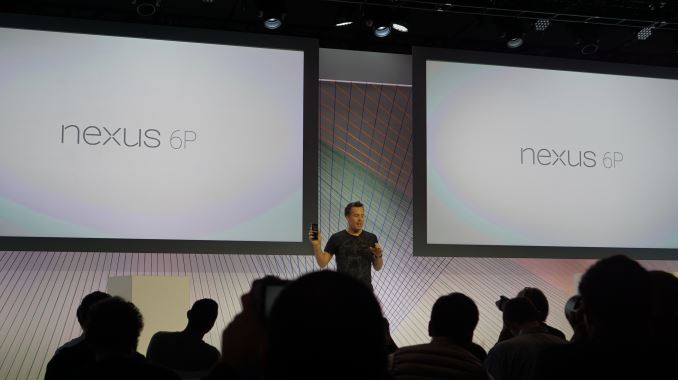 12:09PM EDT - Nexus 6P made by Huawei, all aluminum. 7.3mm thick
12:08PM EDT - Two new Nexus phones. Nexus 5X and NExus 6P
12:08PM EDT - Now talking about Nexus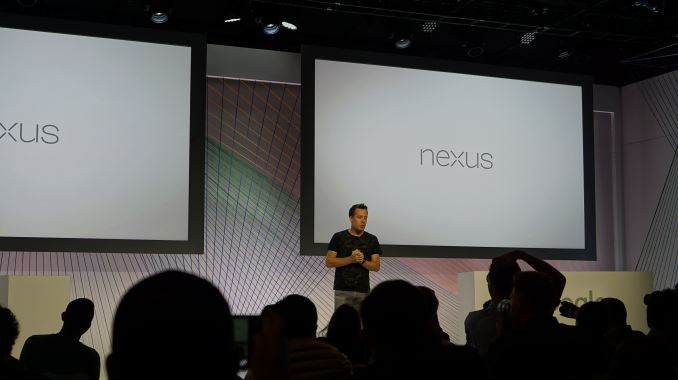 12:08PM EDT - Google Play now has over 1 billion 30 day active users. Important metric as it doesn't include devices in China without Play services
12:07PM EDT - Machine learning is also an important area of focus for Google. Powers Google Now, which is expanding with Now on Tap coming in Marshmallow.
12:06PM EDT - Chromecast also has some updates coming later
12:06PM EDT - Sundar mentioned the Pixel C tablet which will be discussed later today
12:05PM EDT - Google wants to push the next generation of computing forward. Google feels they need to build their own hardware for the next generation of their ecosystems.
12:04PM EDT - By the end of this year Google projects there will be more Chromebooks than any other device in US schools. 30,000 new Chromebooks activated each day.
12:03PM EDT - Android userbase has doubled in markets like India, Google wants to bring the next billion people online
12:03PM EDT - Going over Android stats. 1.4 billion active Android devices as of right now, we haven't gotten an update on that stat for a while
12:03PM EDT - The scale of open platforms allows Google to do things in partnership with many companies
12:02PM EDT - Sundar is discussing how Google invests in large open platforms
12:02PM EDT - Sundar Pichai has taken the stage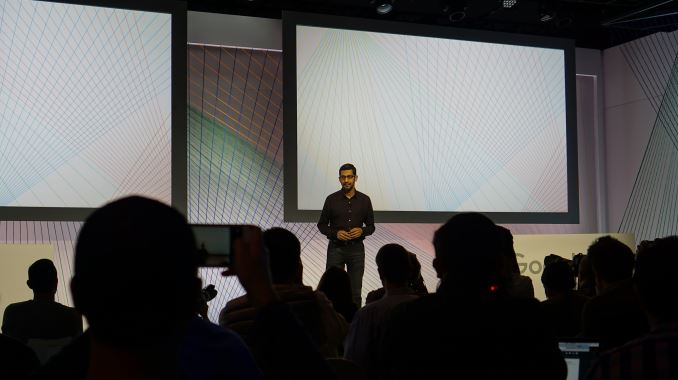 11:53AM EDT - WiFi quality seems good; not expecting any issues
11:45AM EDT - Brandon here at Google's September event. The event is scheduled to begin at 9:00 PST, and people are still coming in.