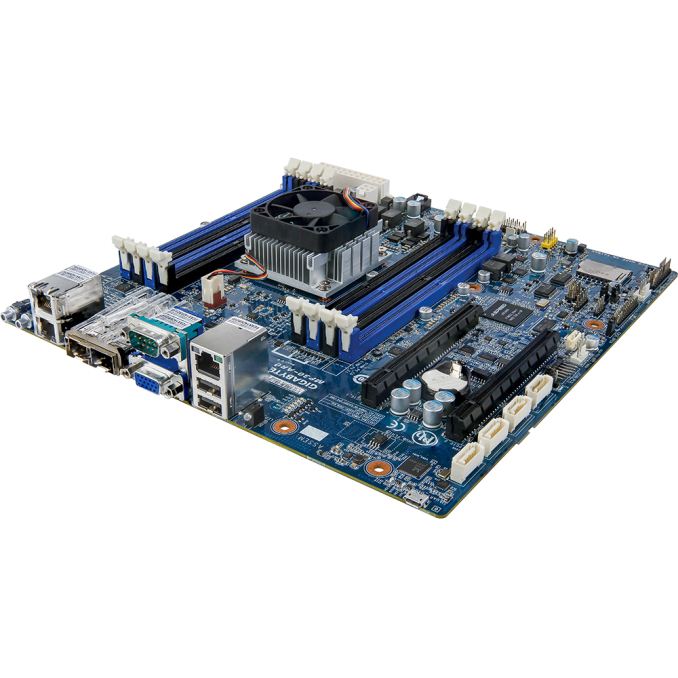 As Johan points out in his deep dive of ARM in the server market, given a focused strategy new ARM solutions can offer the potential to disrupt some very typical x86 applications. Migrating from the ARM instruction sets or the ARM architecture into something in silicon is one part of the equation, then producing something more tangible has been the quest of a few solution providers. Typically these solutions all focus on enterprise as one would expect, and it would take time to filter down depending on use case and application. It would seem that today, for the opening of the WHD.global event in Germany, GIGABYTE's server arm is launching a couple of 'Server on a Chip' solutions.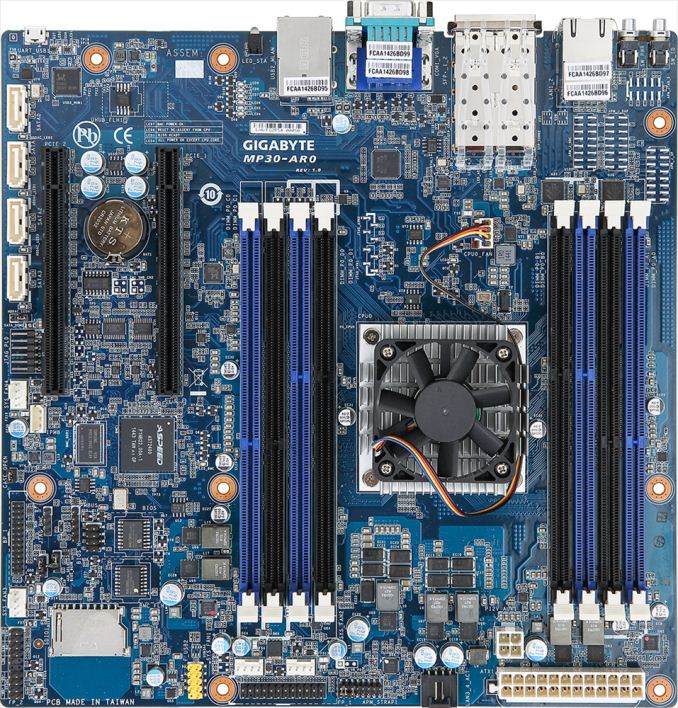 First up is a model built around the AppliedMicro X-Gene under the ARMv8-A architecture. The MP30-AR0 uses the 45W X-Gene1, a 40nm eight-core solution running at 2.4 GHz using pairs of cores shared L2 cache with an overriding 8MB L3 cache.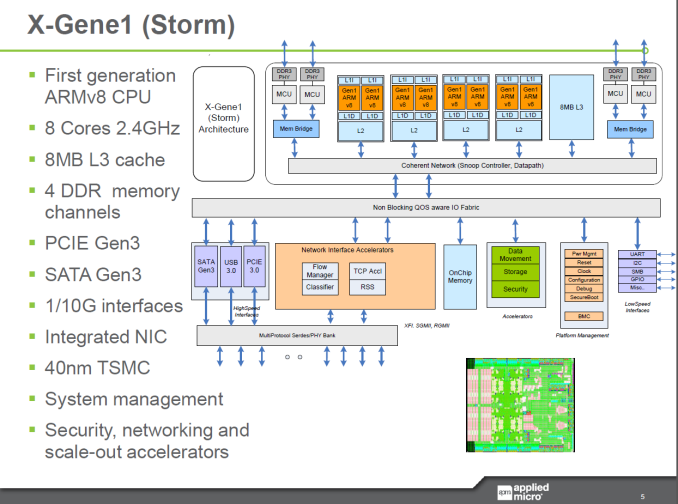 The system uses quad channel DDR3 with ECC, exploiting two DIMMs per channel for a total of 128GB. Two 10GbE SFP+ ports are supplied, along with two RJ-45 1 GbE ports from a Marvell 88E1512 controller. Four SATA 6 Gbps ports are part of the SoC, along with two PCIe 3.0 x8 slots in an x16 form factor. No USB 3.0, but USB 2.0 and a VGA output for the AST2400 server control IC included, which means another control network port on the rear-IO.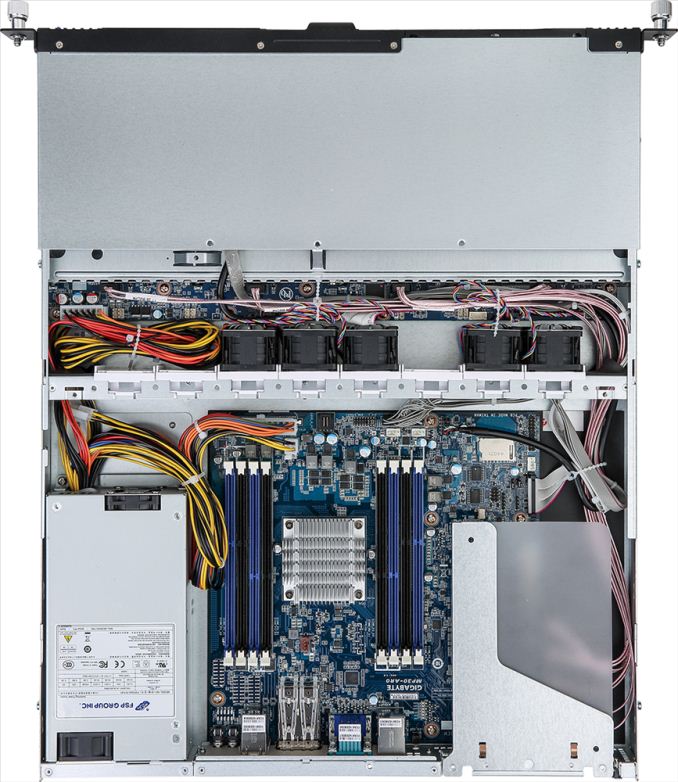 The MP30-AR0 is compliant with ARM Server Base System Architecture (SBSA) and Server Base Root Requirements (SBBR) standards, and is designed for cloud and scale-out computing. While GIGABYTE's server division has been hard at work enabling their products to be sold at retail, the ARM based platforms will most likely be a distributor b2b only offering, at least of now. This motherboard/SoC system will also be available in a 1U server rackmount (the R120-P30) with four hotswappable bays and a single PCIe riser card, as shown above.
On the storage side, GIGABYTE Server is releasing the D120-S3G, a rackmount powered by the Annapurna Labs Alpine AL5140, which translates as a 1.7 GHz Quad A15 solution running at a 10W TDP relying on ARMv7 for the instruction set.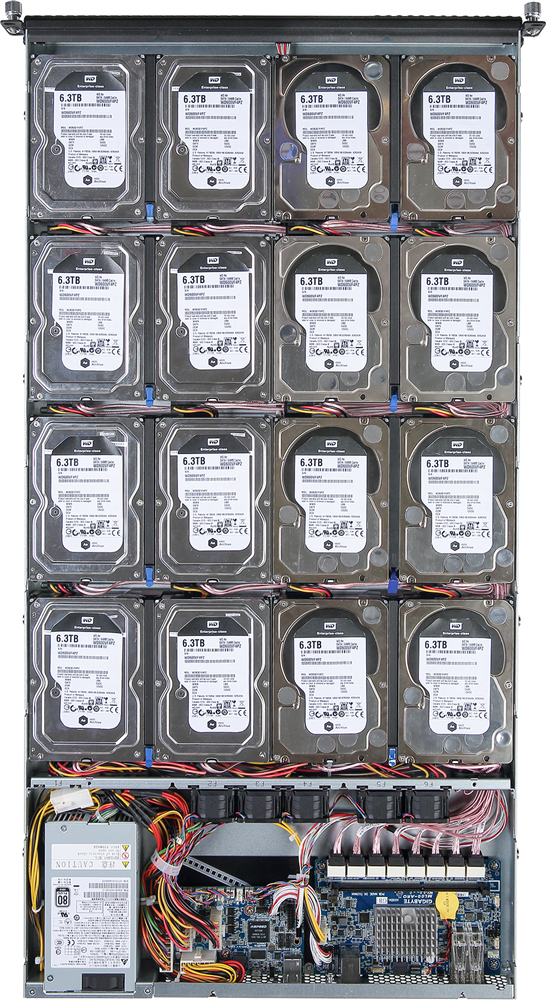 This system seems more for cold-storage, offering support for 16 SATA 6Gbps drives with RAID 5 and RAID 6 both supported. The motherboard has only one memory slot, but two gigabit Ethernet ports are flanked with two 10GbE integrated SFP+ ports as well. An AST2400 supplies the network control, and GIGABYTE is stating support for LTS Linux Kernel 3.10 and Ubuntu 14.04. If the product page is anything to go by, this is still technically a work in progress as they have not officially announced any other connectivity.
No word on release dates or pricing, although demonstrations at events can mean they might go on sale within the next couple of months.