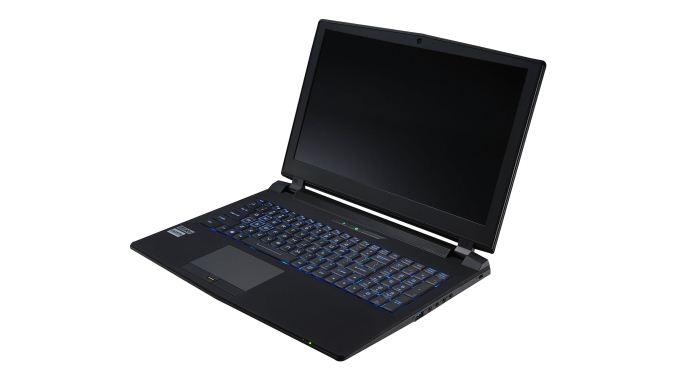 Eurocom P5 Pro / Clevo P750ZM Introduction
Some people look at notebooks as a way to cut the cord and go mobile for long periods of time, but others view the portability as a mere convenience while they move from one power socket to another (e.g. from home to the office). If you're mostly running with your notebook connected to the power grid and you need the absolute fastest processor possible, there are some interesting options.
Clevo is pretty much the go-to option these days for desktop replacements (DTR), with the ability to support full performance desktop processors (including LGA2011 options) and up to two GTX 980M graphics cards in SLI on their top models. Today we're looking at the next step down from that, the P750ZM that supports Haswell processors up to the i7-4790K and a single GTX 980M graphics chip.
We've already seen with the MSI GT72 that the GTX 980M is quite the potent mobile GPU, and in fact the GPU is so fast that there are times (especially at lower quality settings) where it becomes CPU limited. Moving up to an 88W i7-4790K should remove most of the CPU bottleneck, at least at settings anyone is likely to use, so let's see exactly how fast the 980M can run with a desktop processor.
We've noted before that there are only a handful of true high-end notebook providers: Alienware, ASUS, Clevo, Gigabyte, and MSI are pretty much it, with a few companies like Razer and Gigabyte's AORUS brand maxing out at the GTX 970M. We're working on a review of Gigabyte's rather slim P35W v3 as well, which is almost insanely thin for a full 980M laptop, but we'll hold off on further comparisons until that review is ready.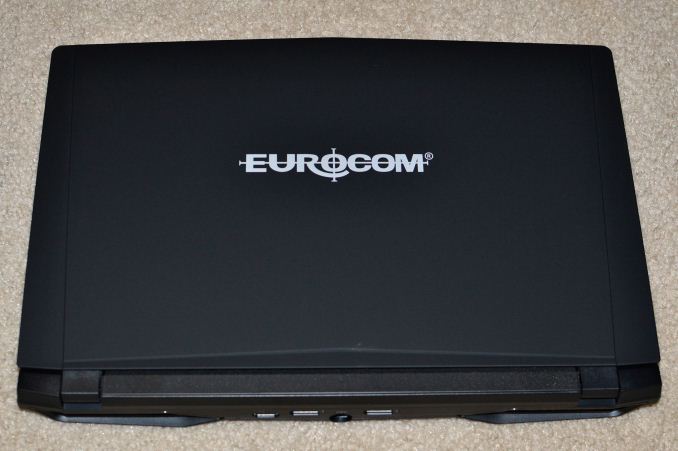 As for the Clevo P750ZM, our sample laptop comes courtesy of Eurocom, where it's sold as the Eurocom P5 Pro. While Eurocom may offer a few tweaks and options you might not find in stock configurations at other vendors, I have to be brutally honest here and say that there's not much that separates the various branded Clevo notebooks from each other – Clevo, Eurocom, Sager, or whatever else you want to call it, "A rose by any other name would smell as sweet." The main factors when buying any Clevo notebook are going to be price and component options.
Of course that doesn't mean there are no differences between the various vendors. Eurocom is one of the few (only?) vendors to offer a TPM 2.0 security chip on the P750ZM, and they also offer Radeon R9 M290X graphics (though at this stage in the life cycle I'm not sure why you'd want to go with AMD's Pitcairn-derived GPU). Finally, Eurocom uses IC Diamond 7 thermal paste on their notebooks, where many vendors charge extra for that feature.
Moving on to the component side of things, Eurocom doesn't disappoint, with a pretty well fully loaded solution being available. You can choose between several 1080p display options, as well as two different 4K panels (including the 4K Sharp IGZO display in our test sample). Four SO-DIMM slots allow for up to 32GB RAM, there are two M.2 slots (SATA or PCIe supported, though RAID requires SATA), another two 2.5" drive bays, and five USB 3.0 ports (with one being an eSATA combo port). Here are the full specifications for our review unit:
Eurocom P5 Pro / Clevo P750ZM Specifications
CPU
Core i7-4790K (Quad-core, 4.0-4.4GHz, 8MB L3, 88W)
GPU
NVIDIA GeForce GTX 980M 8GB
(1536 CUDA cores, 1038MHz + Boost, 256-bit 5010MHz GDDR5)
RAM
16GB (2x8GB) Corsair Vengeance DDR3-1866
(Two additional SO-DIMM slots available)
SSD
256GB M.2 SATA SSD Array
(2x128GB Crucial M600 in RAID 0)
HDD
1TB 7200RPM (HGST 7K1000-1000
Optical
N/A
Display
15.6" Glossy 4K (3840x2160)
(Sharp IGZO LQ156D1JX01B)
Networking
Killer N1525 Combo (2x2 802.11ac + BT 4.0)
Realtek RKL8111/8168/8411 Gigabit Ethernet
Audio
Realtek ALC892
2.1 speakers
Four audio jacks
Front
N/A
Left
1 x USB 2.0/eSATA Combo
Flash Reader (SDXC/SDHC/MMC)
3 x USB 3.0
Ethernet
Right
1 x USB 3.0
4 x Audio jacks
Kensington Lock
Rear
Left/Right Exhaust Vents
2 x DisplayPort 1.2
1 x HDMI 1.4
AC Adapter
Input
102-Key Keyboard
Multi-touch Touchpad
Power
8-cell ~82Wh battery
330W AC adapter
Extras
2MP webcam
Configurable Multi-colored Backlighting
Fingerprint Scanner
TPM 2.0 Security Chip
100% Cooling Switch (Fn+1)
OS
Windows 8.1 Professional 64-bit
Dimensions
15.4" x 10.48"x 1.4"
(386mm x 262mm x 35mm)
Weight
7.48 lbs. (3.4kg)
Pricing
Starting at $1995 with GTX 980M
$3192 as Configured
Short of an SLI equipped notebook, this is pretty much the fastest system currently possible, and the only areas left to upgrade over the configuration we're testing would be via increasing the amount of memory and/or solid state storage. Otherwise, Eurocom sent us the maximum performance/quality configuration in every respect. We've got a Core i7-4790K that's overclockable (more on that later), the GTX 980M, a 4K IGZO display, 16GB of DDR3-1866 RAM, 256GB of SSD storage, and even the optional 330W power adapter (again, more on that later).
Interestingly, Clevo even dropped support for optical drives on this chassis, which seems a bit odd as Gigabyte manages to stuff a slim optical drive into a much thinner 15.6" chassis. Of course, I rarely use optical drives these days so it's not a huge concern, but it's something to be aware of. It's also worth pointing out that battery life isn't going to be a strong point on this system; even with a large 82Wh battery the high performance components will typically mean two hours of light use while unplugged, and if you want to try doing some gaming you can easily drain the battery in under an hour.
Considering the P750ZM is a full desktop replacement notebook, including an 88W desktop processor, it's actually surprising that the system isn't bulkier. Older Clevo models that supported desktop CPUs were often in the 10+ pound range, but the P750ZM is at least reasonably portable at 7.5 pounds. Of course, that's not including the AC power brick, and with the 330W model we received it tips the scales at an impressive 2.6 pounds (1.2kg) all by itself. Yes, the 330W power brick actually weighs more than some 13" Ultrabooks.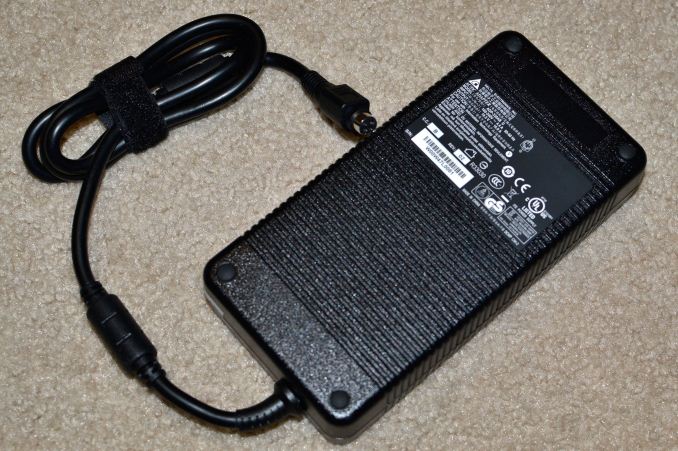 The default 230W adapter should be lighter and less bulky, but there's a reason for going the 330W route, specifically overclocking. I'm planning a separate article to do a deeper investigation of overclocking potential with the P750ZM, but under full load I've seen power draw at the outlet hit 260-270W. At 85% efficiency that would be a 100% load on a 230W adapter, so it's still possible to use the default adapter and that will save you about $75-$100, but if you're buying this sort of system it's probably not a bad idea to opt for the 330W adapter.
Pricing as usual is going to be the biggest obstacle to overcome. There's no getting around the fact that $2000 is a lot of money for a notebook, and as configured we've passed the $3000 mark. I checked around and Eurocom is generally slightly more expensive than some of the other Clevo resellers – and if you're okay with a preconfigured unit, Amazon has some options as well – but there are differences in the specific RAM and SSD modules so I won't belabor the point. Obviously this system is designed to set performance records for our notebook test suite, and it does.