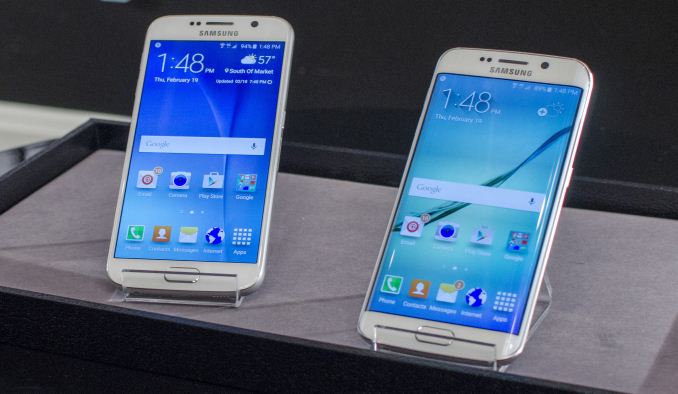 In recent times, Samsung has seen the erosion of their dominance in the Android ecosystem. The reasons for why this is are many, but at least some of the criticism has been focused on the products themselves. At the high end, many criticisms have been leveled at the industrial and material design of Galaxy S and Note devices, and outside of the hardware itself, TouchWiz has received a great deal of criticism for performance issues and poor design. This brings us to the Galaxy S 6 and S 6 edge, which represents a fundamental shift in the way Samsung approaches the way their phones are made and designed. While we've seen these changes in the form of the Galaxy A line and the Galaxy Note 4, the Galaxy S6 represents the first phone that has been made from the ground up with a focus on industrial and material design.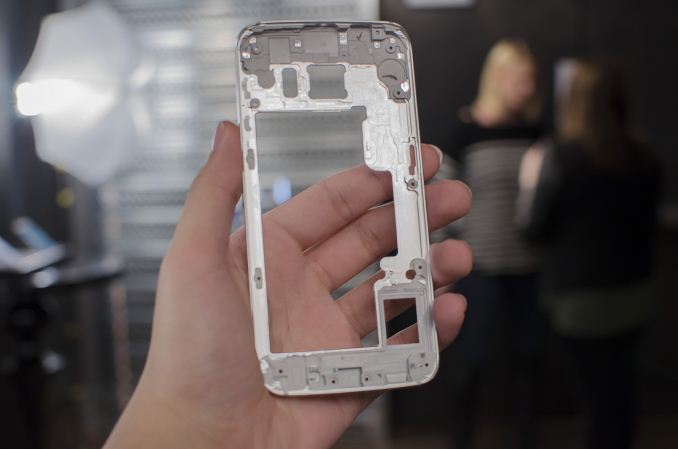 This focus on design is immediately apparent as the Galaxy S 6 is the first Galaxy S phone with a unibody design. There are no visible seams or screws, and there is no apparent gap between the glass back and the metal frame of the phone. In person, the design of the Galaxy S 6 is really quite shocking when compared to the Galaxy S 5 or any previous Galaxy S device. It seems that there has been a great deal of thought and care put into each aspect of the device. The metal frame is far from a simple curve, and is somewhat rounded along the top and bottom, but flattens out along the sides for better grip. The edges of the frame are slightly chamfered as well, in order to make edge swipes off of the display smooth and natural. The display is centered on the device, with symmetrical top and bottom bezels, and thin side bezels. The back cover is clean, with a glass back that has little in the way of distractions outside of the camera, LED flash module, and a Samsung logo. Overall, the Galaxy S6 has been a massive departure from everything else that has come before it.


While the design is one aspect of the Galaxy S 6, the specs are another. While it's often popular to repeat that specs don't matter, they represent the foundation for the entire user experience. To start, we've placed the usual spec sheet below to get the basics down.
Samsung Galaxy S5
Samsung Galaxy S6
Samsung Galaxy S6 Edge
SoC
MSM8974ACv3 2.45 GHz Snapdragon 801
Exynos 7420 2.1/1.5GHz A57/A53
Exynos 7420 2.1/1.5GHz A57/A53
RAM/NAND
2GB LPDDR3
16/32GB NAND + microSD
3GB LPDDR4-1552
32/64/128GB NAND
3GB LPDDR4

-1552


32/64/128GB NAND
Display
5.1" 1080p SAMOLED HD
5.1" 1440p SAMOLED
5.1" 1440p SAMOLED, Dual Edge
Network
2G / 3G / 4G LTE (Qualcomm MDM9x25 UE Category 4 LTE)
2G / 3G / 4G LTE (Category 6 LTE)
2G / 3G / 4G LTE (Category 6 LTE)
Dimensions
142 x 72.5 x 8.1 mm, 145 grams
143.4 x 70.5 x 6.8mm max, 138 grams
142.1 x 70.1 x 7.0mm max, 132 grams
Camera
16MP (5132 x 2988) Rear Facing with 1.12 µm pixels, 1/2.6" CMOS size, 31 mm (35mm effective), f/2.2

2MP Front Facing
16MP (5132 x 2988) Rear Facing w/ OIS, f/1.9, object tracking AF

5MP Front Facing, f/1.9
16MP (5132 x 2988) Rear Facing w/ OIS, f/1.9, object tracking AF

5MP Front Facing, f/1.9
Battery
2800 mAh (10.78 Whr)
2550 mAh (9.81 Whr)
2600 mAh (10.01 Whr)
OS
Android 4.4 w/TouchWiz
Android 5 (64-bit) w/TouchWiz
Android 5 (64-bit) w/TouchWiz
Connectivity
802.11a/b/g/n/ac 2x2 + BT 4.0, USB3.0, GPS/GNSS, MHL, DLNA, NFC
2x2 802.11a/b/g/n/ac + BT 4.1, USB2.0, GPS/GNSS, NFC
2x2 802.11a/b/g/n/ac + BT 4.1, USB2.0, GPS/GNSS, NFC
Wireless Charging
N/A
WPC 1.1 (4.6W) & PMA 1.0 (4.2W)
WPC 1.1 (4.6W) & PMA 1.0 (4.2W)
Fingerprint Sensor
Swipe
Touch
Touch
SIM Size
MicroSIM
NanoSIM
NanoSIM
As one can see, there are a few key highlights of note in the Galaxy S 6. The Exynos 7420 SoC is the first SoC to be built on Samsung's 14nm FinFET process. While this isn't comparable to Intel's 14nm process due to the use of a 20nm metal interconnect, there are some density improvements in areas that aren't gated by interconnect pitch. While transistors are an area where we can see significant improvements to clock speed and power consumption, the metal interconnects can influence performance as well due to power dissipated by resistance in the interconnects, in addition to limitations on clock speed due to RC delay. This means that Intel continues to hold a significant process lead, as reducing interconnect pitch is exponentially more difficult past the 20nm node as resistance and capacitance issues increase dramatically. On the GPU side of things for example, the voltage drop is huge, showing an average of -200mV up to -300mV decrease at the 700MHz state. Overall, this move to 14nm should dramatically reduce power consumption as the effect of leakage is nearly eliminated.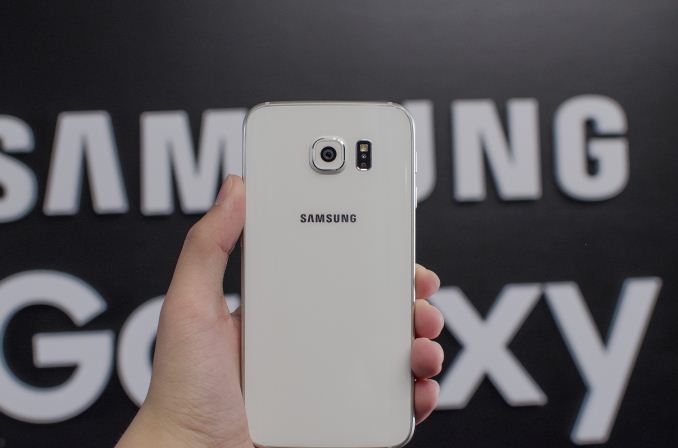 Outside of process node, the Exynos 7420 is a rather standard big.LITTLE SoC, with four Cortex A57s at 2.1 GHz and four Cortex A53s at 1.5 GHz. However, the Exynos 7420 represents the first Exynos SoC to have full AArch64 support in software, unlike the Exynos 5433. The GPU is upgraded to a Mali T760MP8 solution running at up to 772MHz as the top frequency and 700MHz as the secondary maximum state, a huge improvement as the voltages top out at 825mV. We should be seeing very impressive battery efficiency improvements due to the 14nm process. The SoC supports LPDRR4 running at 1552MHz, and Samsung has equipped the Galaxy S6 with a UFS 2.0 storage solution. It remains to be seen whether this is a major point of differentiation this year, but in practice it seems that the Galaxy S 6 was smooth. Areas like the multitasking interface were noticeably faster to open and close, but there were still some scenarios where I saw some slight frame drops which is likely due to the pre-release software.
Another major area of focus for Samsung for the S6 was refining the camera. While the sensor remains the same Sony sensor that we saw in the Galaxy Note 4, Samsung has improved the optics to have a maximum aperture size of f/1.9 compared to the f/2.2 that we saw with the Galaxy S5 in addition to an IR sensor in order to improve white balance detection. OIS is also introduced to the Galaxy S lineup for this generation, and in practice the stabilization is as effective as the Galaxy Note 4. Samsung strongly prioritized shooting speed and general camera speed with this generation, as they introduced object tracking AF, a double tap camera gesture, and further refinement of the PDAF system in order to make the camera experience much better than before. The object tracking AF is similar to what we've seen on phones like the Huawei Ascend Mate 7 before, but double-tapping the home button to wake up the camera was almost instant compared to pretty much any other method I've seen before. The long start-up time that I saw with the Galaxy S5's camera application has also disappeared for the most part, and in general places like the gallery and camera application are much faster than before. The front-facing camera is also a 5MP camera, which represents an upgrade over the Galaxy Note 4 but shares a f/1.9 aperture. Unfortunately, I was unable to really test the camera at all but it should be at reasonable improvement over the Galaxy Note 4's camera.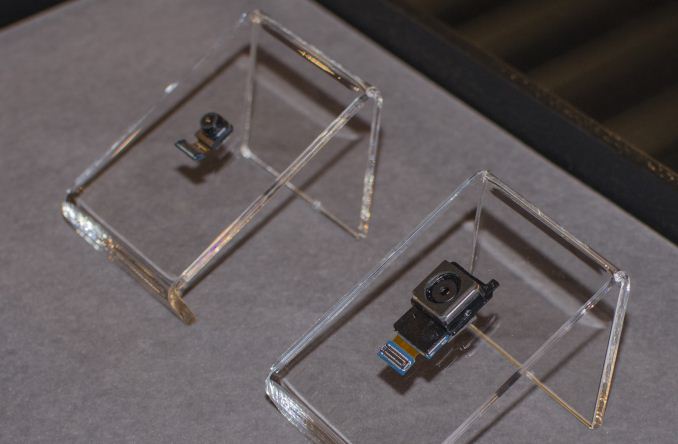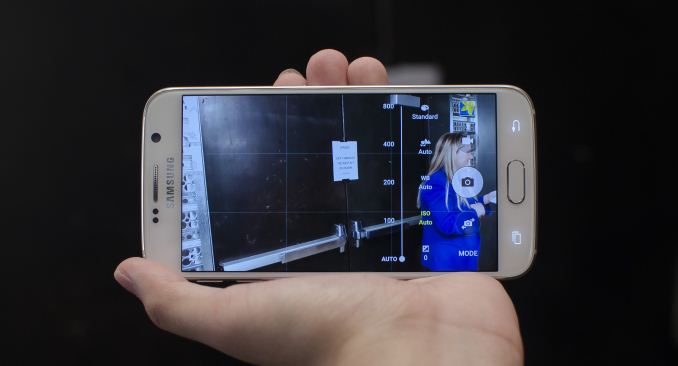 For the S6 Samsung has also improved on the AMOLED display, both in quality and pixel density/resolution. Although we have relatively little detail on this, Samsung claims 600 nit luminance, up from their claimed 500 nits from the Galaxy S5 which means that this isn't the same panel as what we saw in the GS5 LTE-A. In addition, Samsung has included wireless charging support for both WPC1.1 and PMA 1.0 standards built into every Galaxy S6. The new fingerprint sensor is also amazing in comparison the experience with the Galaxy S5, and works about as well as Apple's TouchID system. Samsung is bundling this with Samsung Pay, which allows for payments with the fingerprint sensor for authentication and while not available at launch, Samsung will also support legacy magstripe terminals for mobile payments on the Galaxy S6. Samsung has also improved the speaker dramatically from the Galaxy S5, and it should have significantly improved sound quality and volume, in addition to the improved placement on the bottom of the phone. TouchWiz seems to remain relatively similar in design, but there's a big reduction in the number of pre-installed applications. There are some applications preinstalled by Microsoft such as OneNote, OneDrive, and Skype, but in general there's almost no bloat to speak of.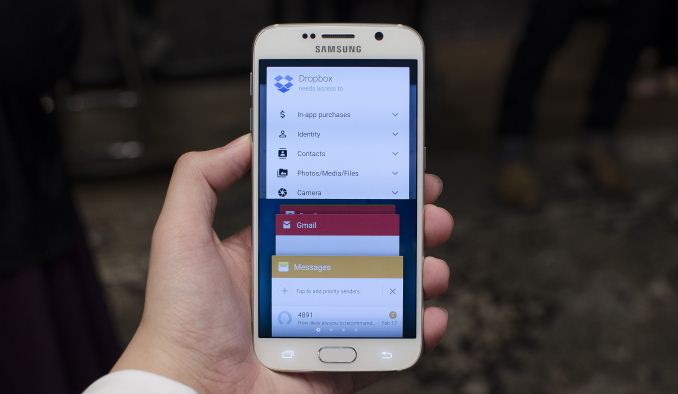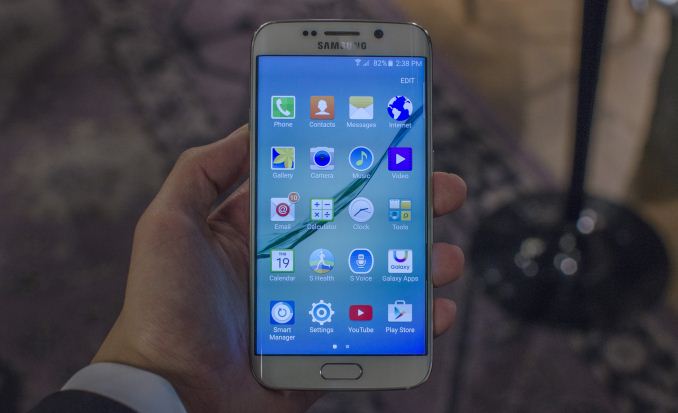 Overall, the Galaxy S6 seems to be quite promising. Although the design seems to be somewhat inspired by other devices on the market, the industrial and material design is a massive step forward from everything else we've seen from Samsung before. In general, it seems that Samsung has managed to put together a device that can truly compete with devices like the One M9 and iPhone 6 in every aspect, although it'll take a full review to really get a good idea for how it shapes up against the competition. The Samsung Galaxy S6 and S6 edge will be available globally starting April 10th with 32, 64, and 128 GB storage SKUs. The Galaxy S6 and S6 edge will both have white, black, and gold colors available, but the blue color will be limited to the Galaxy S6 and the emerald green will be limited to the Galaxy S6 Edge.