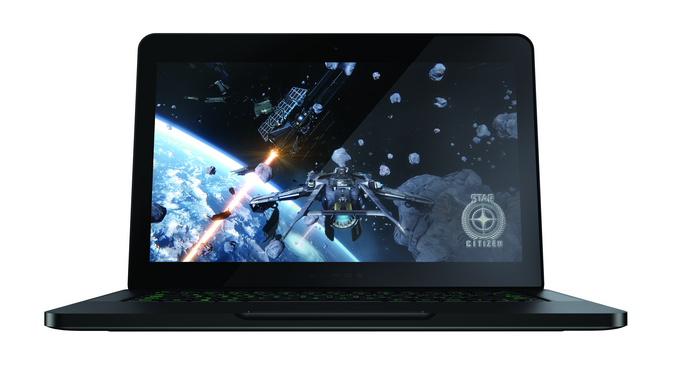 Today Razer took the wraps off of their updated version of the Blade. We took a look at the 2014 model last year, and found that it was a very impressive device, with one of the best displays we have ever tested, and a powerful CPU/GPU combo that was capable of driving most games at reasonable framerates. It is packed into a CNC aluminum shell that gives a feeling of quality. However, by the time we were able to review the device (our fault, not Razer's), NVIDIA had already released a new set of mobile GPUs that offered even more performance and better power efficiency with the Maxwell based GTX 980M and GTX 970M.
Razer kept all that was great about last year's model including the amazing IGZO 3200x1800 display, great aluminum body, and powerful cooling capabilities, and updated the internals to make the system even more powerful. The aforementioned GPU has been updated from the GTX 870M to the GM204 based GTX 970M (with 3GB of VRAM – GTX 970 RAM issues do not affect the mobile part; interestingly, the mobile parts are available with 3GB or 6GB VRAM, but Razer opted for the slightly less expensive option). This should provide quite a bit more punch when gaming, especially with the high resolution display.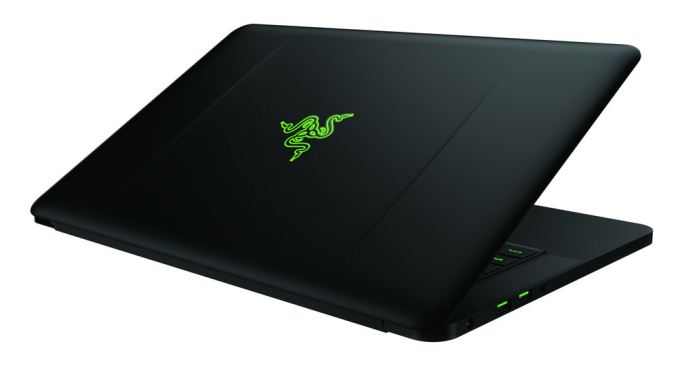 They have also bumped the CPU up from the Core i7-4702HQ to the Core i7-4720HQ, which bumps the frequency from 2.2-3.2 GHz up to 2.6-3.6 GHz. The 4720HQ model is new to the Intel Haswell stable this quarter. The move from a 37 watt CPU to a 47 watt CPU is likely possible due to the power efficiency of the GM204 GPU and should give a pretty good boost to performance and allow the CPU to stay at its maximum boost for longer. Finally, to round out the performance updates, Razer is now outfitting the Blade with 16GB of DDR3L 1600 MHz memory, which removes one of my complaints about the 2014 model, since a $2500 laptop should not have 8GB of memory.
Razer is also adding a new option to the lineup. A less expensive model is now available, which features a 1920x1080 resolution IPS display, and 8 GB of memory. It keeps the same CPU and GPU combo though, but only a 256 GB SSD is available. This model will also lose the touch capability, and instead feature an anti-glare matte finish, which some people prefer.
Razer Blade 14-Inch Specifications
2014
(Last Model)
2015
(New Model)
Processor
Intel Core i7-4702HQ
(4x2.2GHz + HTT, Turbo to 3.2GHz, 22nm, 6MB L3, 37W)
Intel Core i7-4720HQ
(4x2.6GHz + HTT, Turbo to 3.6GHz, 22nm, 6MB L3, 47W)
Chipset
Intel HM87
Intel HM87
Memory
8GB DDR3L-1600
16GB DDR3L-1600
Graphics
NVIDIA GeForce GTX 870M 3GB GDDR5
1344 CUDA cores,
941 MHz core
5 GHz memory clocks
192-bit memory bus

Intel HD 4600 Graphics
(20 EUs, up to 1.15GHz)
NVIDIA GeForce GTX 970M 3GB GDDR5
1280 CUDA cores,
924 MHz + Boost
5 GHz memory clocks
192-bit memory bus

Intel HD 4600 Graphics
(20 EUs, up to 1.20GHz)
Display
14" Glossy 16:9 3200x1800
Sharp LQ140Z1JW01 IGZO
Multitouch with LED Backlight
Optional
Anti-Glare Matte 16:9 1920x1080
LED Backlight non-touch
Hard Drive(s)
128/256/512GB
SATA M.2
256GB Only on 1080p model
Optical Drive
N/A
Networking
Intel Wireless-AC 7260HMW
Dual Band 2x2:2 802.11a/b/g/n/ac
Bluetooth 4.0
Audio
Realtek ALC269 HD audio
Stereo speakers
Combination mic/headphone jack
Battery
150 watt power adapter
70Wh Lithium-Ion Polymer
Front Side
-
Right Side
USB 3.0
HDMI 1.4a
Kensington Lock
Left Side
AC adapter
2x USB 3.0
Combination mic/headphone jack
Back Side
-
Operating System
Windows 8.1 64-bit
Dimensions
13.6" x 9.3 " x 0.70"
345mm x 235mm x 17.8mm
Weight
QHD+ Model:
4.47 lbs
2.03 kg
1080p Model:
4.19 lbs
1.9 kg
Extras
2.0 MP Webcam
Razer Synapse 2.0 Software
10-point Multitouch Display on QHD+ Model
Backlit anti-ghosting keyboard
Warranty
1 year limited
Pricing
$2199 for 128GB QHD+ Model
$1999 for 256 GB 1080p Model
This is a pretty solid update to one of the best Windows laptops you can buy. The device already had excellent performance, but the high DPI display would often bring the GTX 870M to its limits. The move to GM204 should have a significant performance improvement. The addition of 16GB of RAM will also allow this laptop up to be more than a gaming laptop, with the ability to run multiple virtual machines or demanding software. It keeps it in a package that is the same dimensions and weight as the outgoing model, which at 4.47 lbs / 2.03 kg was already slim for the amount of power onboard.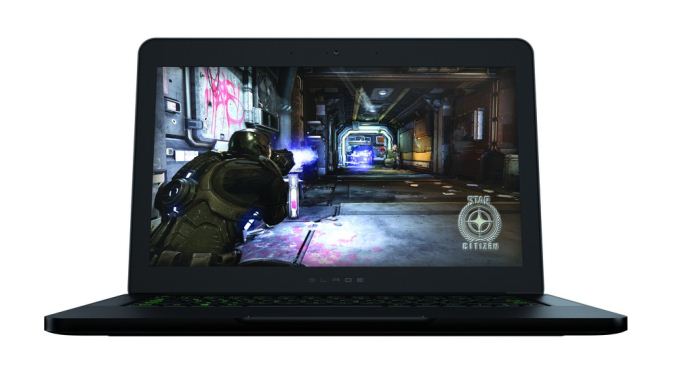 Razer is shipping us a new model of the Blade for review, which we will have up shortly. Check back to see how the new system compares soon. For those that cannot wait for the review, the new Razer Blade is on sale now, starting at $2199 for the 128GB/QHD+ model, and $1999 for the FHD model at www.razerzone.com/blade.
Source: Razer