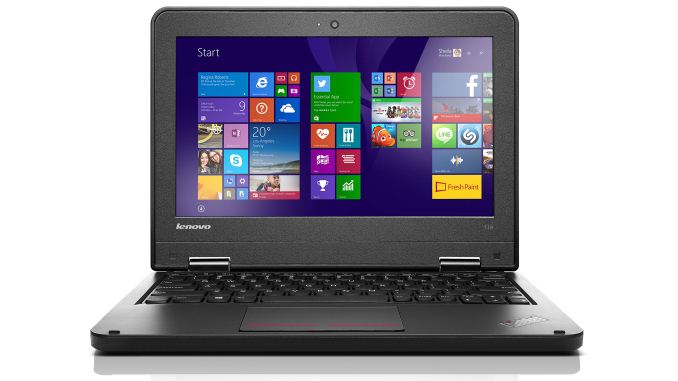 On the other end of the education spectrum from Acer's new Chromebooks, today at the Florida Education Technology Conference (FETC) Lenovo announced updates to their ThinkPad 11e series geared towards education. Specifically, they will be releasing new models of the ThinkPad 11e and the ThinkPad YOGA 11e, the latter of course being Lenovo's multimode hybrid device. Updated features include a more efficient fan blade for cooling and the use of the latest generation of processors for improved productivity.
As these are ThinkPad branded devices, they'll generally be more durable than your typical consumer laptop, making them a better fit for use in schools where they're likely to get jostled around in backpacks and occasionally dropped on the floor. Lenovo notes in the press release that the 11e laptops are subjected to eleven different testing methods and nineteen procedures to ensure they stand up to increased sand and dust, extreme temperature variations, humidity, and mechanical shock – all to help with the rigors of the daily school environment.
[1/23/2015: Updated with additional details] As far as specifications go, the new ThinkPad 11e and YOGA 11e will support Intel's 5th Generation Core processors, and given the timing of the announcement we're looking at the Broadwell-U processors (i.e. not standard voltage Broadwell, which has not yet been announced). The ThinkPad 11e will also be offered with AMD APUs, specifically the Beema E1-6010 and A4-6210, so very low power but also low performance unfortunately. For storage, options include 320GB and 500GB hard drives (5400 and 7200 RPM models are avaialble) or a 128GB SSD.
Both laptops weigh around 3.3 pounds and come with HD (1366x768) displays, with the YOGA 11e featuring Gorilla Glass 3 to protect the 10-point multi-touch screen. The ThinkPad 11e measures 300 x 216 x 22.3 mm. IO options include HDMI 1.4, USB 3.0, USB 2.0, a 4-in-1 card reader, and Gigabit Ethernet. Also included is an HD webcam and TMP 1.2 module.
In addition to the above, Lenovo also has an upcoming optional ActivePen designed to mimic the feel of pen on paper, apparently for the YOGA 11e. Lenovo includes their own WRITEit and REACHit software with the 11e Series as well, designed to help with collaboration and productivity in an educational setting. Monitoring and management software is also provided to help teachers work with students on their screens.
The updated ThinkPad 11e series will be available starting in April, with a starting price of $549 for the ThinkPad 11e and $699 for the ThinkPad YOGA 11e. The ActivePen will also be available in April, but pricing has not yet been set.
Source: Lenovo