QNAP's HD Station - QvPC Explored
Over the last few years, QNAP has been introducing various interesting packages for their QTS operating system. XBMC was one of the first to take advantage of the HDMI display output on their NAS units. Slowly, a few other packages such as web browsers, NAS management interfaces and YouTube were introduced. Recently, QNAP decided to bundle all these packages under the Hybrid Desk Station (HD Station) moniker.
The ability to interact with the NAS using a keyboard and a mouse brought it closer to a traditional PC for the average consumer. Virtualization Station was the final piece in the puzzle. QNAP added an option to display the console of each VM on the display output desktop (a QVM option) in the Virtualization Station settings. This enables end users to interact not only with the QTS desktop, but also with a Windows or Ubuntu VM as if it was running on a physical machine.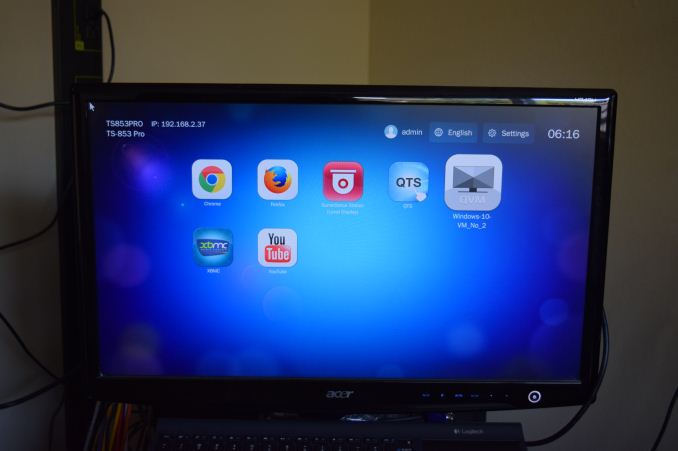 QNAP's HD Station Interface with QVM Activated
Recognizing the big leap made in HD Station using QVMs, QNAP has opted to do a branding exercise - QvPC - for this feature set. In addition to QVMs, HD Station also includes a local output for the tracked surveillance cameras, XBMC with HD audio bitstreaming and other miscellaneous features. QNAP's product page for HD Station adds more marketing detail to what we have covered above.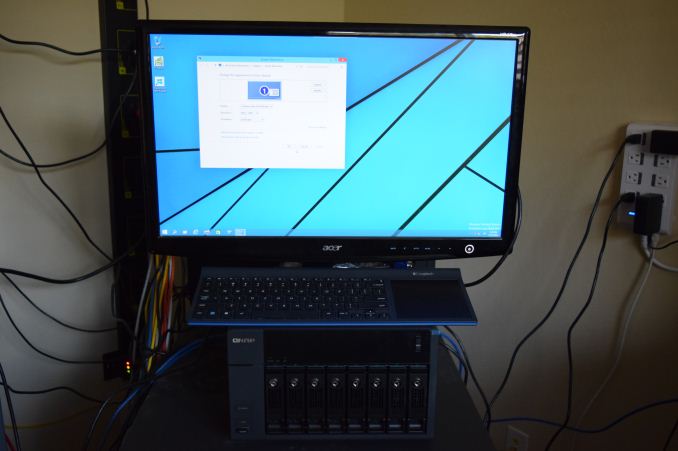 Windows 10 on a QNAP TS-853 Pro-8G - QvPC
Our usual NAS evaluation routine doesn't load up the NAS with non-NAS aspects while processing benchmarks. For the TS-853 Pro-8G, we did one pass with all four network links bonded and no extra packages active. However, with running VMs being a very attractive feature of the TS-x53 Pro series, we added two sets of benchmarks for the multi-client scenarios after configuring two Windows 10 VMs (two cores, 2 GB RAM and one dedicated network link each). This configuration left the other two network ports free for bonding / external traffic. The CPU cores themselves had to be shared between the VMs and the main NAS tasks (as all four cores ended up getting allocated to the VMs).
1 QVM: A Windows 10 VM with QVM configured was activated. PC Mark 8's 'Work' workload was run in a loop with HDMI output enabled, while the rest of the NAS was subject to storage traffic over the bonded network links
2 VMs: QVM was de-activated. Two Windows 10 VMs were configured for access via Remote Desktop. PC Mark 8's 'Work' workload was run in a loop on both VMs, while the rest of the NAS was subject to storage traffice over the bonded network links.
In addition to the above Virtualization Station configuration, we also found an interesting caching aspect in QTS. Our benchmarks are processed after turning off the write cache (EXT4 delay allocation) for all NAS units. However, QTS, in addition to the EXT4 delay allocation, has an additional system cache setting at the volume level. The large amount of RAM in the system (8 GB) also skewed the results quite a bit with the system cache settings enabled. QNAP is also one of the first COTS NAS vendors to support SMB 3.0. Obviously, this is available only for Windows 8 and Windows Server 2012 R2 and later operating systems. We tested out SMB 3.0 with a Windows 8 VM in our NAS testbed. In the rest of the review, we try to address as many different combinations as possible in the benchmarks.