MSI GT72: Ultra Quality Gaming Performance
Okay, that's enough small talk. I know most of you are really only interested in one thing: how fast is the GTX 980M? I've run a limited set of benchmarks on the system, basically testing at 1920x1080p "Ultra" and "High" settings. I've also increased the number of games being tested for this article beyond the usual five that we use for notebooks, simply because this is first and foremost a gaming notebook. PCMark and general system performance results might be nice to know, but I don't think anyone is going to buy the GT72 unless they plan on utilizing that shiny new GTX 980M. The new games are Batman: Arkham Origins, GRID Autosport, Metro: Last Light Redux, and Sniper Elite 3; I've also brought back Company of Heroes 2, which isn't something we normally test on notebooks. For now I'm comparing the GT72 with three other MSI notebook, and I've also tossed in a desktop i7-4770K (at 4.1GHz) with a GTX 970 as a reference; in theory, the GTX 980M shouldn't be too far off the GTX 970 performance.
For the sake of completeness, the settings used for Ultra generally include anti-aliasing, and in some cases that means SSAA (which can really pummel the GPU). Batman: Arkham Origins sets all the options to on/DX11, anti-aliasing is 4xMSAA, and PhysX is disabled. BioShock Infinite uses the UltraDX11_DDOF setting, Company of Heroes 2 has all the options at their maximum (including anti-aliasing set to High), and GRID Autosport has 4xMSAA enabled with the Ultra quality preset. For Metro: Last Light Redux, all settings are at maximum (including SSAA). And wrapping up, Sleeping Dogs uses the Extreme preset (which includes High SSAA), Sniper Elite 3 uses the Ultra preset with 4xSSAA enabled, and Tomb Raider uses the Ultimate preset (but without enabling SSAA – maxing out the settings drops the 980M by 7 FPS if you're wondering, so it's not a huge difference). Here are the benchmark results, starting with Ultra quality:
1920x1080 Ultra Performance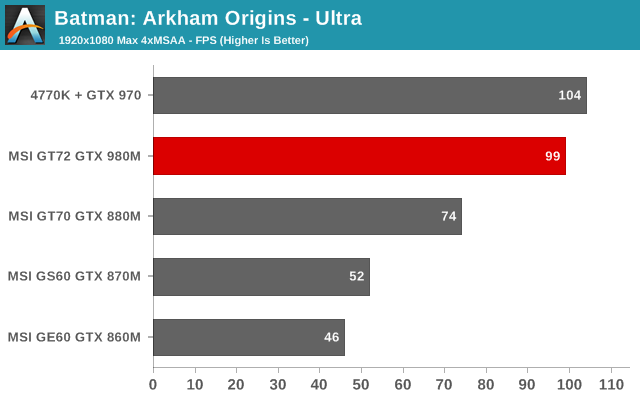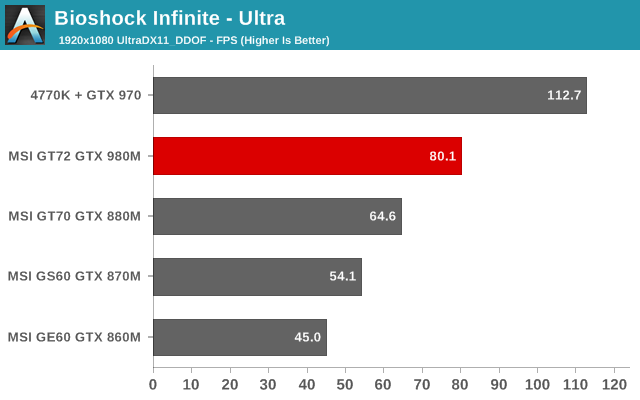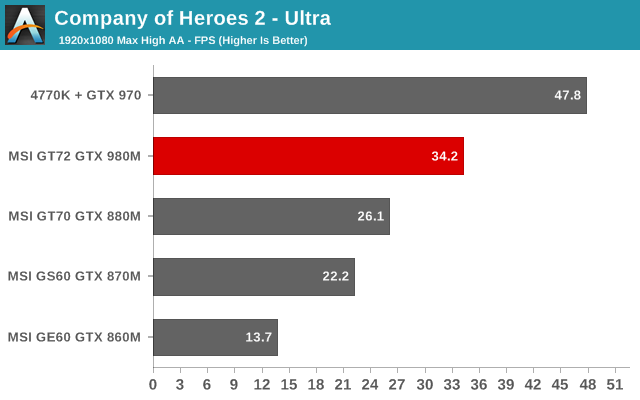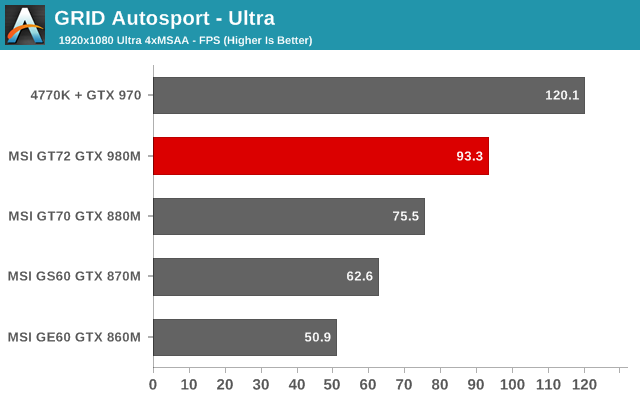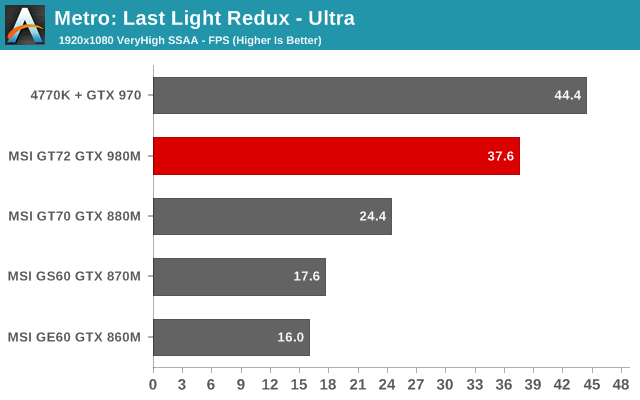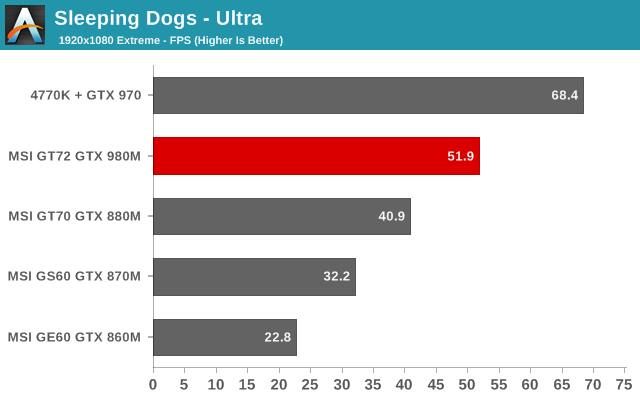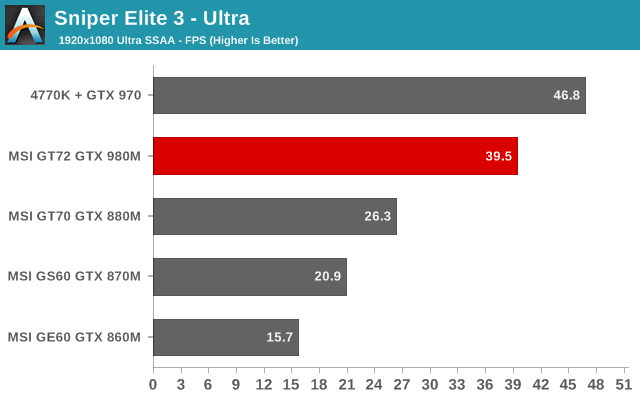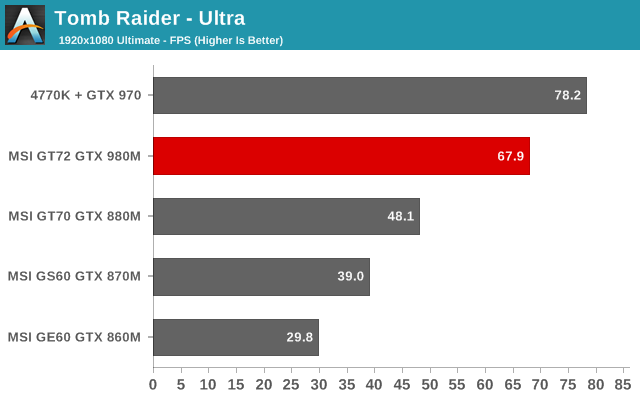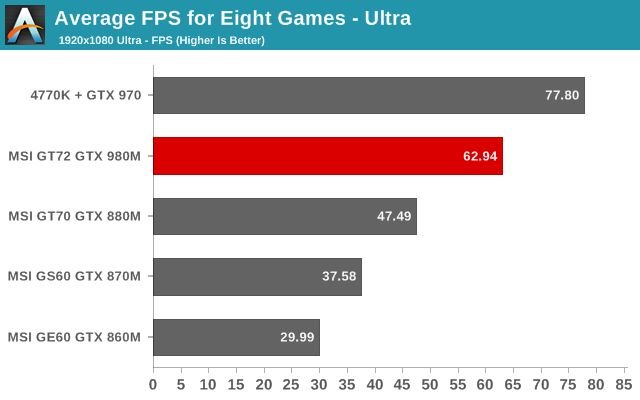 First, let me just say that the inclusion of the desktop GTX 970 is really something of a high water mark for mobile GPUs to strive for. Granted, it's a $329 part compared to a $2200+ notebook, but high-end gaming notebooks have never been particularly economical. The fact that the GTX 980M can come close to the GTX 970 is pretty impressive, and it also breaks 30FPS in every one of our test games – something no other mobile GPU has ever achieved.
Obviously there are still going to be games where cranking every dial up to 11 isn't going to work out so well. Metro: Last Light (and the Redux sequel) is a prime example of this, as enabling SSAA in particular can bring even the fastest desktop GPUs down to unplayable frame rates; games like Crysis 3 and The Witcher 2 can be similarly taxing with all the settings maxed. Of course, if we're talking about "normal" settings (e.g. not SSAA), the GTX 980M is able to handle pretty much anything you might want to throw at it. Dropping down to our High settings (which mostly means turning off anti-aliasing in terms of quality and performance, though there are also differences between High and Very High/Ultra in some titles), performance jumps well into the playable range.
In terms of average performance, the GTX 980M tops all mobile contenders by a sizeable margin. It's about 35% faster than the GTX 880M, 70% faster than GTX 870M, and a whopping 110% faster than GTX 860M. Interestingly, I was expecting performance to be closer to the desktop GTX 970, but it turns out the 980M only manages to deliver 81% of the 970 performance on average. GPU memory bandwidth may be a factor here (7GHz vs. 5GHz), and the desktop GPU is also being helped by a CPU that's clocked 17-28% higher than the i7-4710HQ (depending on how high the 4710HQ is able to turbo).
This is part of what makes me wonder if MSI went a bit too conservative on the CPU side of things, but then we're already pushing high frame rates with the 4710HQ and in most cases it's only going to be frame rates above 60 FPS where the CPU plays a significant role.