Android is the world's most popular mobile operating system, with over 1 billion monthly active users as of July. But according to Google that's only the beginning. Android One is Google's initiative to target the other 5 billion people on the planet; people who may live in areas where purchasing the latest $700 flagship device simply isn't an option. In some of the countries Google is targeting, the average monthly income may be as little as the equivalent of $250. This is an enormous barrier for smartphone adoption. At Google I/O the stated goal of Android One was to bring a high quality smartphone experience to the masses in a $100 package. Today the first step is being made, with the launch of three new smartphones in India from manufacturers Micromax, Karbonn, and Spice.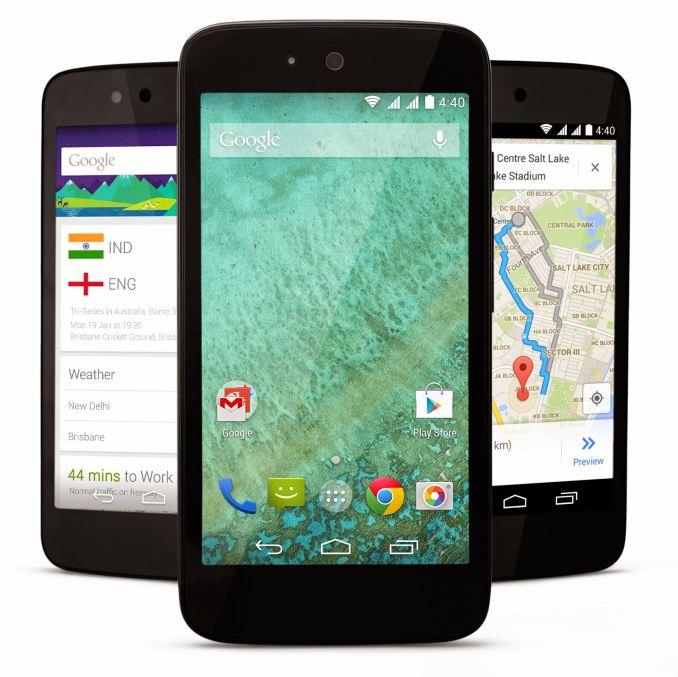 Starting at 6399 Rs (~$105) the devices are slightly higher than Google's initial price projection but still within a price range that should be affordable by many people in countries like India, Indonesia, and the Philippines. They feature SoCs from Mediatek, and include features like dual SIM cards and FM radio support which are more popular in those countries than in others like the United States for example.
To avoid the issues that have traditionally plagued performance and software on low-end devices, Google has been working with various hardware suppliers and manufacturers to create a reference platform for Android One devices. This specification consists of a 4.5" 854x480 IPS display, a 1.3GHz quad core CPU from MediaTek, 1GB of RAM, 4GB of NAND, MicroSD support, a 5MP rear camera, 2MP front camera, and a 1700mAh battery. At $105 that's a very good value proposition.
Google will also be supplying all software support which means that updates will come directly from Google and Android L support is a guarantee. Google has partnered with Indian cell carrier Airtel to allow users to download 200MB per month from Google Play without counting against the user's data allowance. For the first 6 months, software updates will also be free to download over the air using cellular data.
The Karbonn Sparkle V, Micromax Canvas A1, and the Spice Dream Uno can be seen at their respective manufacturer's websites. The devices are currently for sale at major Indian retailers including Flipkart, Amazon India, and Snapdeal.
Source: Google