AnandTech Storage Bench 2013
Our Storage Bench 2013 focuses on worst-case multitasking and IO consistency. Similar to our earlier Storage Benches, the test is still application trace based – we record all IO requests made to a test system and play them back on the drive we are testing and run statistical analysis on the drive's responses. There are 49.8 million IO operations in total with 1583.0GB of reads and 875.6GB of writes. I'm not including the full description of the test for better readability, so make sure to read our Storage Bench 2013 introduction for the full details.
AnandTech Storage Bench 2013 - The Destroyer
Workload
Description
Applications Used
Photo Sync/Editing
Import images, edit, export
Adobe Photoshop CS6, Adobe Lightroom 4, Dropbox
Gaming
Download/install games, play games
Steam, Deus Ex, Skyrim, Starcraft 2, BioShock Infinite
Virtualization
Run/manage VM, use general apps inside VM
VirtualBox
General Productivity
Browse the web, manage local email, copy files, encrypt/decrypt files, backup system, download content, virus/malware scan
Chrome, IE10, Outlook, Windows 8, AxCrypt, uTorrent, AdAware
Video Playback
Copy and watch movies
Windows 8
Application Development
Compile projects, check out code, download code samples
Visual Studio 2012
We are reporting two primary metrics with the Destroyer: average data rate in MB/s and average service time in microseconds. The former gives you an idea of the throughput of the drive during the time that it was running the test workload. This can be a very good indication of overall performance. What average data rate doesn't do a good job of is taking into account response time of very bursty (read: high queue depth) IO. By reporting average service time we heavily weigh latency for queued IOs. You'll note that this is a metric we have been reporting in our enterprise benchmarks for a while now. With the client tests maturing, the time was right for a little convergence.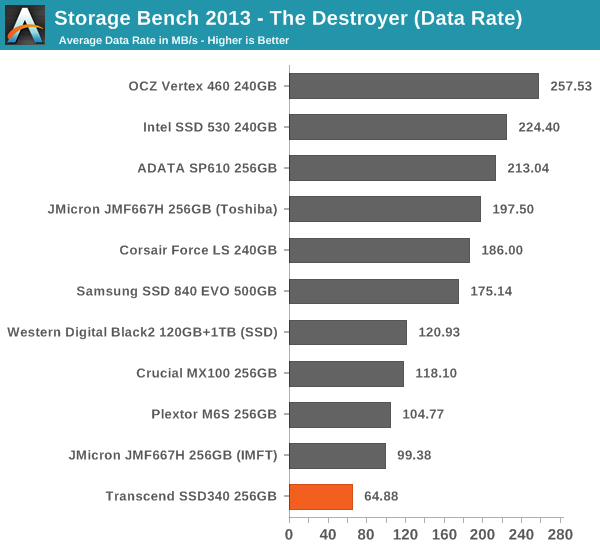 Ouch, this is bad. The SSD340 is the slowest SSD in our 2013 Storage Bench and the difference is quite substantial. Given the results on the previous page along with the results here, it is clear that the SSD340 is not suitable for IO heavy workloads that require consistency. It still might have something to offer in lighter workloads, but that's looking increasingly doubtful.