The TUF Sabranco
Camouflage usually comes in three main varieties for most ground troops of a nation's armed forces: regular, sand and snow. Due to popular demand on the ASUS forums it would seem that a snow version of TUF, the consumer endurance range from ASUS, is coming to market. One of the prototypes was up on display at the booth, combined with the TUF Fortifier which had also been decorated to match the motherboard. The motherboard itself is purchased as white by ASUS then components added, similar to some Galaxy graphics cards in the past.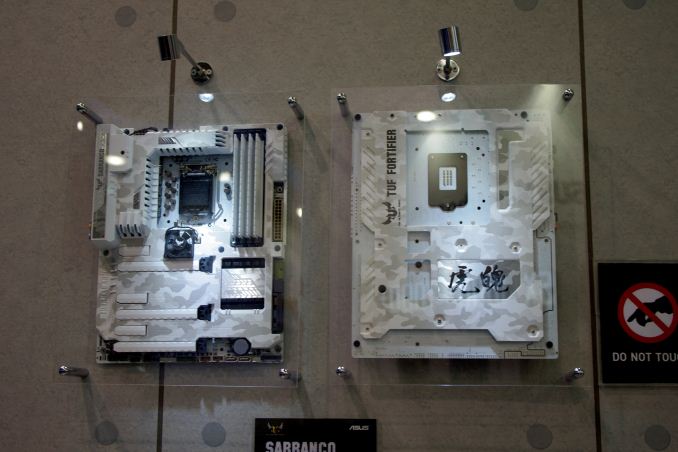 The Sabranco is still a work in process, as dictated by the glass sheet in front of it and a 'do not touch' sign. There is not much to tell from these images, however the dual fan placement element of the TUF Fortifier is here, as well as the SATA Express connector with the SATA ports.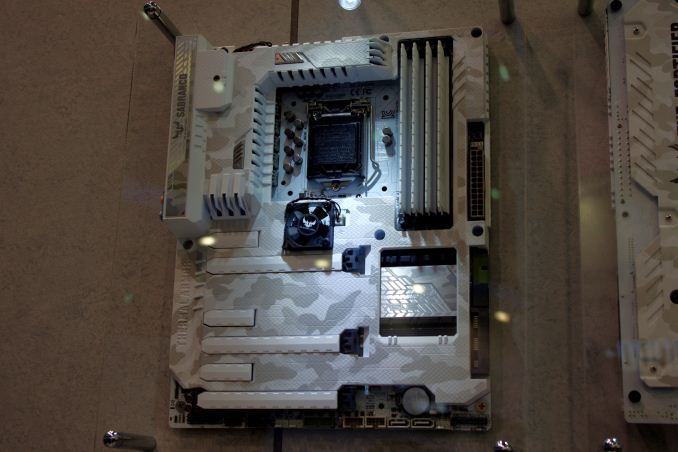 The Thermal Armor around the power delivery has the two switches to direct airflow around that area. The name 'Sabranco' is a portmanteau of Sabertooth and Branco, the Portuguese for white. So I am not one who enjoys portmanteau in general (with 'chillax' being on the bad end of the scale but 'ginormous' seems reasonable'), and I am not sure Sabranco rolls off the tongue as easily as some of the other ASUS product names. The best alternative as a name for this I could come up with, when ASUS asked what I would call it instead, was the 'TUF Antarctic', so go with the color along with the harsh conditions TUF is designed to be used in. I guess I might have been influenced by the case design ASUS had on display to show off what a white system might look like: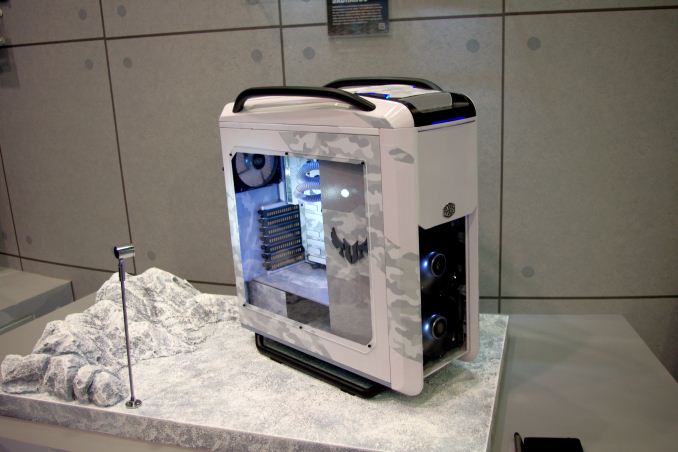 As mentioned, this white TUF motherboard is most likely coming to market however it is a few months away from release right now. I suspect the first socket for this model will be Z97, though depending on the demand for X99, perhaps an extreme edition will be made.