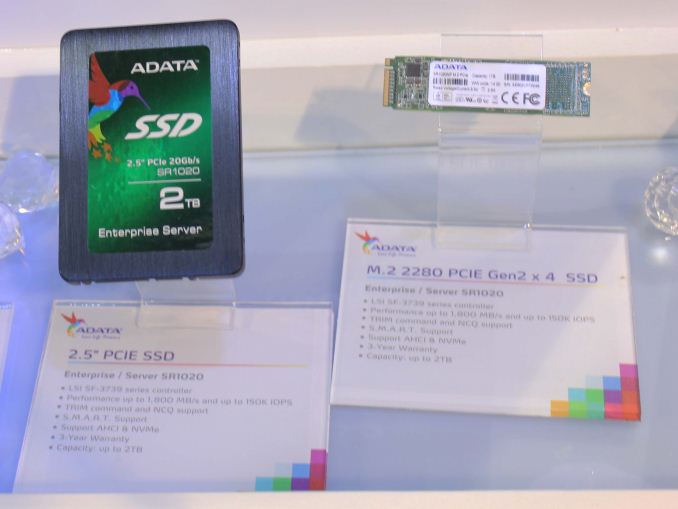 We already covered ADATA's DDR4 last week but they had a ton of other interesting products at their booth. I'll start with the SSDs as they are the most intriguing for me.
ADATA didn't announce any new SSDs at Computex but they had all their existing products along with some unreleased drives shown at the booth. The most interesting drive was the SR1020, which is an SF3700 based enterprise drive that comes in capacities of up to 2TB and is rated at up to 1,800MB/s and 150K IOPS. Both 2.5" and M.2 2280 versions will be available with similar specs (yes, 2TB in M.2) but ADATA couldn't really share much details due to LSI's strict policies with the SF3700. I'm guessing the drive uses 128Gbit Micron NAND to achieve the high capacity but we will have the full details once the release gets closes (should still be Q4).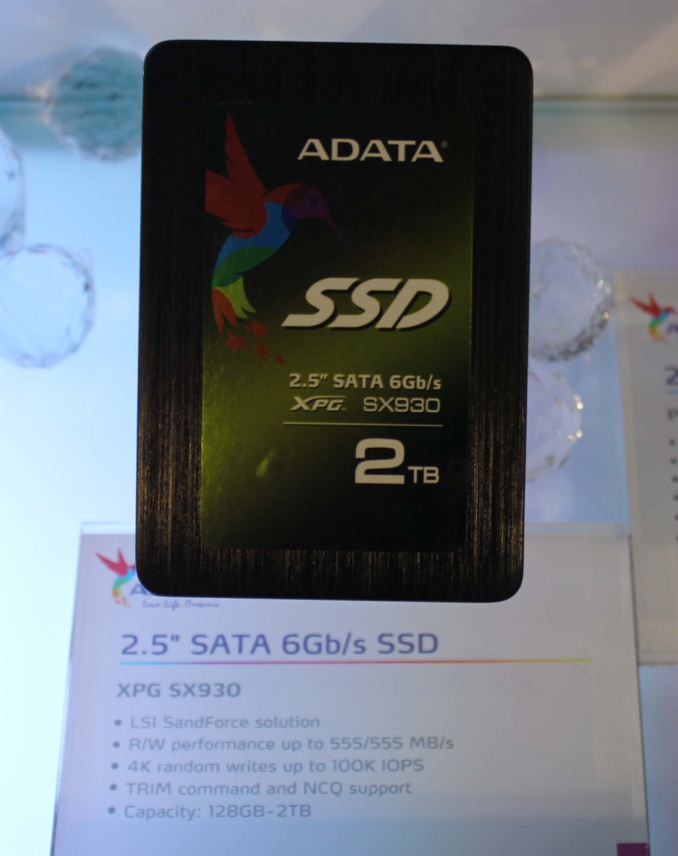 In addition to the enterprise-focused SR1020, ADATA also had a more consumer-friendly 2TB to show: the XPG SX930. This is also an SF3700 based SSD but the controller runs in SATA 6Gbps mode. If you have read our original SF3700 announcement article, you might remember that the controller supports both SATA 6Gbps and PCIe 2.0 x2/x4 interfaces and selecting the mode is as simple as toggling a switch, although this can only be done by the OEM to ensure that the end-user doesn't accidentally change the mode. While SATA 6Gbps isn't fast enough to show the full potential of SF3700, I see the reasoning behind a SATA 6Gbps version. In the end, the transition to PCIe won't happen overnight and there are plenty of areas where the interface isn't the bottleneck (IO consistency and performance at low queue depths for instance).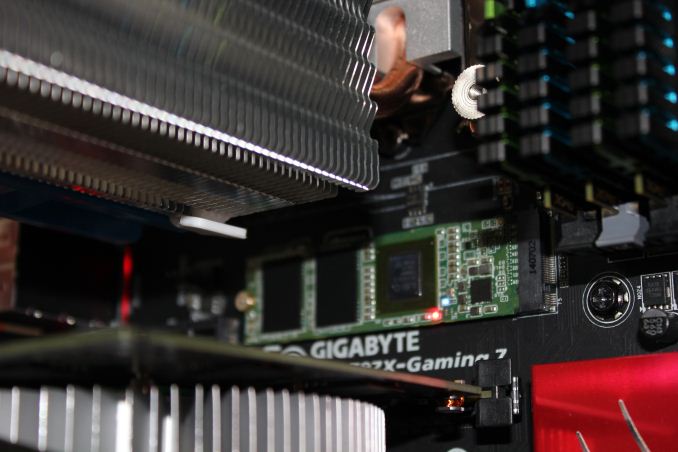 ADATA also had a working SF3700 sample in one of their demo systems but they were not allowed to run any benchmarks on the drive. Looks like LSI has been able to tune down the power consumption as the drive no longer needs a heatsink for the controller.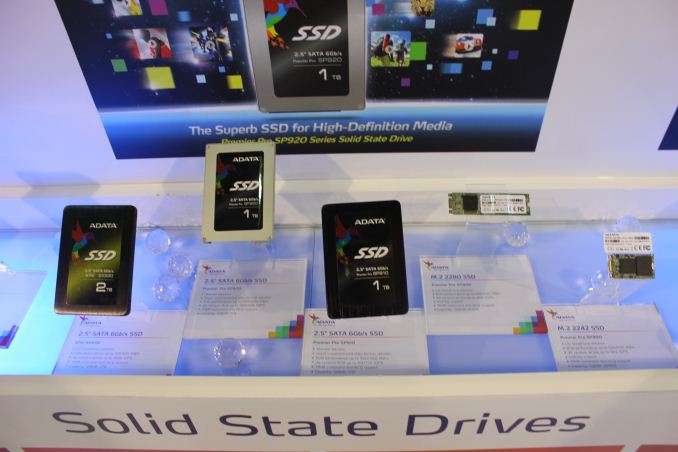 Here is what ADATA's high-end SSD lineup currently looks like. The SP910 was launched just before Computex and it's based on the Marvell 88SS9187 controller. The difference to SP920 is that the SP910 features a custom firmware, whereas the SP920 uses a Micron-designed firmware as it's essentially a rebranded drive like we mentioned in our review (although ADATA cannot officially say that). ADATA also launched M.2 SATA 6Gbps SSDs with SF-2281 controller with capacities of up to 512GB. The SP610 with a Silicon Motion controller was also present at the booth and I already have the drives and will be reviewing them within the next few weeks.
In addition to 2.5" and M.2 SSDs, ADATA had micro SSDs to show. The idea is similar to SanDisk's iSSD and basically it's a standard SSD but in BGA footprint. ADATA is using JMicron's JMF608 controller, which is a 4-channel design that does not need any external DRAM. Sequential performance should be similar to any other SATA 6Gbps SSD and capacities go all the way to up to 128GB thanks to Micron's 128Gbit 20nm NAND. The market for micro SSDs is mainly in the embedded market but that's currently a growing market with a lot of potential.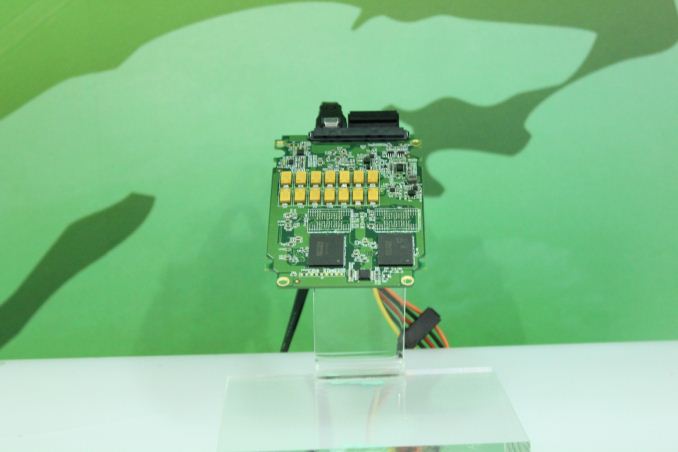 ADATA also had some industrial SSDs to show. The drive in the picture is ISSS312 and it uses a JMicron controller with an ADATA-designed firmware. Power loss protection is provided by tantalum capacitors as you can see in the picture but in addition there is also support for hardware erase (i.e. there is a physical button that triggers secure erase) and there is even a water-proof version available. Capacities with MLC NAND range from 16GB to 128GB and SLC NAND is supported as well.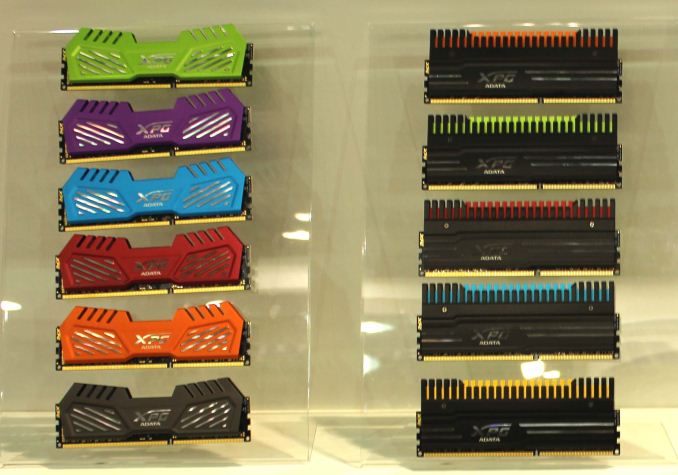 While DDR4 was obviously at the center of the attention, ADATA also had all their DDR3 modules at the booth. On the right is the new XPG V3 with a redesigned heatsink. Specs are similar to the V2 and the XPG V3 is available at up 3200MHz (CL12) in capacities of 4GB and 8GB per module.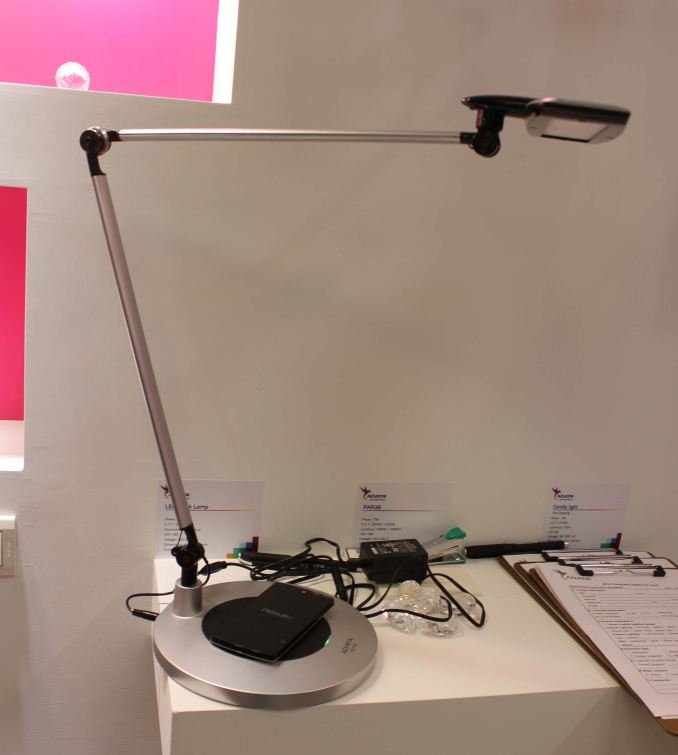 While I mainly focused on ADATA's component selection, there were some interesting mobile accessories too, such as a desk lamp, which functions as a wireless charging pad for devices with Qi wireless charging support. I think the idea is pretty neat because it eliminates the need for an additional device on your desk.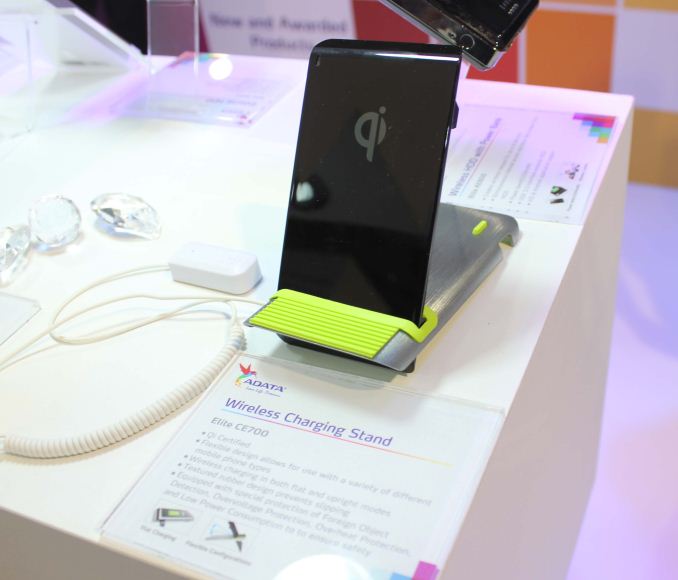 Of course ADATA also had some traditional wireless chargers to show, such as the Elite CE700.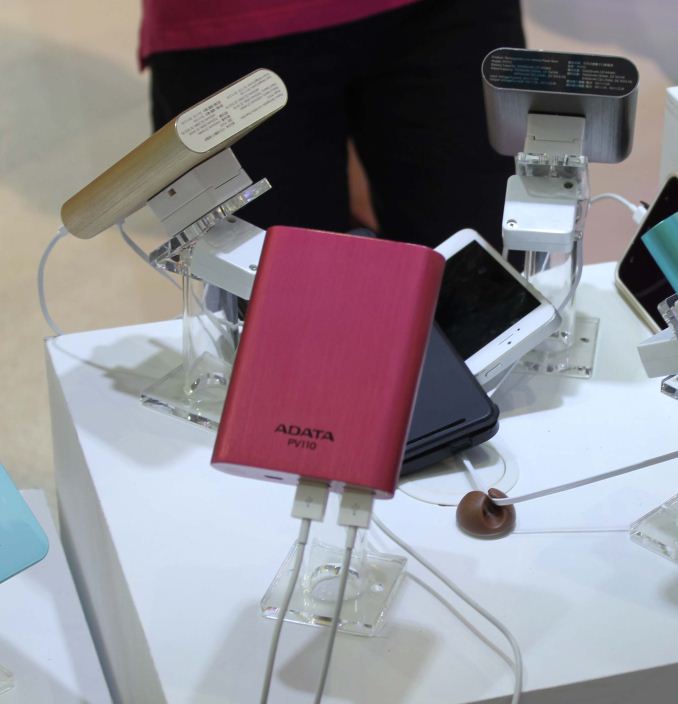 The PV110 is an updated version of the PV110 power bank and it ups the capacity from 4,200mAh to 10,400mAh. The design has also changed from plastic to brushed aluminum and with two USB ports the PV110 is capable of charging two devices simultaneously with total output of 3.1A. For users who don't need such high capacity, ADATA offers the PC500 with 5,000mAh capacity with just one USB port and the design is also plastic to help drive the cost down.
Thats it for the ADATA booth tour. I'll be covering ADATA's plans for DDR4 and SSDs in more detail over the next couple of weeks because I had a meeting with their president along with the directors of their memory and SSD departments, so stay tuned for more content!