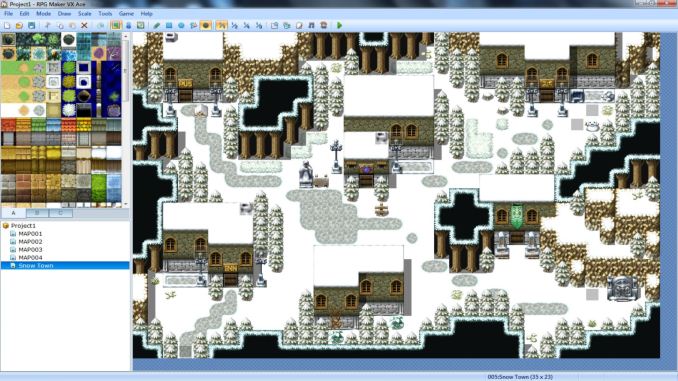 It's Thursday again, so you know what that means: a new Humble Weekly Bundle. This week the core package is RPG Maker VX Ace, a tool which can be used to make [Drumroll…] your own RPGs. Surprise! I always had dreams of being a game designer as a youth, and while I never did much with the idea I do know there are plenty of budding designers still out there. Hopefully some of you can make use of this package to get your start. The collection of games have all been created with RPG Maker (some with VX Ace, some with earlier versions), and while you can buy some of the games, others are available free so there's nothing special here other than providing you with a different means to download the games. There are three tiers for this bundle: "pay what you want" ($1 minimum for Steam codes), $6 or more, and $12 or more. Here's the list of games/tools, grouped by pricing tiers:
Pay What You Want ($1)
RPG Maker VX Ace (~75%, 03/2012): not a game as such but a tool that can be used to create games. The graphics created won't be cutting edge, but you can still have a lot of fun regardless.
RPM Maker DLC Bundle #1 (N/A, 2012): more assets – tiles, music, sound effects – to use in the games you create. Includes Royal Tiles Resource Pack, Adventurer's Journey (music), Tyler Warren's First 50 Battler Pack (50 monsters), and Modern Day Music Mini Pack.
Skyborn (N/A, 03/2012): only two reviews have been submitted, but both liked this JRPG-style game.
Sweet Lily Dreams (N/A, 12/2011): created with an earlier version of RPG Maker (I think?)
RPG Maker Free Games Bundle #1 (N/A): includes four games – In Search of Immortality, Legionwood: The Tale of Two Swords, Star Stealing Prince, and The Reconstruction. These games are all free downloads so basically this is a collection of "best of" games built with RPG Maker.
$6 or Higher Donation
RPG Maker XP (N/A, 09/2005): an earlier version of the RPG Maker software. Why do you need this if you have VX Ace? Don't ask me!
RPG Maker - Exclusive Resource Pack (N/A, 05/2014): exclusive content just for the Humble Bundle – 21 new songs as well as reworked RTP town tilesets.
RPG Maker DLC Bundle #2 (N/A, 2013): more DLC packs for content creators – includes High Fantasy Resource Pack 1, High Fantasy Main Party Pack 1, Futuristic Tiles Resource Pack, Inspirational Music Pack Volume 1, Tyler Warren's Second 50 Battler Pack, and the Humble-exclusive Steampunk/Western Preview (for an upcoming DLC).
To The Moon (81%, 09/2012): fulfill a dying man's last wish as you travel through his memories.
Deadly Sin 2 (N/A, 05/2014): from the same team that created Skyborn (Dancing Dragon Games), this 20-30 hour epic has you trying to save the Empire. Note that this is not a direct sequel to Deadly Sin and can be played on its own.
RPG Maker Free Games Bundle #2 (N/A): as above, there are four games here that are available elsewhere for free, specifically Homework Salesman, I Miss the Sunrise, Aetherion, and Visions and Voices.
$12 or Higher Donation
Game Character Hub (N/A, 05/2014): a software package to help you manage and edit 2D art assets.
RPG Maker DLC Bundle #3 (N/A, 2014): four more DLC packs with two Humble exclusives – Zombie Survival Graphic Pack, Rural Farm Tiles Resource Pack, Joel Steudler's All Music Sampler (mix of tracks from his RPG Maker releases), and Best of Member+ Resource Sampler (a Humble exclusive providing a collection of resources normally only available through the Member+ program).
Legionwood 2: Rise of the Eternal's Realm (N/A, 05/2014): a brand new release and the sequel to the earlier free game.
This is clearly a bundle targeting wannabe game developers/designers more than RPG fans. Not even counting the games, the cost of purchasing all of the software and DLC packs in this bundle normally comes to around $300 (note that Steam currently has a sale on most of the RPG Maker assets), though I'm not sure if there's much point to owning and using RPG Maker XP when you have the newer VX Acer version. However, it's not the tools so much as what you can do with them that matters, and I suspect despite claims to the contrary, you'll need to spend a decent amount of time with the tools before you can create anything really noteworthy.
You can even create commercial games using the various tools, though I'm not sure how viable it is to sell such games unless you invest a lot of time and effort into creating your own assets – otherwise, it's just new stories with the same graphics and music that numerous other RPG Maker games have used. Another complaint I have with the created games is that the support for different resolutions appears limited (or perhaps non-existent), so many of the games look like they're 1024x768 affairs.
If I were 25 years younger I'd probably be a lot more interested in trying my hand at RPG Maker, but as a grumpy old man I'm more content to see what others have created. To that end, if you're just looking for free RPGs, you could skip this bundle and instead check out all of the free content on RPGMaker.net. The quality of user-created content will vary greatly, naturally, and the best games will likely end up turning into commercial products I suspect. Even if you just want games, though, at $12 for the entire bundle you still pick up more than $50 worth of games (i.e. not counting the free games), so that's not bad. Now if I just had about 500 hours to spend playing nothing but classic-style RPGs, I'd be set!
On a similar note, if you're looking for tools to create your own games, Bundle Stars has a similar deal running for Axis Game Factory Premium for $9.99 with ~13 days remaining.