The Competition
Because AMD is the first x86 CPU manufacturer to move their tablet focused processors into the socketed market along with low-cost motherboards, Intel has no direct comparative product. We have to look to their Bay Trail-D SoC range which loses that upgradable functionality. Competition between AMD and Intel on this front is a tit-for-tat operation, with each company focusing on their different strengths. AMD's integrated IGP aims to be more powerful than the equivalent Intel along with support for DDR3-1600 memory, as well as cheaper overall, however Intel can boast dual channel memory and a lower power output.
With all these differences between Kabini and Bay Trail, including price, power and cores/threads, it is hard to find Intel parts that accurately match each other. AMD has put the following in front of reviewers to provide a guide:
AMD consider the Athlon 5350/5150 parts (quad core, 2.05 GHz and 1.6 GHz) in line with the Intel Pentium J2850/J2900, and the Sempron 3850 with the J1850/J1900. For this Part 2 we were able to obtain full Celeron J1800 (dual core) and Celeron J1900 (quad core) Bay Trail-D parts for testing. Even though AMD puts the Athlon 5350 in the path of the J2900, the J2900 is primarily an OEM solution used by Acer. A single J2900 motherboard appeared on Newegg a week after we had packed up testing.
In fact, I think the 5350 vs the J1900 is a better fit:
AMD Athlon 5350 vs. Intel Celeron J1900
Athlon 5350
Celeron J1900
CPU Architecture
Jaguar
Silvermont
CPU Cores
4
4
CPU Frequency
2.05 GHz
2.0 GHz / 2.4 GHz Turbo
GPU Cores
128 SPs
6 EUs
GPU Frequency
600 MHz
688 MHz
Memory Channels
Single
Dual
Memory Frequency
1600 MHz
1333 MHz
L2 Cache
2 MB
2 MB
TDP
25 W
10 W
Price
$59
$82
Also we can now directly compare pricing. Take for example the two of the motherboards we had for this review, one J1900 and the other AM1 while equipping the system with an Athlon 5350:
GIGABYTE J1900N-D3V: $87 (Newegg)
GIGABYTE AM1M-S2H: $35 (Newegg)
AMD Athlon 5350: $65 (Newegg)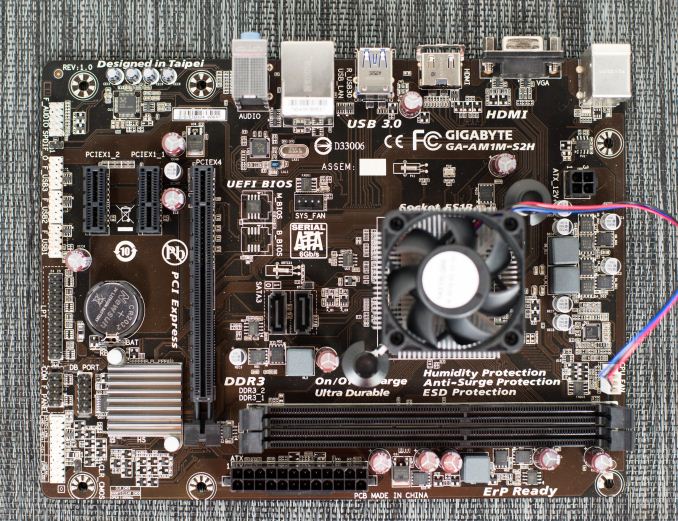 Totaling up the AMD components gives $100 vs $87 from Newegg, or £65 vs. £66 on Amazon UK, on the extreme high end of a Kabini AM1 setup. Pricing is also influenced slightly by quoting the boxed version of the APU, rather than the OEM pricing that AMD likes to quote.
Our test setup is a follows:
Note that for our benchmark results we are also taking data from previous reviews done at AnandTech, including some of the higher powered mainstream systems. Over time we have added benchmarks (such as SYSmark 2014) which are lacking some of the mid-range data.
Power Consumption: Idle to 100% CPU Load (on IGP)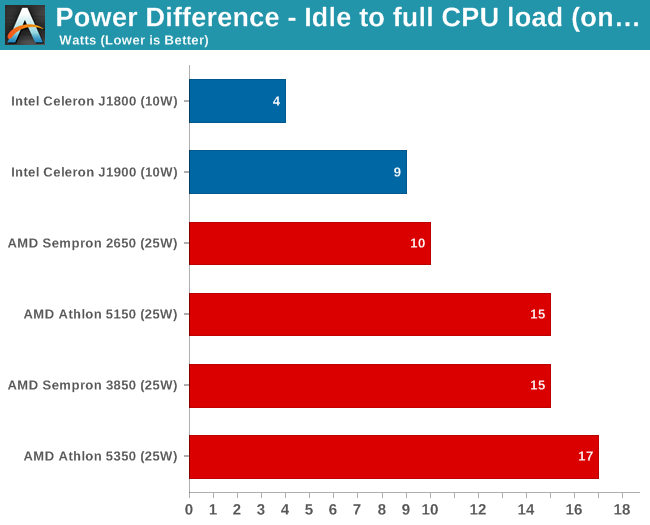 Because of the difference in TDP, the AMD APUs here use more energy, although all four comfortably use less than the 25W TDP. The dual core especially only registered a 10W difference from idle to a full CPU load.