Biostar AM1ML
Every so often at AnandTech we review a Biostar motherboard, and sometimes we get some exciting features (the first manufacturer to test fan profiles in the BIOS) but they mostly end up as a budget play in a market with plenty of players. As part of the AM1 release Biostar hase two motherboards on sale, the cheapest of which is this AM1ML coming in at $33.
Straight off the bat the AM1ML does a couple of things differently compared to a regular motherboard: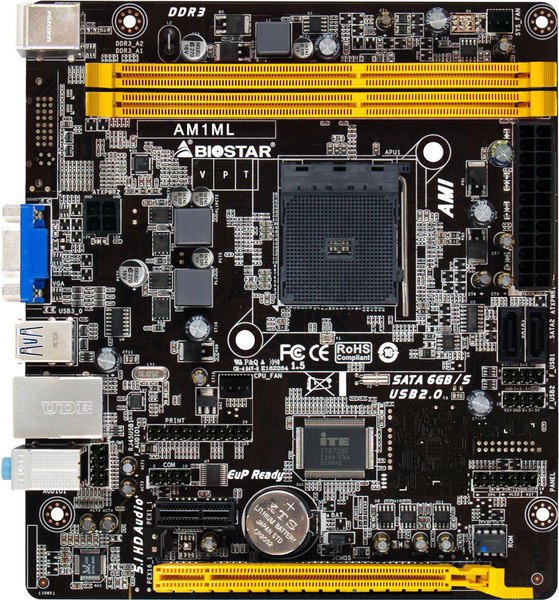 First thing I noticed was the arrangement of the DRAM slots. Horizontal placement on a small form factor motherboard has been attempted by ASRock in the past on their channel range, but this type of arrangement is usually restricted to server type builds.
Second was the motherboard size. In my mind I immediately said mini-ITX, however on closer inspection this motherboard is essentially a mini-ITX 'plus'. It contains the standard 17cm x 17cm layout of a mini-ITX, plus a couple more at the bottom, but not enough for a microATX. This means that this motherboard will not fit in mini-ITX cases unless the case has room for a dual-slot GPU. As a result of this configuration, we get a PCIe 2.0 x1 slot alongside the full-sized x4 slot.
As with many small form factor boards, my ire is often pointed at the location of the CPU power connector. Biostar has it placed near the rear IO of the motherboard, causing cables to be stretched over the motherboard (or DRAM, CPU or GPU). This is ultimately bad planning by an engineer who has a different idea about small form-factor systems than I do. As this is the cheapest AM1 motherboard on Newegg today, there is no surprise that we get the bare minimum. Two SATA 6 Gbps ports, two USB 3.0 ports, and there is even room for a printer port and a COM port.

The back panel is essentially bare, with support for separate PS/2 peripherals and a single VGA port for video output.
Perhaps a surprising kicker is the Ethernet port. Biostar are using a Realtek RTL8106E, which as codenames go is pretty generic, but this is a 10/100 Ethernet port. I never thought I would ever see a socketed motherboard in 2014 ship with a less-than-gigabit Ethernet port. My mind is blown.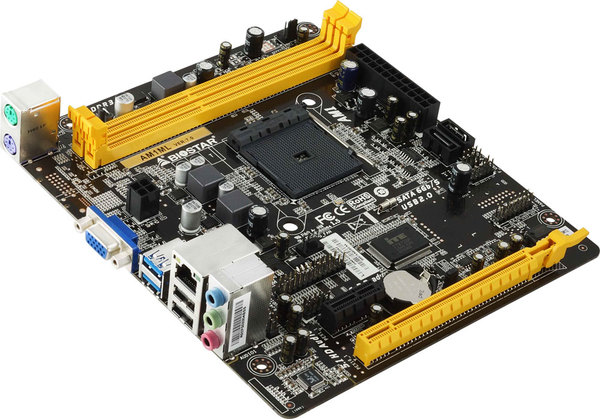 The audio is subsequently bottom of the barrel as well – the ALC662 is commonly used on low cost platforms and laptops.
Biostar AM1ML
Price
Link
Size
Mini-ITX Plus
CPU Interface
FS1b
Chipset
AMD Kabini
Memory Slots
Two DDR3 DRAM Slots Supporting 16GB
Single Channel, Up To 1600 MHz
Video Outputs
VGA
Onboard LAN
Realtek RTL8106E - 10/100
Onboard Audio
Realtek ALC662
Expansion Slots
1 x PCIe 2.0 x16 (at x4)
1 x PCIe 2.0 x1
Onboard SATA/RAID
2 x SATA 6 Gbps
USB 3.0
2 x USB 3.0 (Chipset) [back panel]
Onboard
1 x LPT Header
2 x USB 2.0 Headers
2 x SATA 6 Gbps ports
1 x Front Audio Header
1 x Front Panel Header
2 x Fan Headers
1 x COM Header
Power Connectors
1 x 24-pin ATX
1 x 4-pin CPU
Fan Headers
1 x CPU (4-pin)
1 x SYS (3-pin)
IO Panel
PS/2 Mouse Port
PS/2 Keyboard Port
VGA
2 x USB 3.0
2 x USB 2.0
1 x NIC (10/100)
3 x Audio Jacks
Product Page
Link
For $33, the Biostar AM1ML gave me a few surprises on the hardware side of the equation. I do not imagine we will have time for a full review to test performance or software, but cheap is cheap.