MSI A88XM-E35 Software
The software package from MSI has had some good points over the last few generations, though in terms of evolution there has been a subtle movement away from Control Center and towards Command Center. This is evident with their FM2+ offering which does away with Control Center completely. Command Center includes options for overclocking, fan controls and also a RAMDisk. We still have Live Update 5 for users to update the drivers and software from the motherboard.
Video Genie
The Video Genie software is a software tool designed by MSI to adjust the monitor settings on the fly for various on-screen visuals. Thus in a dark scene on a film it will attempt to provide an auto-HDR type effect, or as shown below will attempt to adjust the screen for a more 'lively' feel. This type of feature is arguably a software replacement for some of the more hardware based solutions.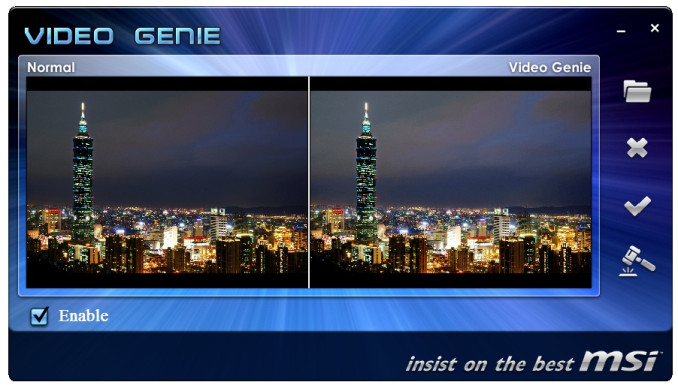 Teaming Genie
A feature that used to be prevalent on Intel chipsets from MSI was Teaming Genie, which seems to now be relegated to AMD platforms. This software aims to help users who add extra 802.3ad capable network ports via the expansion slots and combine them to increase throughput across a home network.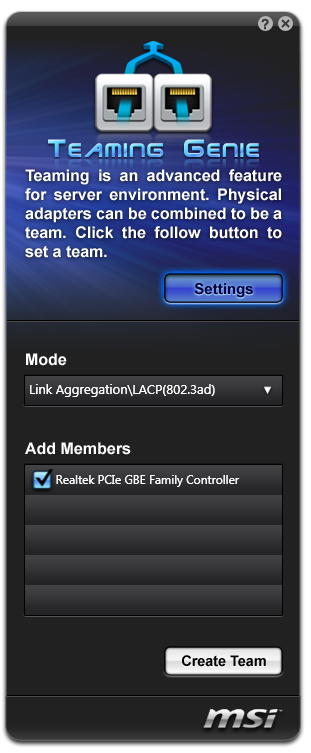 Network Genie
When using a Realtek network interface controller, Realtek will also license out their software that allows users to prioritize certain programs over others (games over social media, browsing over downloads). MSI includes this with the A88XM-E35, using its own skinned version. This software has several modes to choose from, or users can manually adjust each program for a custom setting.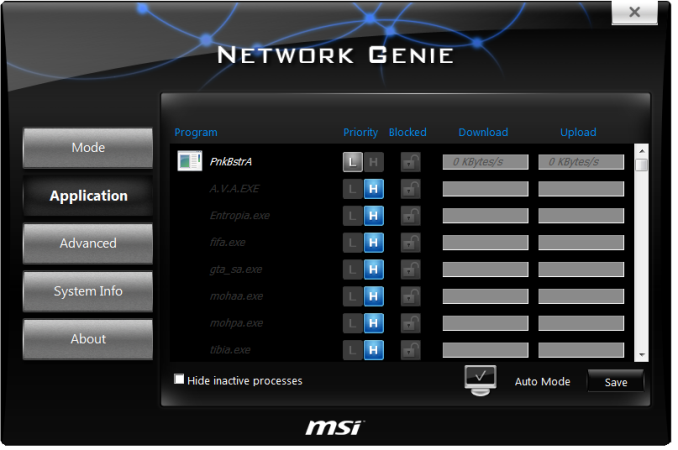 Live Update 5
The big plus in the MSI package is from Live Update 5 (LU5). With LU5 the system will connect to the internet, detect the current platform, get a list of available software on the MSI servers, and then compare this to the software it can detect on the system. If there is a discrepancy in the version, it offers a download. Alongside the software available, the system also checks BIOS versions against the latest available on the servers. The only issue for me is that the program does not tell you the size of the download until you are actually downloading it, which could be an issue for limited bandwidth users if they end up downloading 200 MB of audio drivers rather than 5 MB of other software.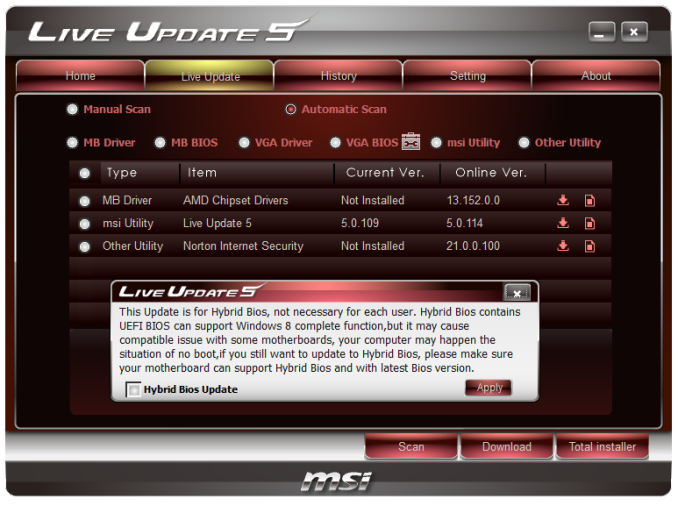 There was also an additional issue with Live Update 5 – the latest version from the website failed to work with the A88XM-E35, but the version on the bundled CD did. LU5 failed to recognize the AMD chipset drivers installed and offered to download new ones, although these were 640MB in size and compounds the issue that the software does not tell the user the size of the software until it is being downloaded.
MSI Fast Boot
With motherboards now allowing for hardware enhancements to improve POST time to Windows 8, it can be difficult for users to get into the BIOS if the system bypasses the 'Press F2 to enter BIOS'. For overclockers the solution is easy with 'Go2BIOS' buttons now being implemented on MSI motherboards. However if the system is in a case, there has to be a software solution, and MSI provide Fast Boot for this, with a Go2BIOS option.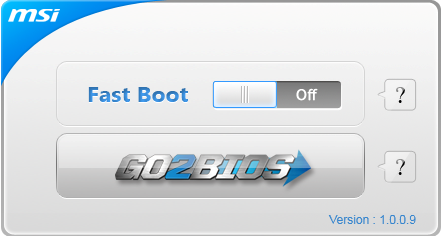 MSI Command Center
The last piece of the MSI software stack is our upgraded version of Command Center. Previous iterations were fairly complex with lots of information in a large interface (a bit like XTU) but visually did not disrupt the user experience. The new version of CC is of a similar ilk, however the settings are divided up to be easier to handle. For example, here is the first screen giving simple overclock and fan control options: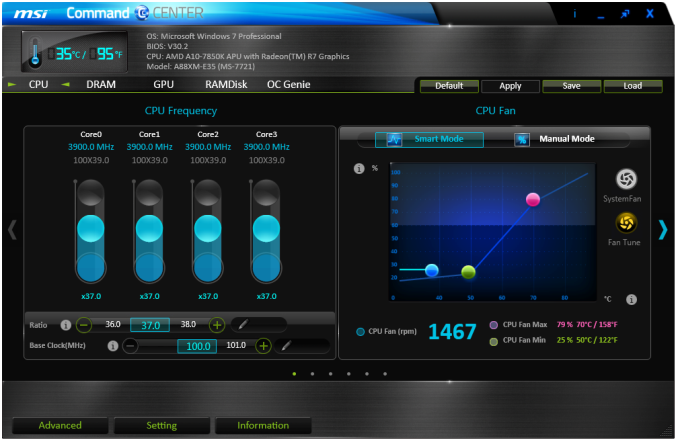 MSI has tried to split up the various sections of CPU/DRAM/GPU into menus, however users can navigate left and right. This puts CC in the firing line for an upgraded smartphone app in the future. With CC users can adjust fan controls and frequencies. As mentioned in the BIOS section, MSI has disabled adjusting the CPU voltage on this motherboard, so this option is greyed out here.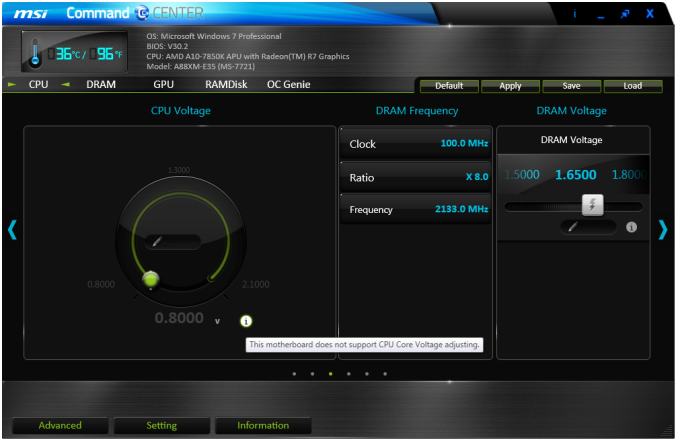 A new element to CC is the addition of RAMDisk software, similar to ASRock's XFast RAM: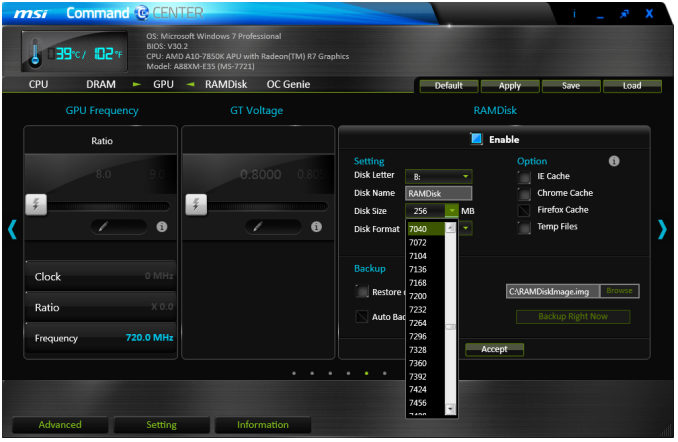 If a user has a large pool of memory to use, any amount could be used to open up a RAM Disk and use it as a cache for some of the more readily used programs, such as web browsers, temp files or even page files.