Power Consumption
Where power consumption is concerned, AVADirect's build is in the ballpark of where it needs to be. The fans are all running at low speeds, so they're not liable to affect power consumption that much. Voltage on the Intel Core i7-4770K is a little on the high side, but still totally within reason and not cause for alarm.
The net result is an idle power consumption of 60 watts, jumping up to 402 watts under AIDA64's stress test with everything but "Stress Disks" enabled. This is in line with where it should be; DigitalStorm's Virtue idled 10 watts higher but drew 40 watts lower under load with the same CPU and GPU, but shipped with a reference GTX 780 instead of a factory overclocked card and frankly, much less hardware overall.
Heat
Despite its sub-30dB noise profile, AVADirect's Quiet Gaming PC also does a fine job of keeping thermals in check. The fly in the ointment is the i7-4770K, whose peak temperatures are a little on the high side. While Haswell's lousy TIM can be blamed for some of this, I can't help but feel like a 140mm closed loop liquid cooler would've been an improvement.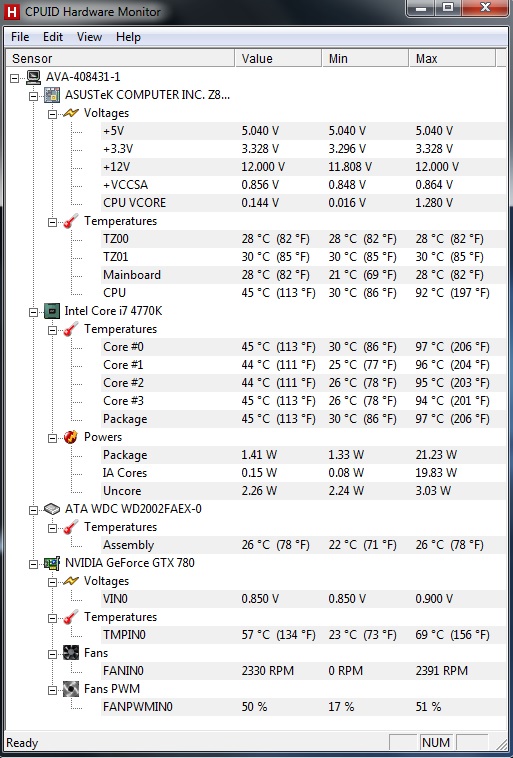 The GTX 780 is running downright frosty, owing to the build's excellent airflow and high quality aftermarket cooler that Gigabyte employs. The problem is that the 4770K is getting dangerously close to throttling; even under water, 1.28V can be a little onerous for Haswell's thermals in my experience, but the Zalman cooler still seems to underperform by about 10C.