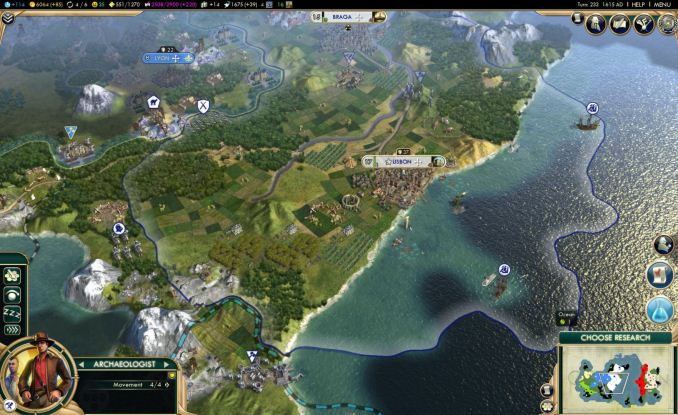 Update: The Codemasters weekly bundle has ended; I've added the new Double Fine bundle to the text below.
Right now there are two pretty major promotions going on with Humble Bundle; the current weekly bundle from Double Fine just replaced the Codemasters bundle. The second bundle is the current Sid Meier / Civilization offering, which has over 12 days remaining. Let's start there.
Sid Meier's Civilization has been one of the most successful and popular strategy games since it first started back in the early 90s. But Sid Meier has lent his name (and presumably his talents) to some other titles as well. You can grab the current bundle for any donation of $1 or more, and that will get you five titles: Sid Meier's Civilization III Complete (~90%, September 2004), Sid Meier's Civilization IV: The Complete Edition (~91%, May 2009), Sid Meier's Ace Patrol (71%, August 2013), Sid Meier's Ace Patrol: Pacific Skies (59%, November 2013), and Sid Meier's Railroads! (77%, October 2006). The first two in the list include several DLC/expansion packs along with the core game, and if you haven't ever played Civ3 or Civ4, prepare to lose a few weeks of your life if you're not careful. Paying more than the average (currently $8.62 and rising) will you get two more Civilization games: Sid Meier's Civilization V (90%, September 2010) and Sid Meier's Civilization V: Gods and Kings DLC (80%, June 2012). As the latest additions to the Civilization franchise, beating the average to get Civ5 is definitely recommended. And finally, as an added twist there's an eighth title available, if you pay more than $15: Sid Meier's Civilization V: Brave New World (85%, June 2013). Purchased separately on Steam right now, the eight titles would carry a combined price tag of nearly $145, so even if you "splurge" for the $15 pack you're getting an awesome 90% off deal.
The latest weekly bundle follows a similar pattern to the above. Coming from Double Fine Productions, there's a "pay what you want" option that will get you three games: Psychonauts (87%, April 2005), Costume Quest (~79%, October 2011), and Stacking (80%, March 2012). Psychonauts has frequently been called one of the most underappreciated gems of its time; it didn't sell all that well initially, but just about everyone that plays the game really enjoys it. Costume Quest is a Halloween-themed RPG/adventure, while Stacking is a puzzle game involving Russian matryoshka dolls that can be stacked to combine abilities and solve puzzles. Make a donation of $6 or more and you'll also get Brutal Legend (80%, February 2013), a heavy metal adventure game. It's noteworthy that all four of these titles have received decent Metacritic scores, which isn't often the case with some Humble Bundles.
But wait -- there's more! As with the Sid Meier bundle, Humble is throwing in a twist with the Double Fine bundle. If you donate more than $16.74 (why that amount, I couldn't tell you), you will also receive early access to the alpha build of Spacebase DF-9 (~70% rating for the alpha), a space strategy/simulation game where you're attempting to colonize the galaxy. As an alpha, there's obviously a lot of work yet to be done, but you'll get the opportunity to provide the developers with feedback and potentially help shape the game before it moves into full release -- and naturally you'll receive the full game as well when it's ready. $10 extra for that privilege is more than a lot of people are willing to pay, but on the other hand some people are really looking forward to the game and would love to get in early, and this is their chance...not to mention you get to help fund the game so that it's actually completed, similar to Kickstarter. (You can already buy early access on Steam as well, though that will set you back $24.99 instead.)
[Outdated 2/6/2014 -- the Codemasters' bundle is over.] As for the Weekly Bundle, we'll be getting a new update tomorrow, but I did want to mention the Codemasters bundle that still has around 18 hours remaining. The core bundle that you get with any donation has some of their perhaps lesser known (and not as well received) games: Overlord (81%, June 2007), Overlord: Raising Hell DLC (~74%, February 2008), Operation Flashpoint: Red River (67%, June 2011), Operation Flashpoint: Dragon Rising (76%, October 2009), and Rise of the Argonauts (59%, December 2008). Donate $6 or more and you get some bigger names: DiRT 3 (86%, May 2011), DiRT Showdown (72%, May 2012), and Overlord II (79%, June 2009). While the review scores on some of these aren't all that great (DiRT 3 and the Overlord games being the exceptions), most of them still have their good points and spending under $1 per game is practically a steal…for a good cause.
Humble has had a lot of indie titles on display of late, which is pretty cool, but it's also nice to see a bunch of AAA titles now and again. If you're looking for other options, however, check out Bundle Stars, Indie Royale, and Indie Gala. There's too much going on to look at every single game available in those bundles, but Pixeljunk Shooter and Sang-Froid Tales of Werewolves are worth a look. And if you have any other bundles or sites with bundles you'd like me to at least look at, let me know in the comments.