New at CES: Transformer Book Duet TD300
The TD300 is being advertised as the world's first quad-mode, dual-OS laptop that combines an Android tablet and Windows 8.1 laptop into the transformer form factor with up to a Core i7 processor under the hood. The quad-mode implies two ways to use Android (tablet or notebook) and two ways to use Windows (tablet or notebook) – switching between them is designed to be as simple as pressing the Instant Switch button.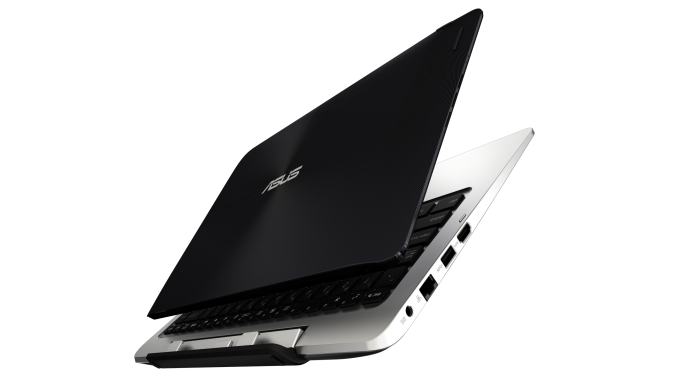 The tablet/screen of the device will be a 13.3" 1080p IPS touchscreen with multi-touch display features and responsiveness, with audio supplied by ASUS SonicMaster technology. The front-facing HD camera is paired with a microphone, along with 128GB of storage that can be boosted with a microSD card while the keyboard dock can house a 1TB hard disk drive (unsure whether this is 2.5", mSATA, PCIe or proprietary yet). The dock also has increased functionality (USB 2.0, USB 3.0, gigabit Ethernet, HDMI 1.4) and the tablet segment comes fitted with 802.11ac dual band WiFi and 4GB of DDR3L-1600 RAM.
In terms of dimensions, the tablet measures 342.7 x 216.3 x 12.9mm and the dock is 340.9 x 217.6 x 16mm, suggesting a potential overall of 342.7 x 217.6 x 28.9mm (over an inch thick at the widest point) with a total weight of 1.9 kg.
The TD300 will be available in the EU/APAC in late Q1, with North America in Late Q2. Pricing will start at $599 for the i3/HD Display combination, whereas the i3/1080p will start at $699. No word on the i7 editions as of yet.
New at CES: VivoTab Note 8
As the name suggests, the VivoTab Note 8 is an 8" tablet running Windows 8.1 with a professional Wacom digitizer stylus in tow, with the aim of making this device suitable for productivity or creativity. The VivoTab Note 8 will come bundled with Microsoft Office Home and Student for this purpose, and ASUS like to point out the thin bezels and high definition display, to go along with the ability to use it one handed, as serious plus points.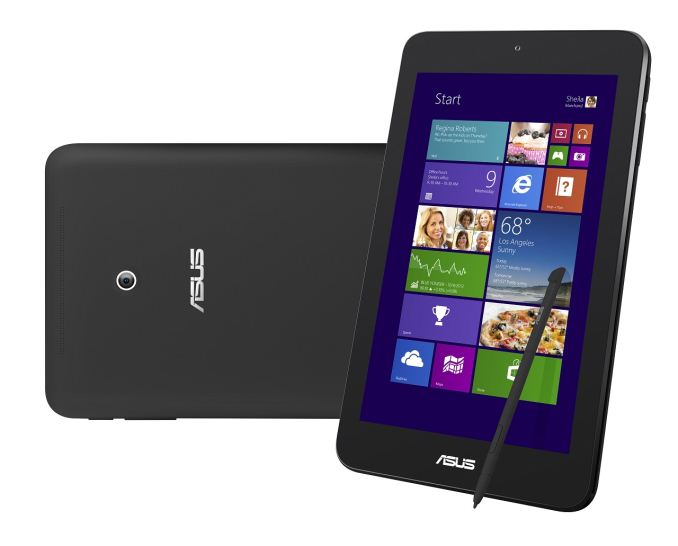 Specification wise we are looking at an Intel Atom Z3740 (quad core 1.33 GHz, turbo up to 1.86 GHz) with 2GB LPDDR3 and up to 64GB of internal storage, with space for a microSD card and 1 year of unlimited ASUS WebStorage. The screen puts the VivoTab Note 8 in the mid-range specification pile, being only 1280x800 on an eight inch device, along with only 802.11 a/b/g/n support (not 802.11ac). It will feature a 15.5 Whr battery however, and weigh in at 380g.
Prices will start at $299 for the 32GB model and $349 for the 64GB model (making 32GB of storage only $50 – other companies could learn from this). Projected release dates is late Q1, early Q2.