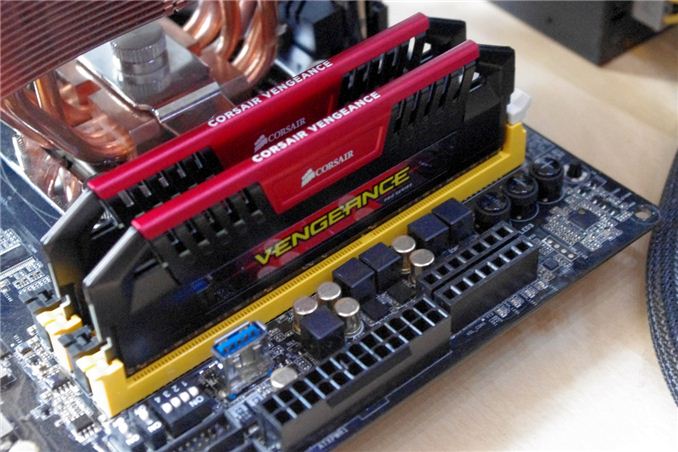 Corsair is a well-known manufacturer of PC components, including DRAM, chassis, power supplies, USB storage, fans, SSDs, gaming peripherals (keyboards, mice, headsets) and cooling, among others. Today we are looking at some of their mid-to-high range memory from their Vengeance Pro range, designed to cater for extreme system builders with DDR3-2400 CAS 10 speeds. This also happens to be the memory we have been using for Haswell motherboard reviews.
Corsair Vengeance Pro 2x8GB DDR3-2400 C10 1.65V Overview
Corsair has been a long time player in the DRAM market, along with Kingston, Crucial and a few others. Several years ago you were hard pressed to find anyone in the PC building business who would not recommend Corsair – it was very often the case that the big names make the big bucks. Despite this, a recent trend among overclocking enthusiasts has developed pushing away from the big names to focus on the newer brands that are more adventurous with their module binning and aggressive with their pricing. Corsair products still hold #2 and #3 spots in terms of user choice, with ~20% of users deciding to test their system with a Corsair memory kit.
In the case of memory, as reliability rates now are extremely high for anyone not overclocking, there are several main battlegrounds: warranty, price and aesthetics. Beauty is supposedly in the eye of the beholder – some users care about the look of the memory fits into their system, whereas others will enjoy a low price to spend another $20 on something else in the system. Corsair's Vengeance Pro Series comes in several colors (red, blue, silver, gold), and this particular red kit is not available on Newegg (the 2400 C11 kit does, at $220), but does feature on Corsair's website for $230. Unfortunately for Corsair, Newegg lists a 2x8 GB 2400 C10 kit for $150 (reduced from $170) for sale, alongside a $280 2400 C10 Dominator Platinum kit, and there are plenty of 2400 C11 kits around the $150 mark, suggesting that an $80 bump in pricing for the CMY16GX3M2A2400C10R is actually a large stretch in a system build for what are small (if any) gains at most.
In terms of our testing, Corsair supplied us with a pair of kits, and thus we tested 2x8 GB and 4x8 GB configurations. Note that this is not a recommended scenario – memory kits, even listed as the same timings and modules, are not guaranteed to work with each other. When you add density, timings have to be slackened to compensate, which is not taken account for when buying two kits. Only a full on 4x8 GB kit is guaranteed to work in this context – there are plenty of posts on the ROG forums with issues relating to users attempting to put two memory kits together. Our CPU is a good clocker and the modules we received had some headroom such that we did not experience any issues, but your mileage may vary.
2400 C10 does hit a nice sweet spot in our testing, and our kit even overclocked to 2400 C9, representing a lift in Performance Index from 240 to 267 at the 2400 MHz boundary (2600 C10 was not possible though). But for the price, Corsair are resting on their laurels with the name of the brand being what carries them through, especially with system builders.
Specifications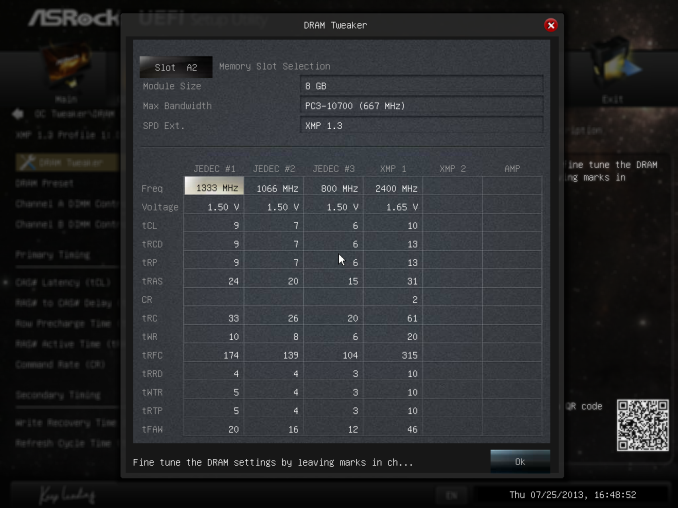 ADATA
Corsair
Patriot
ADATA
G.Skill
Speed
1600
2400
2400
2400
2800
3000
ST
9-11-9-27
11-13-13-35
10-12-12-31
10-12-12-31
12-14-14-36
12-14-14-35
Price
£125
$200
$230
$92
$316
$520
XMP
Yes
Yes
Yes
Yes
Yes
Yes
Size
2 x 8GB
2 x 8GB
2 x 8GB
2 x 4GB
2 x 8GB
2 x 4GB
Performance
Index
178
218
240
240
233
250

---

MHz
1600
2400
2400
2400
2800
3000
Voltage
1.35 V
1.65 V
1.65 V
1.65 V
1.65 V
1.65 V
tCL
9
11
10
10
12
12
tRD
11
13
13
12
14
14
tRP
9
13
13
12
14
14
tRAS
27
35
31
31
36
31
tRC
38
46
61
43
49
tWR
12
20
20
16
16
tRRD
280
315
315
301
391
tRFC
5
6
10
7
7
tWTR
6
10
10
10
12
tRTP
6
10
10
10
12
tFAW
24
33
46
26
29
CR
-
2
2
3
2
2400 C10 already comes out high on the Performance Index scale at 240, although based on the subtimings here we can see that the tRFC and tRC are actually very loose, compared to the Patriot (2x4GB) and ADATA (2x8GB C11) kits we have tested. Typically tRFC is a timing that helps with benchmark results and needs to be low to be the best, but at 10 we are not going to set any records here. Interestingly enough the ASRock Z87 OC Formula gives the XMP primary timings as 10-13-13 rather than the 10-12-12 listed on the modules.
Visual Inspection
In a trend that I like, memory manufacturers are making their kits easy to get in to. Similar to one of our previous memory reviews, Corsair places their modules in an easy to open plastic clamshell, which in turn comes in a card-like packaging which shows the module details through a transparent window.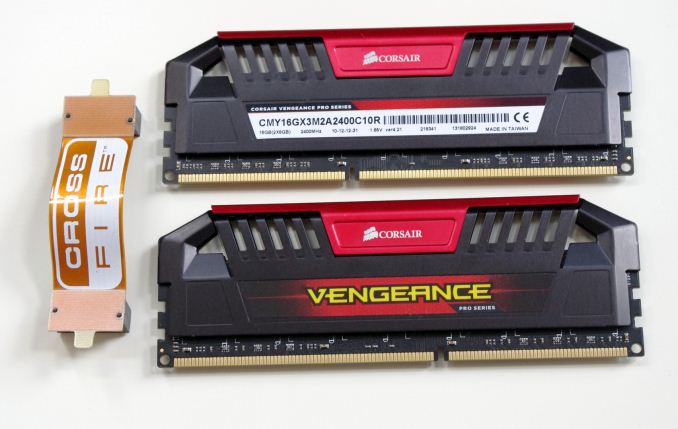 There is a sizable addition in z-height to the modules, which will impact some large coolers including my TRUE copper when mounted for airflow bottom-to-top.