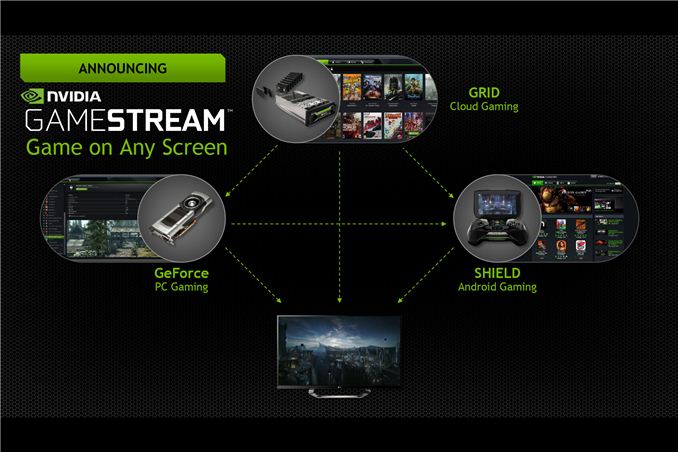 As part of their Montreal game showcase announcements, NVIDIA has announced that come October 28th the company will be consolidating their various PC game streaming technologies under a single banner. The new brand, to be called NVIDIA GameStream, will see NVIDIA's various game streaming initiatives such as GeForce PC Streaming (PC-to-shield) and NVIDIA GRID cloud game streaming (GRID-to-PC/Shield) become a single brand under the NVIDIA umbrella.
With GameStream the underlying technology itself won't be changing – it's still fundamentally about pairing up NVIIDA NVENC equipped GPUs with Tegra and other endpoint devices with a matching H.264 decoder – but with this change NVIDIA is also going to be adding additional functionality to better utilize the tech.
Chief among these is that NVIDIA's Shield handheld game console will be getting a microconsole-like mode, dubbed "Shield Console Mode", that will allow the handheld to be converted into a more traditional TV-connected console. In console mode Shield can be controlled with a Bluetooth controller, and in accordance with the higher resolution of TVs will accept 1080p game streaming from a suitably equipped PC, versus 720p in handheld mode. With that said 1080p streaming will require additional bandwidth, and while 720p can be done over WiFi NVIDIA will be requiring a hardline GigE connection for 1080p streaming (note that Shield doesn't have Ethernet, so this is presumably being done over USB). Streaming aside, in console mode Shield will also support its traditional local gaming/application functionality.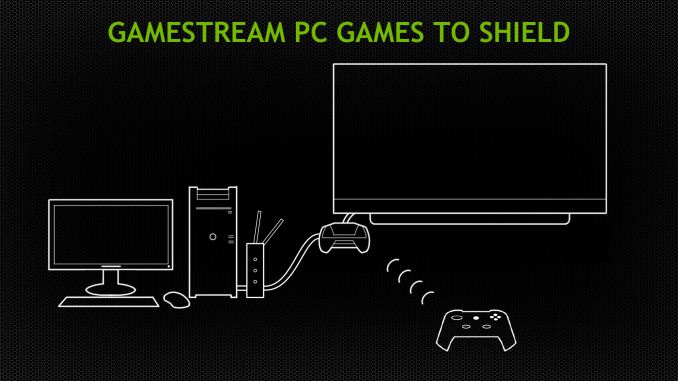 Ultimately Shield Console Mode and other GameStream functionality will be part of a larger effort by the company to try to get game streaming off of the ground sooner, as the company has a significant interest in both the value add side of things (to sell more GeForces) and an interest in securing a large chunk of the projected cloud game streaming market through NVIDIA GRID (to sell more GRID boards). Furthermore, although the company hasn't announced any details at this time, we're told that they will be forming a GameStream Ready branding initiative with various WiFi router manufacturers to qualify routers with sufficient Quality of Service capabilities.
Source: NVIDIA