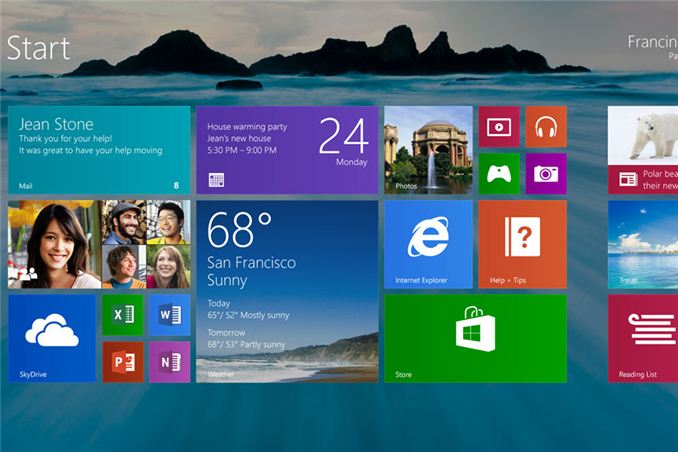 October 17th is here, and as previously announced by Microsoft Windows 8.1 is now shipping.
Microsoft's service pack/update for Windows 8 is being distributed through the Windows 8 Store. Microsoft is apparently doing a staggered rollout, so it's not visible from every copy of Windows 8 right away, but going through a link to the update from Microsoft's website will bring up the update regardless of whether it's visible or not. Meanwhile for users on Windows 7 Microsoft will eventually be selling an updated, retail version of the Windows 8.1 package, though that's not available quite yet.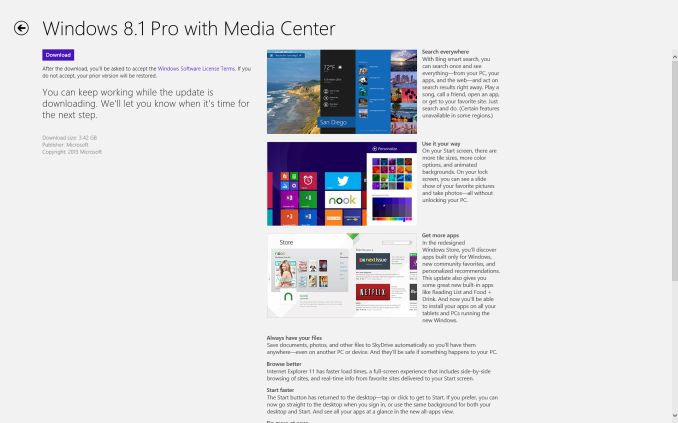 As a reminder, Windows 8.1 brings with it a number of the changes, including several changes to the Metro/Modern layer such as adjustments to tile management and window snapping, however there are some low level changes that techies will also be interested in. Among other things, Windows 8.1 will ship with support for Intel's Connected Standby technology for Haswell, Direct3D 11.2, and a revised DPI scaling mechanism that is better suited for driving the high DPI displays that are coming down the pipeline for both Ultrabooks and desktops.
The size of the update will vary depending on the platform, but for Windows 8 Pro we're seeing 3.42GB, so it goes without saying that this will not be a light download.
Source: Microsoft