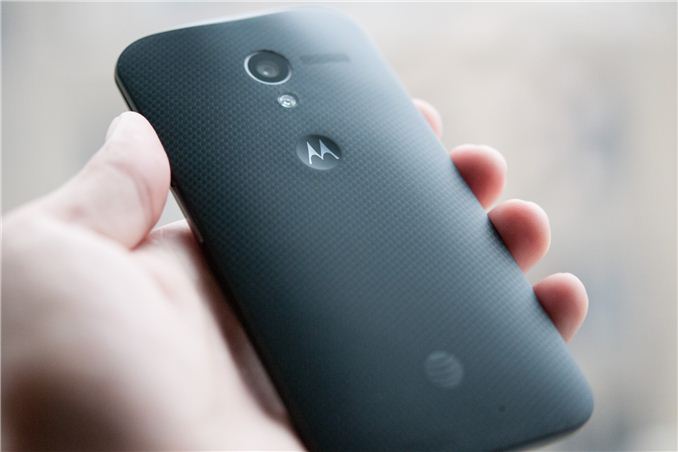 Since being acquired by Google, there's been a lot of speculation about what's coming next from Motorola. Last week they announced their Droid lineup for Verizon, this week they're ready to talk shop about the much-rumored, very-hyped Moto X. It's official and we just were handed one at a Motorola event in New York City.
Introduction and Design
The Moto X is a hugely aspirational product for Motorola, nee Google. Before its acquisition, Motorola had worked itself into an odd place in the US market. The handset maker primarily worked for Verizon as an ODM for the Droid lineup, and sold phones internationally in China and Europe. With the Moto X, Google is attempting to re-launch Motorola, a product which it views as the canonical first device under Google guidance.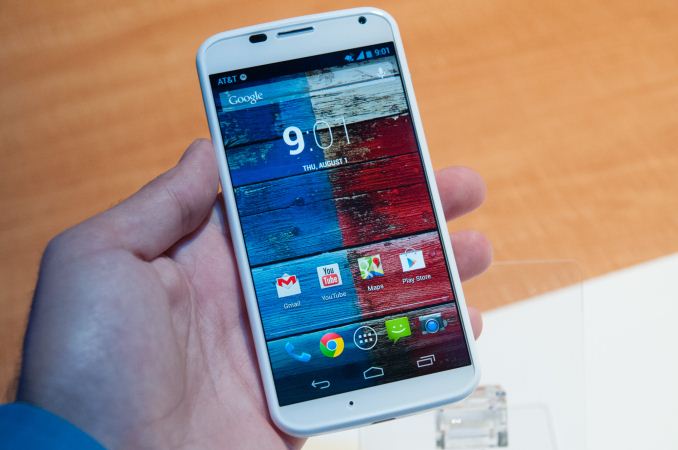 The hardware itself is definitely not aligned with the industry trend of having larger and larger devices. Motorola says it conducted a large user study to find out what the optimal size for a smartphone was, and feels strongly that it's found it. The study involved having a large number of users hold different sizes and shapes and give feedback – a primarily data driven approach whose end result is the Moto X profile. That's topped with a 4.7-inch display and an edge bezel Motorola claims is thinner than all the competition thanks to a new unique glass-plastic fusion. The glass is fused into the plastic at the edge and rounds off nicely.
The rounded back shape of the Moto X is probably its most unique feature. Instead of a spherical or cylindrical back side, the Moto X has a more complicated conical one, which starts thicker at top and tapers to a point at bottom, with a rounded side to side profile. The closest thing is HTC's rounded designs with the 8X or One, and interestingly enough Motorola also does a similar thing with a 2200 mAh (8.36 Whr) battery whose shape fills the available rounded profile with a two-cell stacked design, with a large thin cell and smaller cell stacked on top like a stair step. The profile is awesome, in photos of the Moto X it doesn't really come through, you have to actually hold one to feel just how much it sits in the hand. The front side is also free of sharp edges, making it feel great when held against the head.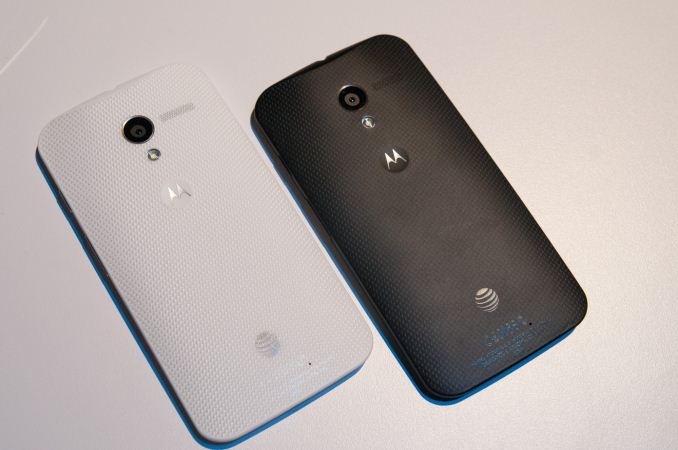 There's an indentation on the back for the Motorola logo, but other than that the back surface is one unbroken curved shape. Up top is the 10 MP camera, below that, LED flash, off to the right, speakerphone grille. In the thickest part up top is the earphone jack.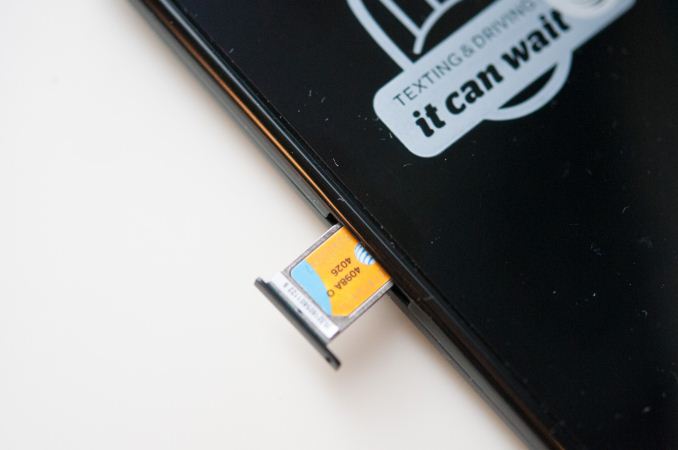 One interesting choice on the Moto X is positioning the volume rocker on the right side, below the power/lock button. On the left side is a nanoSIM tray, making Moto X the first device I'm aware of other than the iPhone 5 to use the 4FF nanoSIM format. At bottom is microUSB.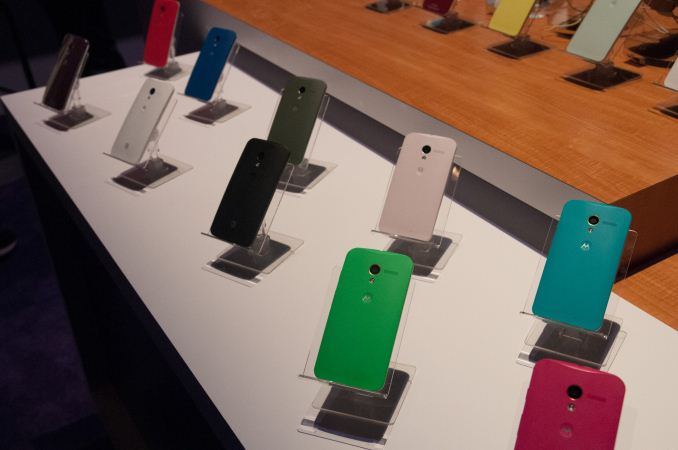 The back side of the Moto X isn't user replaceable – the Moto X backside is sealed and the device is fused together. The front and edge is either black or white, but Motorola has a ton of customization options for the back and accent color. There's a bit more to the customization story than that, and though I had hoped for easy interchangeable back options, what colors your Moto X comes are a function of both how you order and what operator you're on.
Moto X
SoC
Qualcomm Snapdragon S4 Pro (MSM8960Pro) 1.7 GHz
Motorola X8 System (SoC+NLP Processor+Contextual Processor)
Display
4.7-inch AMOLED (RGB) 1280x720
RAM
2GB LPDDR2
WiFi
802.11a/b/g/n/ac, BT 4.0
Storage
16 GB standard, 32 GB online, 2 years 50 GB Google Drive
I/O
microUSB 2.0, 3.5mm headphone, NFC, Miracast
OS
Android 4.2.2
Battery
2200 mAh, 3.8V, 8.36 Whr
Size / Mass
65.3 x 129.3 x 5.6-10.4 mm, 130 grams
Camera
10 MP Clear Pixel (RGBC) with 1.4µm pixels Rear Facing
2 MP 1080p Front Facing
Price
$199 (16 GB), $249 (32 GB) on 2 year contract
At launch, Motorola will enable users to buy their Moto X and customize using an online tool called Moto Maker which features a step by step customization process for building a phone. Back, front, accent color, and signature are options.
The order then gets shipped off to Motorola where they build to order each phone in Forth Worth, Texas with a 4-day lead time. Now comes the bad news – those customization options are AT&T exclusive and limited to the US at launch. More operators will come later in the year, but initially all the customization options are exclusive to AT&T, other operators get black or white.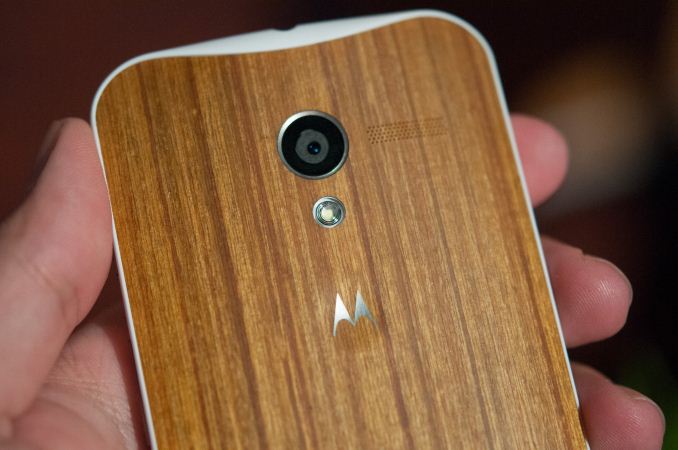 The default black and white colors for every wireless operator is in fact a composite material, the other colors are polymer. The last of the hardware story is wood. Motorola is going to make four wood back options available – teak, bamboo, rosewood, and ebony, but not at launch. Motorola is still finalizing its wood. That might sound funny, but from an RF perspective wood does have some interesting challenges – wood looks like a polymer since it essentially is, however it has to be dried and sealed properly so water won't severely attenuate cellular RF and all the other radios on the back. I'm told Motorola is still testing and certifying its wood options. The upside is that each wood back will be different, with unique grain and finish. Wood seems to be trendy in design circles right now, and I'm excited about it, I just wish it was available at launch instead of some undetermined time afterwards. It does look great though.
We'll talk a lot more about the hardware and feel in our full review. For now the takeaway is that Moto X is an incredibly pocketable device with some great in-hand presence. I wished for more after-purchase customization, however Motorola needs to seal the device to accommodate that unique stacked battery structure.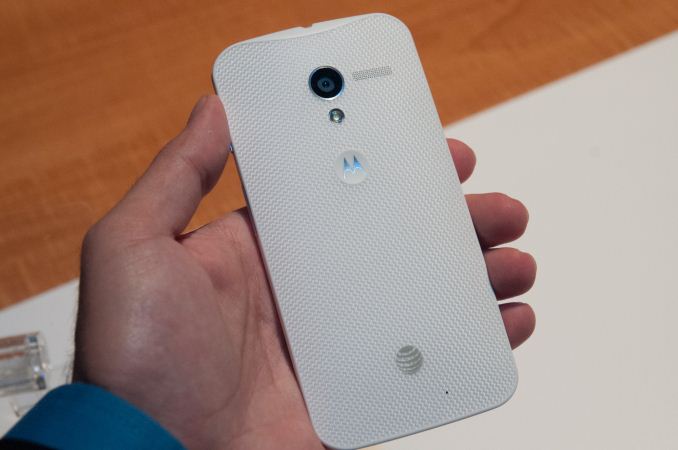 Motorola will make the Moto X available at the end of August in the USA on all 5 major wireless network operators with the 16 GB storage option available for $199 on two year contract. AT&T gets an exclusive on the 32 GB option for $249. That's not quite the price point that I was hoping for given the tier you'd expect with the specs, but I suppose USA-based assembly might have something to do with it. I couldn't get any word on noncommit/out of contract pricing, but it'll probably be around the $500 mark typical given the subsidy. Motorola will have a version of the Moto X on Google Play network unlocked as well, at some future date, and a developer edition on Motorola as well for what I would suspect is a bootloader unlock (Motorola has sold developer editions of their phones before this way).
Hardware
Let's talk about the hardware inside.
Inside the Moto X is a computing system that Motorola has branded the X8 Mobile Computing system with 8 "cores." Motorola was careful to make the distinction that X8 is not a system on chip, for that there's a 1.7 GHz Qualcomm Snapdragon S4 Pro (MSM8960Pro) with dual core Krait 300 CPUs and Adreno 320 graphics. Motorola counts the 2 CPU cores, 4 Adreno 320 GPU cores (yes, there are 4 cores in Adreno 320, which Motorola made public), and then adds two more to the fray – a NLP (Natural Language Processing) core, and Contextual Computing core. These add up to a total of 8 "cores" for those keeping count. I'm putting cores in quotes here since it's meaningless to count heterogeneous, completely different cores like they're something you can sum up and say more of means better. Nevertheless, Motorola makes the case that the X8 is an octacore system.
The 8960Pro silicon is very well understood at this point. We've played with 8960 in a bunch of other phones, the Pro suffix connotes the move to Krait 300 instead of 200, and Adreno 320 GPU instead of Adreno 225. The SoC is still built on TSMC's 28nm LP process, it's just a newer respun version with higher clocks (1.7 GHz vs 1.5 GHz) and updated CPU and GPU blocks.
For WiFi, the Moto X does include 802.11ac support, courtesy Qualcomm's WCN3680 combo. This is the first phone I've handled with something other than Broadcom's BCM4335 combo for 802.11ac, I look forward to testing WCN3680 immensely and am hugely grateful for another phone with 802.11ac.
The display on Moto X is a 4.7-inch 720p SAMOLED panel with the RGB subpixel arrangement (not a straight RGB stripe) we saw on the Samsung Galaxy Note 2, with a stacked green and red subpixel, and vertical blue subpixel. Motorola has used n–1 process Samsung AMOLED panels for a long time now, so this isn't a surprise. It looks good and not incredibly blue, but I'll have to get it under my measurement equipment to tell you exactly where it sits with regards to color accuracy.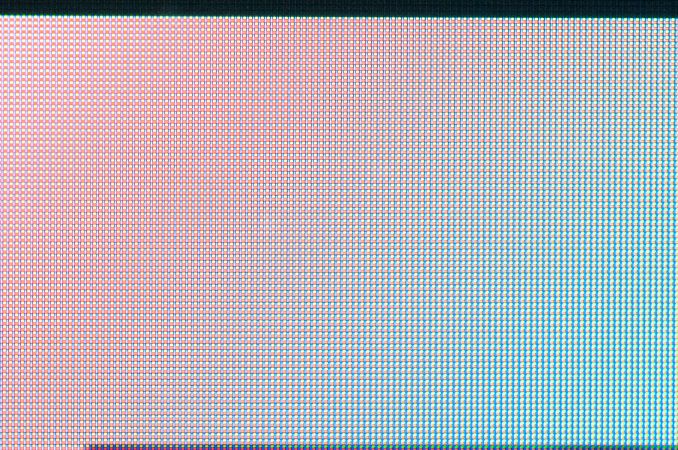 Motorola has included the intelligently driven speakerphone driver technology we've seen in a bunch of phones inside Moto X as well. This does some speaker boost algorithms while monitoring the speaker temperature and drive to drive the speaker as loud as possible without causing damage. This seems to be NXP's TFA9890.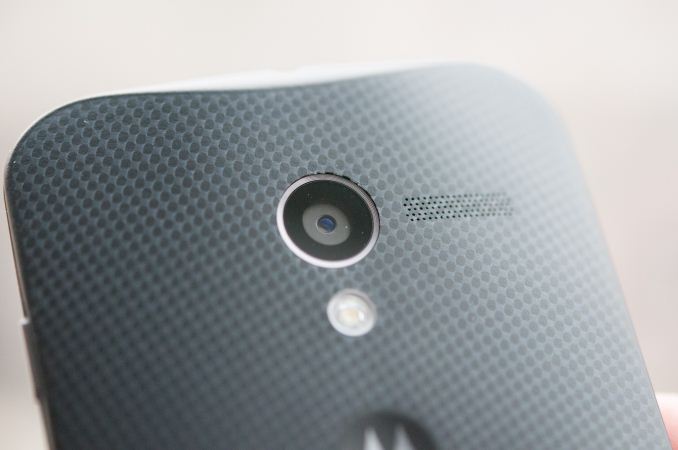 On the camera side Motorola has made the unique choice of shipping the first phone I'm aware of with an RG,BC color filter array. The clear pixel trades off some spatial resolution for increased sensitivity in low light by switching from Bayer's 2x2 RG,BG unit cell to an alternative 2x2 unit cell with RG,CB. Given the 10 MP size and 16:9 aspect ratio, and Motorola's traditional use of an OmniVision CMOS sensor, I expected an OV10810 with different color filter array (CFA) on top. This appears to be the case with Moto X as I find references to an OV10820 inside which one would logically conclude is basically just that, instead of Bayer it must have the 25% C CFA. I have taken some sample pictures already but haven't had much time at all to really put the Moto X through its paces on the camera side to see if there are any color artifacts from the different array. I'm excited however to have a platform with 1.4µm pixels instead of 1.1µm pixels, a big sensor (1/2.5"), F/2.4, 10 MP pixel count, with something new and different (clear pixels).
Update: OmniVision just released a press release with the OV10820 details, which are what I've outlined above. RG,BC coding, 1/2.6" size, and 1.4µm pixels.
The remaining big question marks are the NLP and Contextual processors inside the X8 system, which Motorola says are two discrete additional cores that work in conjunction with software to enable some neat features.