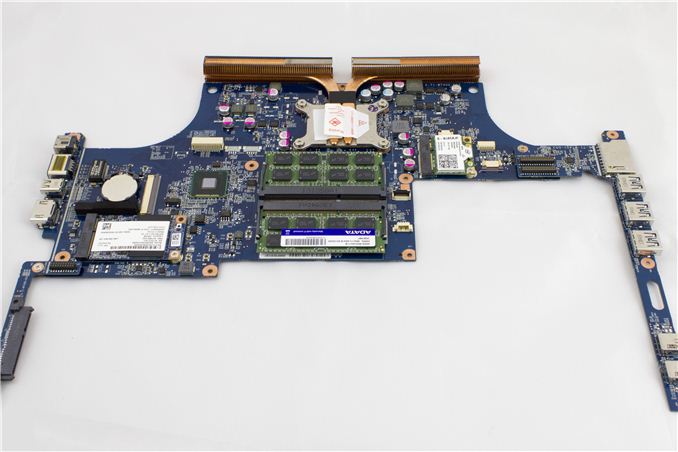 A couple of weeks ago I attended a press event for the Intel Experience tour in London, hosted by Intel UK. Aside from the usual array of Ivy Bridge mobile parts were a couple of Haswell laptops – the Sony Vaio Pro, featuring the i5-4200U (GT2. HD4400), and the Clevo W740SU, the first laptop to market featuring Iris Pro HD 5200, aka Crystal Well/GT3e. I asked for an opportunity to get my hands on the machine, and hopefully benchmark it. Our good friends at Intel UK organized a tour of their facility in Swindon, an interview with the site manager Rod O'Shea, and some 90 minutes of testing with the Clevo – here are my results with the i7-4750HQ CPU contained within.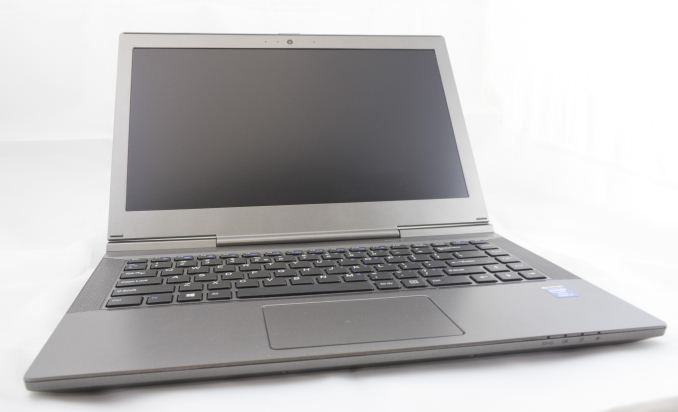 Anand has already had the opportunity to cover the i7-4950HQ, the top mobile SKU with GT3e graphics, in his comprehensive testing of the Intel CRB system. The first machine we believe to enter the market with anything similar is the Clevo W740SU, featuring the i7-4750HQ, which is a small departure from the Clevo norm. The basic Clevo system is typically modular, where everything is able to be changed in and out depending on the customer requirements. Moving to Iris Pro results in a BGA CPU, and thus the CPU is locked into the build from the beginning. This has a couple of positive effects, such as designing the chassis for a specific CPU allows the design to be refined, although it still takes away from that modular feel.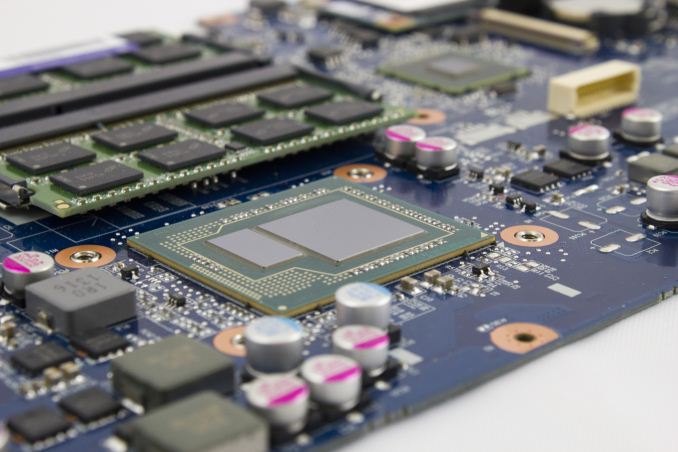 The first couple of vendors for this laptop, as far as well can tell, seem to be System76 in Colorado and Schenker in Germany, featuring the same basic setup:
Intel Core i7-4750HQ (Quad Core w/HT)
14.1" 1080p Full High Definition LED Backlit IPS Display
Intel Iris Pro Graphics 5200 with 128 MB eDRAM
Up to 16 GB 204 pin Dual Channel DDR3 @ 1600 MHz
1 x mSATA, 1 x 2.5" 9mm Removable SATA II/III
Multitouch Clickpad with two finger scrolling
Gigabit LAN (10/100/1000), WiFi
Intel Centrino, or optional Killer™ Atheros 802.11n
HDMI, Display Port, Ethernet, 3 x USB 3.0, Headphone Jack, Microphone Jack, SD Reader
Built-In 1.0 MP High Definition Webcam
53.28 Wh 6 Cell Smart Lithium-Ion
13.26" x 9.90" x 0.75" (WxDxH)
3.80 lbs. (1.72 kg.)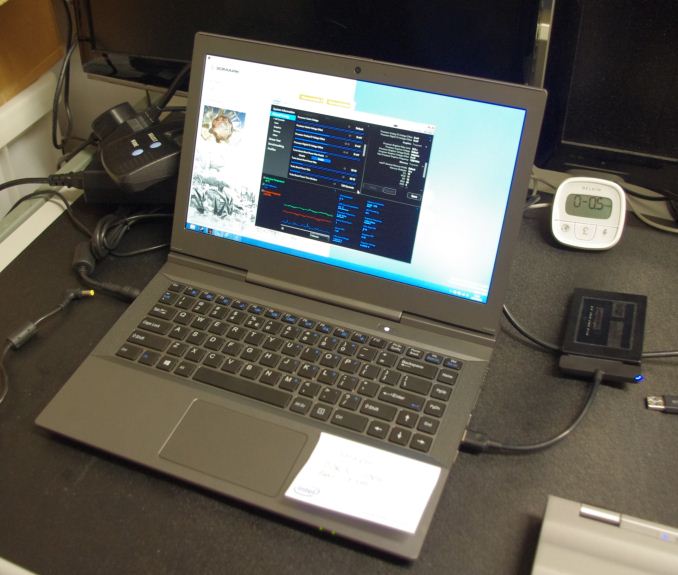 At 1.72kg it is not the lightest laptop by comparison, but 1080p at 14" does hit that mid-point between a 13" super-portable and 15" desktop replacement. With a HD 5200 it should cover a lot of integrated graphics performance as Anand alluded to, especially with the eDRAM in tow. For reference, in Cloud Gate IGP, we scored the same graphics score with a 4750HQ at 1350 MHz graphics core as an i7-4770K (GT2) at 6 GHz and 1850 MHz graphics core (under liquid nitrogen). The 52.38WH battery has me a little concerned – it will be interesting to see how much real-world battery life this affords.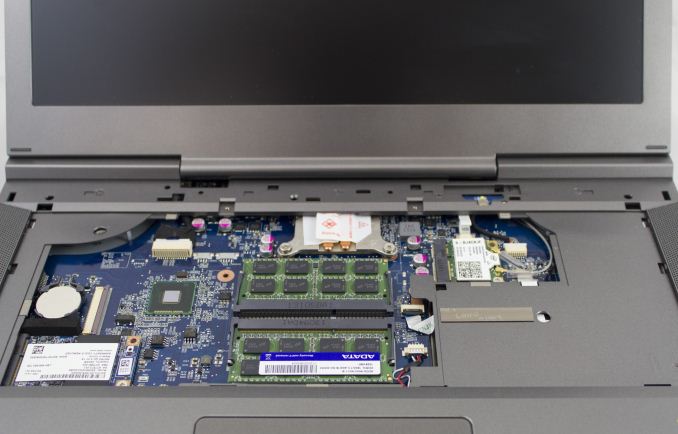 The unit I had to test featured an Intel 525 240 GB SSD and 2 x 4GB DDR3L-1600 memory, and in my 90 minutes of testing I managed to go through most of my normal CPU benchmarking suite. For a comparison point, I also tested an i7-4770K at the same speed as the 4750HQ, with similar memory settings. This is the nearest we could get to a desktop comparison processor – the quad core mobile Haswell parts have 6 MB L3 cache, compared to the 8 MB L3 cache of the 4770K. This means that in memory accesses, if the benchmark needs 8 MB L3, the 4770K will be faster even through the 4750HQ is moving out to the eDRAM because the eDRAM is slower than L3.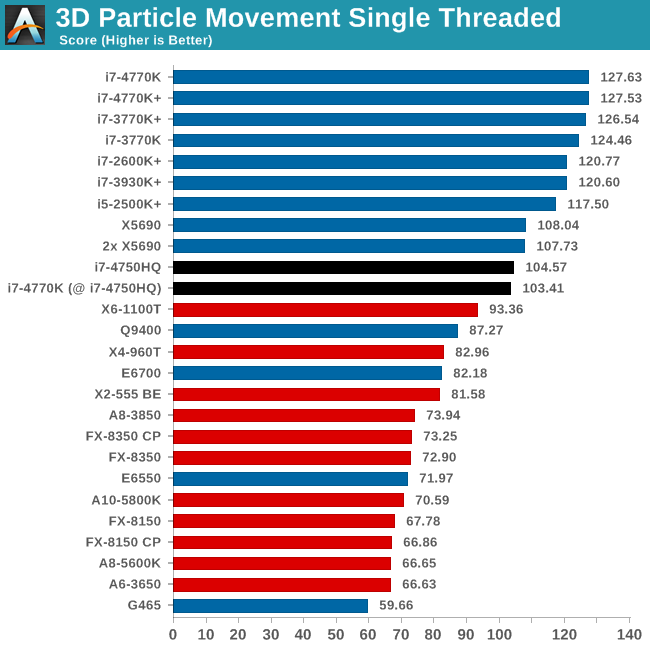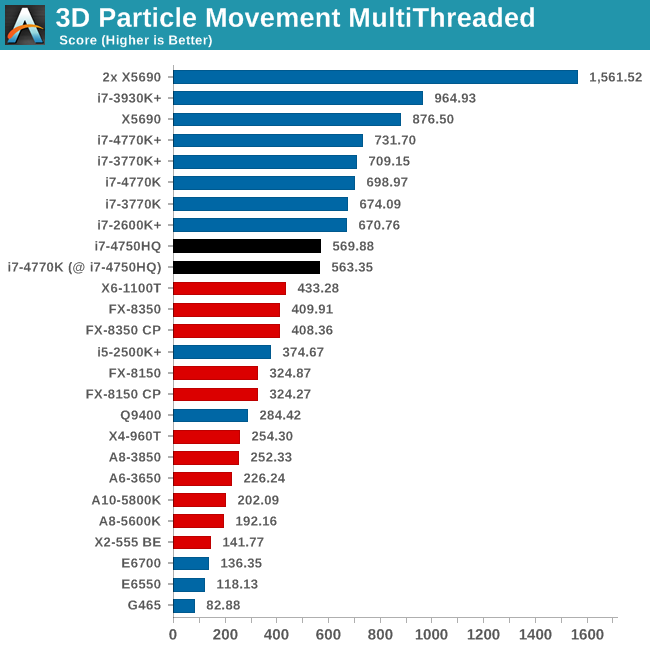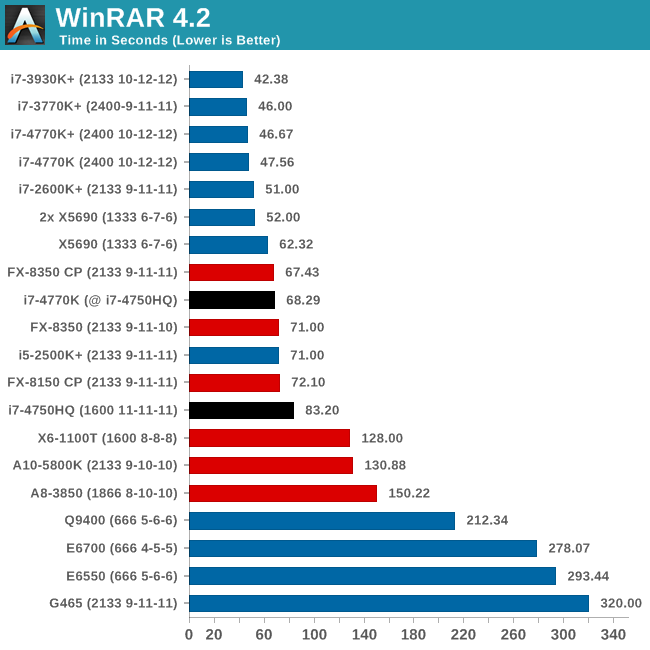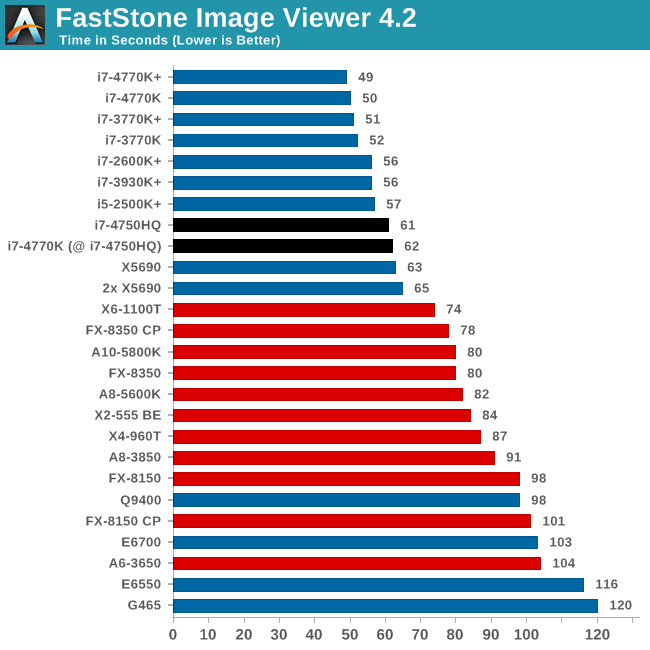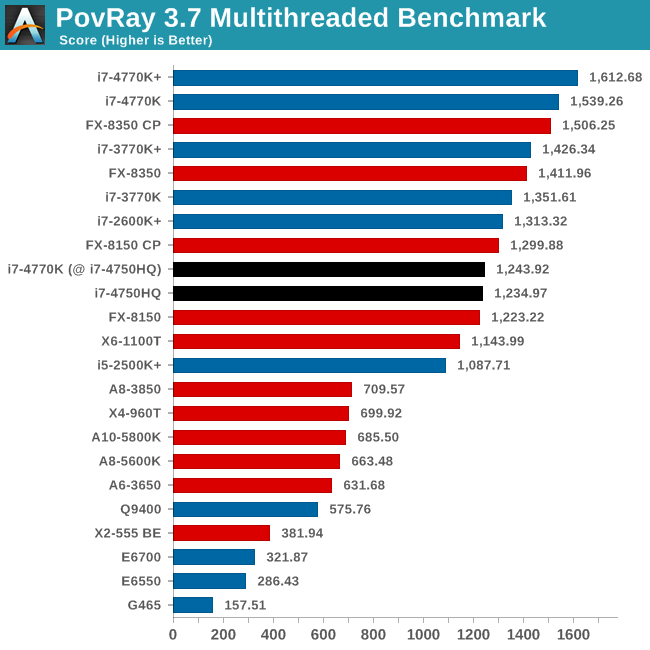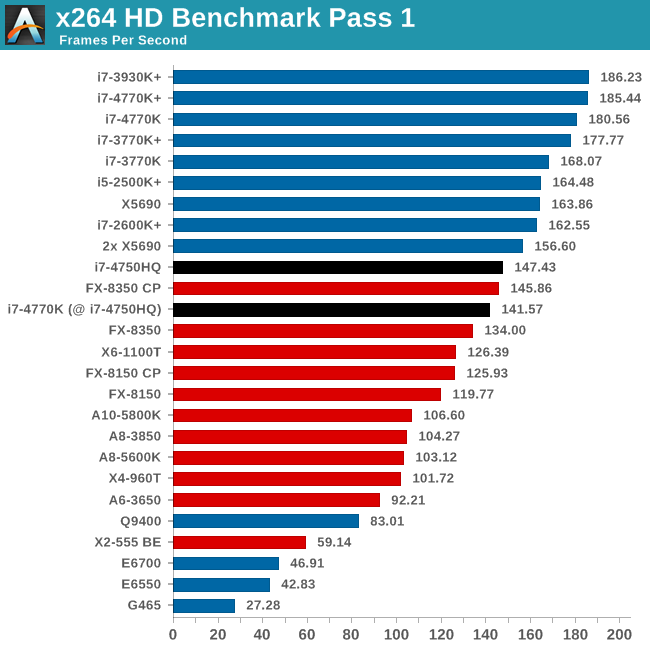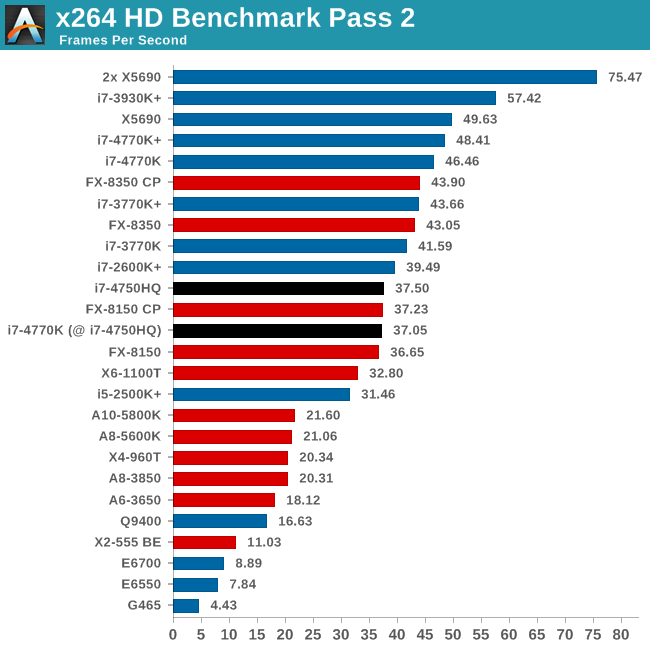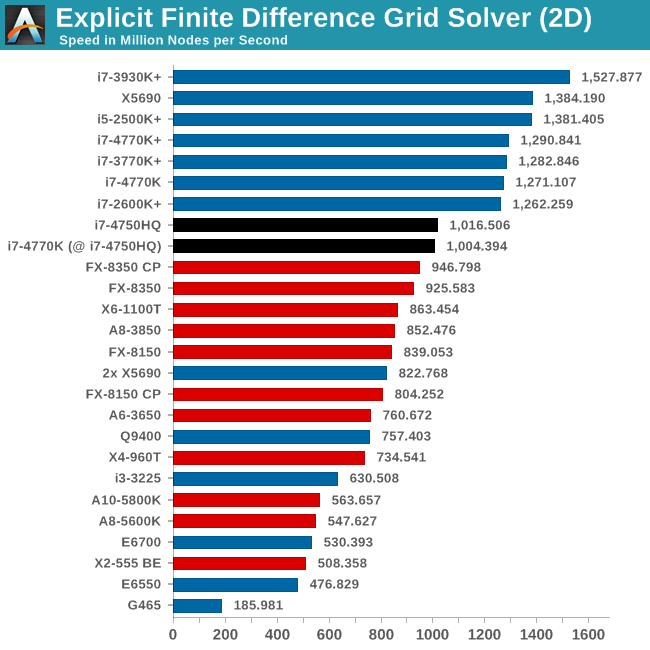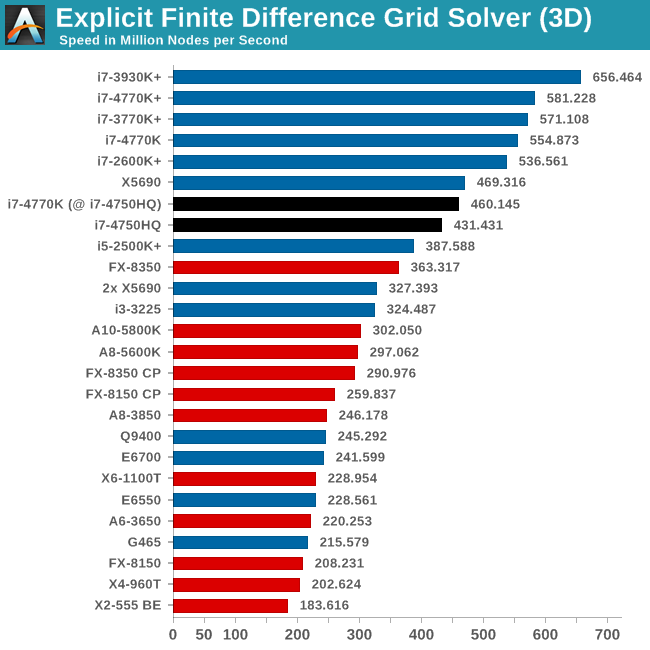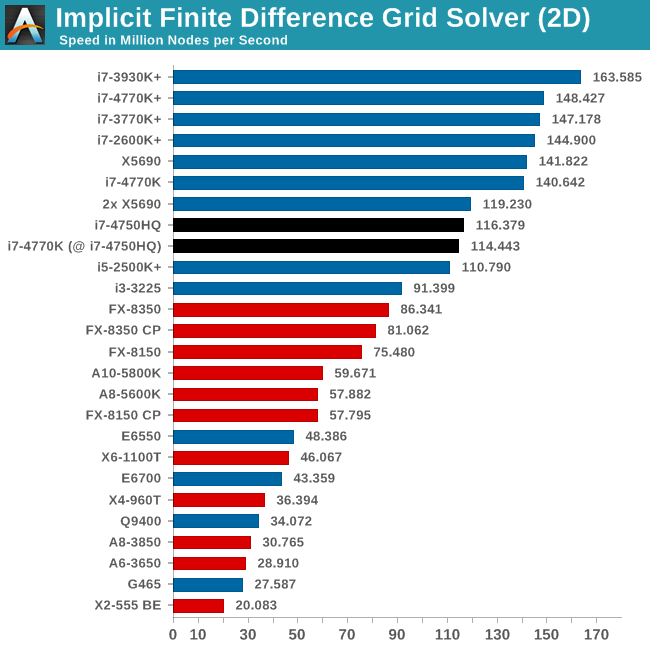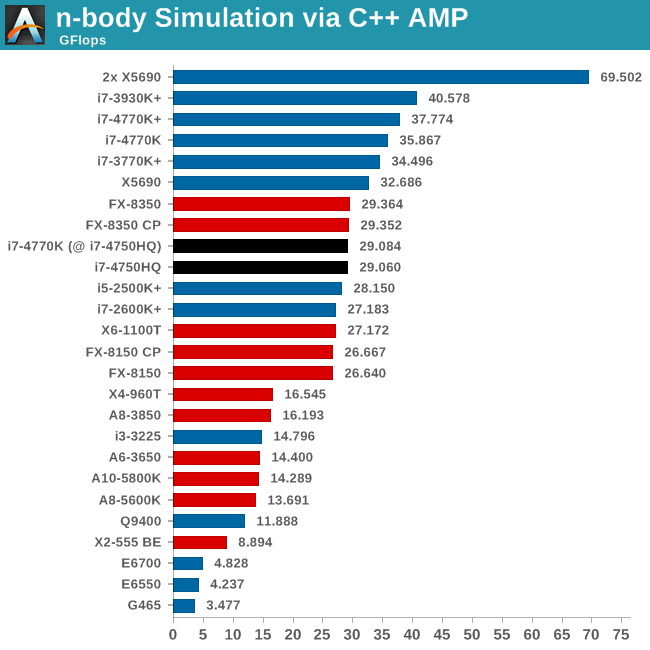 In terms of performance, none of my real world benchmarks seem to touch the eDRAM in any serious way to discern performance against a standard desktop part. If we take WinRAR for example, the ball is in the 4770K court due to the larger L3 cache - perhaps the program detects the level of L3 and changes accordingly, meaning that program developers might now have to cater for the presence of L4. The biggest difference we would is in IGP tests, although this is the difference between GT2 and GT3e. This could result in a big plus for C++ AMP developers who want a mobile system that can push through some compute while on the move.
As a result of my testing, I come away with a slightly different attitude towards Iris Pro in terms of day-to-day benefits. From what I could test, none of my CPU compute saw any benefit, landing the positives on that eDRAM squarely at the feet of IGP, gaming, or if you can program for it, GPU Compute.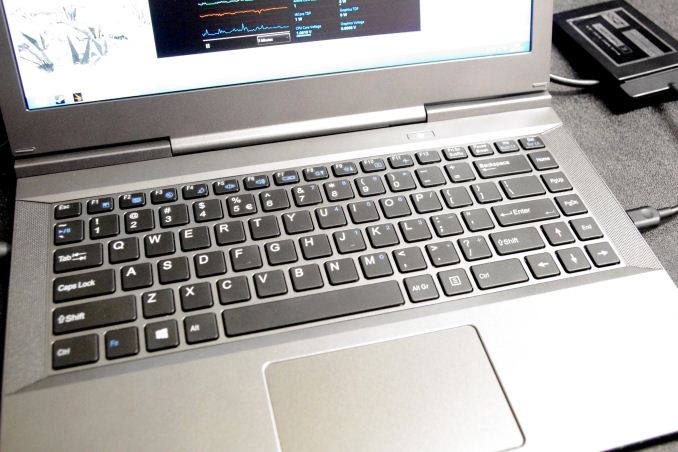 As a device, the Clevo W740SU unit (which I believe is still beta but near final) had trackpad issues at times, and the weight could pull it away from being a true ultraportable. It hits the right screen size what I want in a laptop, with 1080p being a minimum in my book. I still want to see what that battery can do – at 1.3 kg the Sony Vaio Pro with the low powered CPU and extra battery slice does 15+ hours, which would still be a big draw if you just want longevity from a Haswell device, along with a PCIe SSD. But the Sony has a locked memory setup, whereas the Clevo is upgradable.
Prices for the Clevo W740SU seem to start around $1000/€1100, with the tray price of the i7-4750HQ listed on the Intel website being $440 of that. Should there be an i7-4950HQ version, the tray price of the CPU goes up to $657.
Many thanks to Intel UK for allowing me time with the system and the opportunity to tour their UK base.