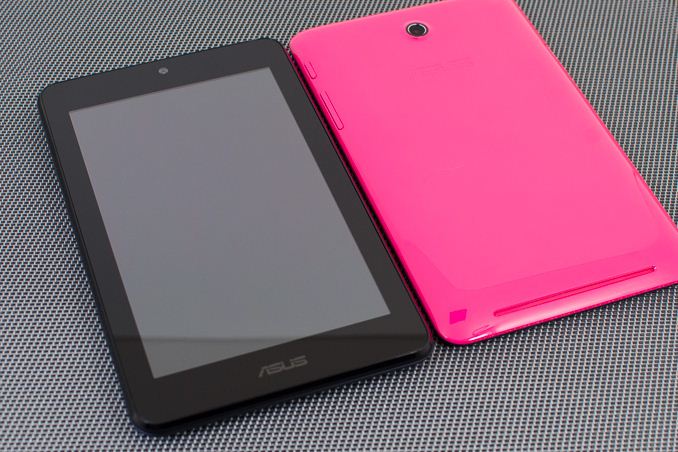 The tablet market is presently caught in a race to the bottom, at least in terms of pricing. The shift from the initial crop of 10-inch tablets to 7/8-inch models is well under way, and with that shift comes downward pricing pressure.
Even Apple isn't immune from this, with the iPad mini priced at around 65% of its bigger brother - itself being priced lower than many expected upon its introduction in 2010.
Unlike in the traditional PC industry however, huge sacrifices in display quality, user input or overall performance just aren't tolerated as well in the present tablet market. Consumers want cheaper tablets, but they can't devolve into unresponsive devices with compromised user experience. There's a certain minimum level of quality that needs to be met.
Last year Amazon, and later ASUS/Google redefined what we should expect from a $199 tablet. Amazon was the first to give us decent hardware at that price point with the original Kindle Fire, and ASUS/Google blew it out of the water with the original Nexus 7. The 7-inch tablet gave us virtual performance parity with high-end devices out at the time. Add in the latest version of Android and a decent display and all of the sudden we had a wonderful tablet option at $199.
This year ASUS and Google were both under pressure to seriously improve the Nexus 7. The combination of a better display, better WiFi and better SoC all led to an awesome device, with an unfortunately higher price point ($229). While I don't expect anyone looking for a premium 7-inch tablet to have issues with the new price point, the new Nexus 7 does run the risk of leaving us with no good option below $200.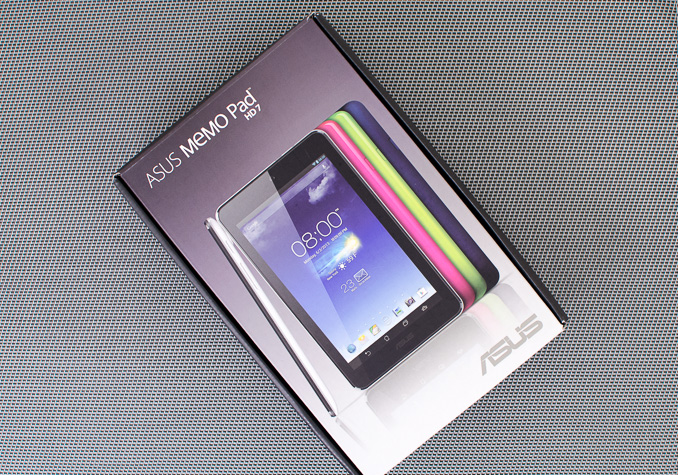 To fill the void ASUS chose to build an updated version of the tablet that turned into the original Nexus 7: the 7-inch MeMO Pad. In many senses, the new MeMO Pad HD7 is the true replacement to last year's Nexus 7. It features a similar 1280 x 800 IPS panel, very similar dimensions, and in many cases it offers similar performance. The biggest improvement? Price. The MeMO Pad HD7 starts at $149 for a 16GB model (there's a $129 8GB model available outside of North America as well).
ASUS 7-inch Tablet Specification Comparison
ASUS MeMO Pad HD7
ASUS Nexus 7 (2012)
ASUS Nexus 7 (2013)
Dimensions
196.8 x 120.6 x 10.8mm
198.5 x 120 x 10.45mm
200 x 114 x 8.65mm
Chassis
Plastic + Matte or Glossy back
Plastic + Rubber back
Plastic + Soft Touch back
Display
7-inch 1280x800 IPS
7-inch 1280x800 IPS
7.02-inch 1920x1200 IPS
Weight
302g
340 g
290 grams (WiFi), 299 grams (LTE)
Processor
1.2GHz MediaTek MT8125 (4 x Cortex A7)
1.3 GHz NVIDIA Tegra 3 (T30L - 4 x Cortex A9)
1.5 GHz Qualcomm Snapdragon S4 Pro (APQ8064)
Memory
1GB DDR3L
1 GB
2 GB DDR3L
Storage
8GB / 16GB
8 GB / 16 GB
16 GB / 32 GB
Battery
15.01 Wh
16 Wh
15.01 Wh
WiFi/Connectivity
802.11b/g/n, BT
802.11b/g/n, BT, NFC
802.11a/b/g/n, BT 4.0, NFC
Camera
5.0 MP Rear Facing w/AF
1.2MP Front Facing
–
5.0 MP Rear Facing w/AF
1.2MP Front Facing
Wireless Charging
-
–
Yes (Qi Compatible)
Pricing
$129/$149
$199/$249
$229/$269 (WiFi 16/32 GB)
$349 (LTE)

Design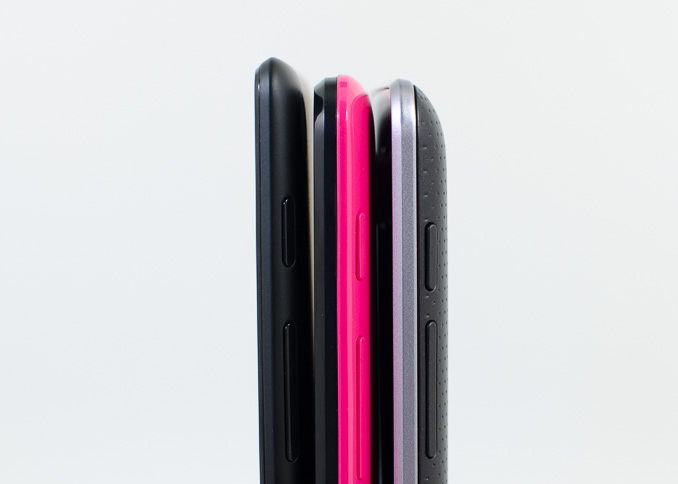 From left to right: Nexus 7 (2013), MeMO Pad HD7, Nexus 7 (2012)
The MeMO Pad HD7 is ever so slightly shorter (-1.7mm), but a hair thicker (+0.24mm) and wider (+0.6mm) than the Nexus 7. The < 2% increase in device volume comes with a reduction in weight, from 340 grams down to 302 grams. The difference appears mostly in materials choice. The rubber back of the original Nexus 7 is replaced by either a smooth matte or glossy plastic back.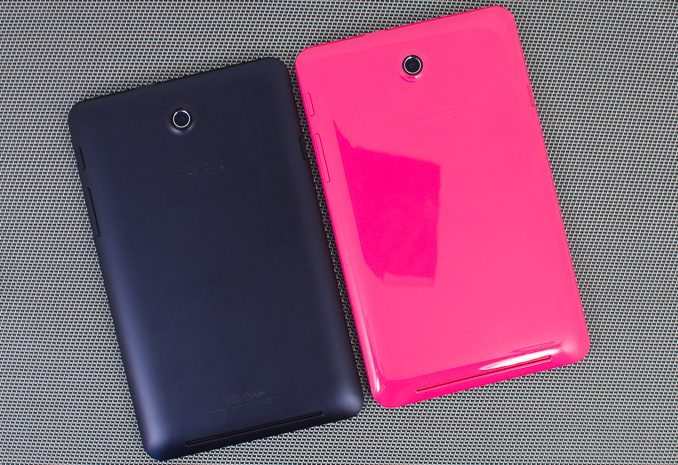 ASUS offers the MeMO Pad HD7 in five different colors: white, pink, green, blue and black. The first three use glossy plastic backs while the last two have a matte look.
The potentially colorful back protrudes slightly along the edges of the tablet. It's an odd design choice, one that I can only assume makes manufacturing/assembly a bit easier. It's not a huge problem once you get used to the device, but anyone used to a Nexus 7 will notice the difference immediately.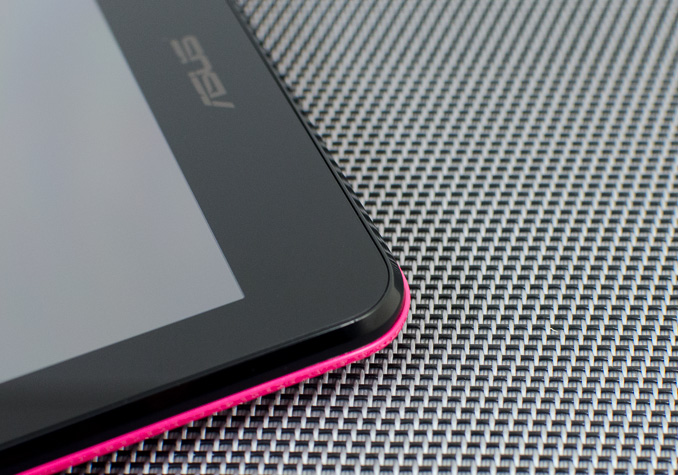 The micro USB port gets moved up to the top of the device in the HD7, attaching it directly to the main PCB and removing the need for the long flex cable ASUS had to use in the original Nexus 7. Similarly, the audio/mic jack is located up top.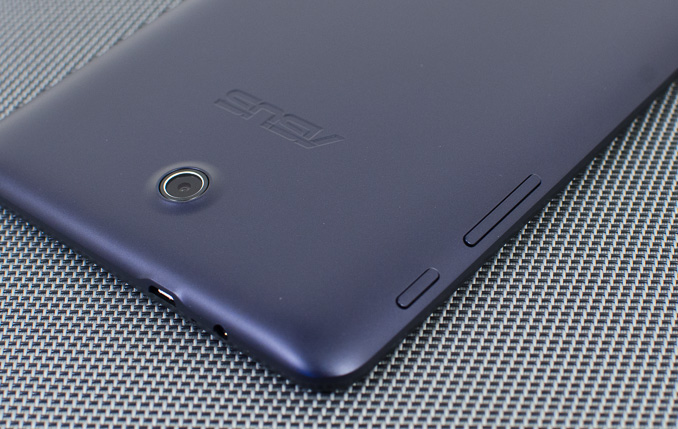 There are only three physical buttons on the MeMO Pad HD7 - power/lock, volume up and volume down. The buttons don't feel quite as mushy as they do on the new Nexus 7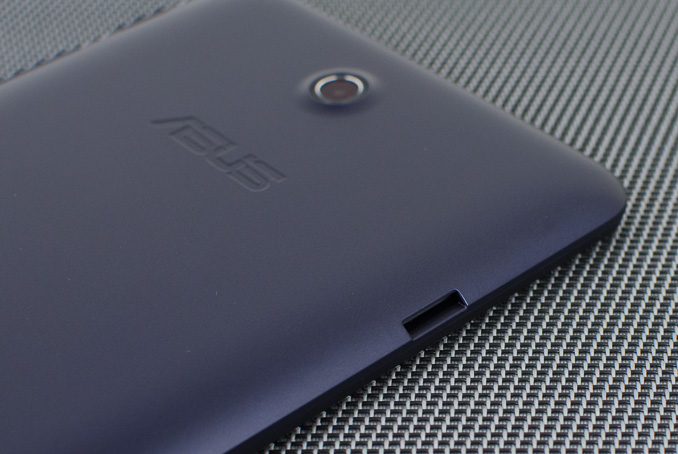 Google was pretty adamant against including a microSD slot in the original Nexus 7 (preferring a combination of internal and cloud storage), but ASUS put one back in the design of the MeMO Pad HD7.
The HD7 does inherit some features from the new Nexus 7 starting with stereo speakers. Although there's a single speaker grille on the back of the MeMO Pad HD7, there are two physical speakers behind it.
Also like the new Nexus 7, there are both front (1.2MP) and rear facing (5MP) cameras in the MeMO Pad HD7.
Finally, the internal battery is nearly identical to the one used in the new Nexus 7. The model numbers are slightly different (C11P1304 vs. C11P1303 for the N7.2), but both are 3.8V 3950mAh li-polymer batteries (15Wh capacity).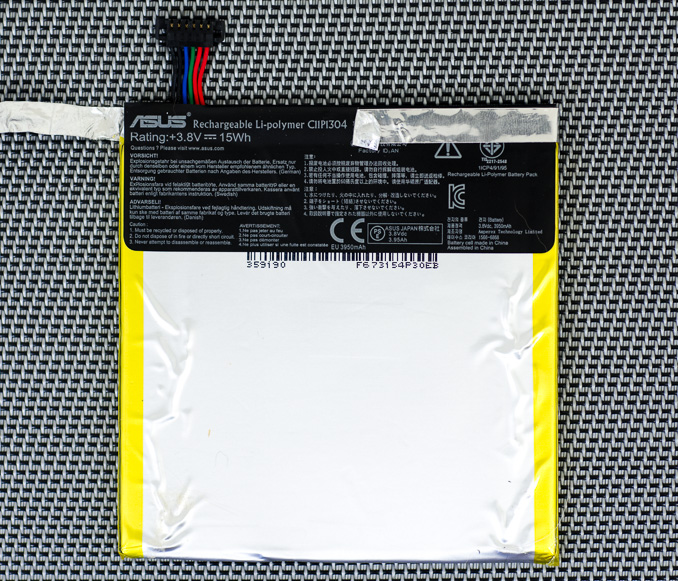 I noticed some light creaking if I squeezed the corners of the HD7, but for the most part the device feels well built for a $149 tablet. You definitely lose a bit of that high end feel now that the rubber back of the Nexus 7 is gone, the entire device feels more plasticky, but again at this price point there have to be sacrifices. For what it's worth, the finish on the matte back feels a bit better than the flashier colors.
The reduced weight is nice, but I still ended up propping the tablet against something whenever I watched long TV episodes or movies.