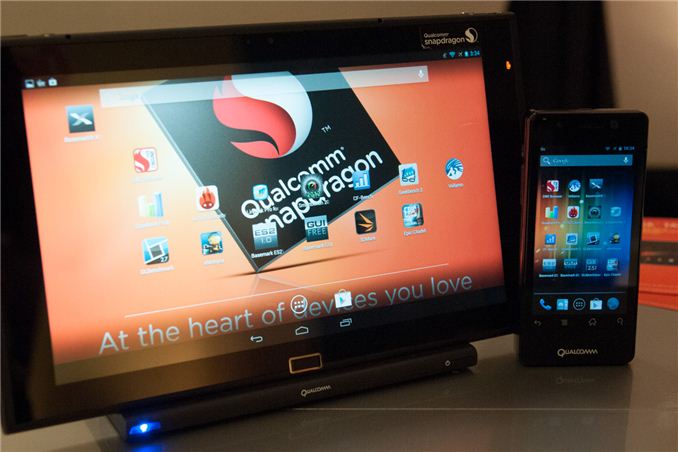 We've written about Snapdragon 800 (MSM8974) before, for those unfamiliar, this is Qualcomm's new flagship SoC with four Krait 400 CPUs at up to 2.3 GHz, Adreno 330 graphics, and the latest modem IP block with Category 4 LTE. Qualcomm is finally ready to show off MSM8974 performance on final silicon and board support software, and invited us and a few other publications out to San Francisco for a day of benchmarking and poking around. We looked at MSM8974 on both the familiar MSM8974 MDP/T, a development tablet used both by Qualcomm and 3rd parties to develop drivers and platform support, and the MSM8974 MDP phone, both of which have been publicly announced for some time now.
The tablet MDP is what you'd expect, an engineering platform designed for Qualcomm and other third parties to use while developing software support for features. Subjectively it's thinner and more svelte than the APQ8064 MDP/T we saw last year, but as always OEMs will have the final control over industrial design and what features they choose to expose. Display is 1080p on the tablet and 720p on the phone, a bit low considering the resolutions handset and tablet markers are going for (at least 1080p on phone and WQXGA on tablets) so keep that in mind when looking at on-screen results from benchmarks.
Qualcomm Snapdragon 800 Mobile Development Platform Tablet
MSM8974 MDP/T
SoC
MSM8974 Snapdragon 800
CPU
4x Krait 400 at 2.3 GHz
GPU
Adreno 330 at 450 MHz
RAM
2GB 2x32 LPDDR3 800 MHz
NAND
32 GB eMMC 4.5
Cameras
12 MP with flash (rear), 2 MP (front)
Display
11.6-inch 1080p
I/O
USB 3.0, microHDMI, microSD, 3.5mm headset
OS
Android 4.2
Snapdragon 800, nee MSM8974 is built on TSMC's 28nm HPM (High Performance for Mobile) HK-MG, as opposed to 28nm LP polysilicon (low power). The result are higher clocks for CPU, from 1.5–1.7 GHz on Krait 200–300 which was 28nm LP, to 2.2–2.3 GHz on Krait 400 on 28nm HPM. The jump between Krait 200 and Krait 300 brought higher clocks and also a jump in IPC, this time around Krait 400 is essentially a Krait 300 implemented on 28nm HPM, which means some relayout. There's also a faster L2 cache on Krait 400.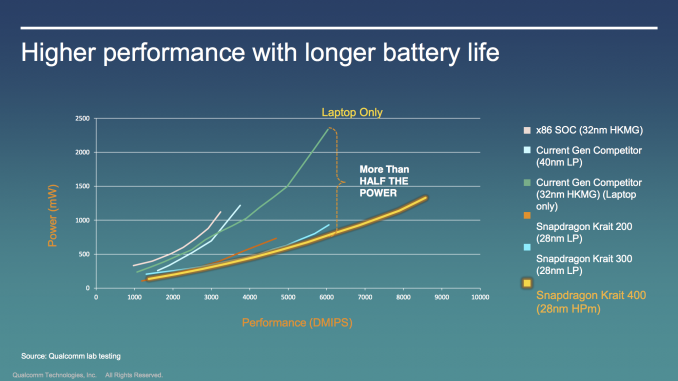 These are final clocks on MSM8974 – Krait 400 runs its four cores at up to 2.3 GHz, though some lots will come at 2.2 GHz. GPU on MSM8974 is Adreno 330 which runs at 450 MHz and brings some architectural improvements over Adreno 320.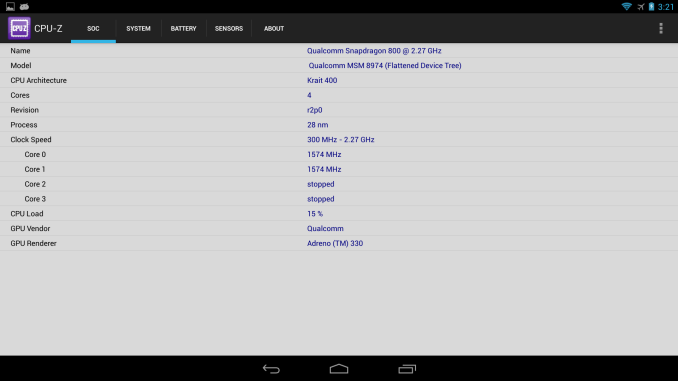 On the video side, MSM8974 is capable of encoding UHD 4K (3840 x 2160) 30 FPS video at up to 120 Mbps H.264 High Profile, and is capable of playing back the same file. Qualcomm had a demo going showing this mirrored on the latest Sony 4K UHD TV as well over microHDMI. I recorded a video sample and took a copy for your perusal and onto YouTube. True to their word the video I grabbed is 120 Mbps and 3840 x 2160, framerate was just over 25 FPS but I'm not sure if the demo was setup for 30 FPS capture. MSM8974 has the hardware encoder for H.264 but not HEVC H.265, that's implemented in software.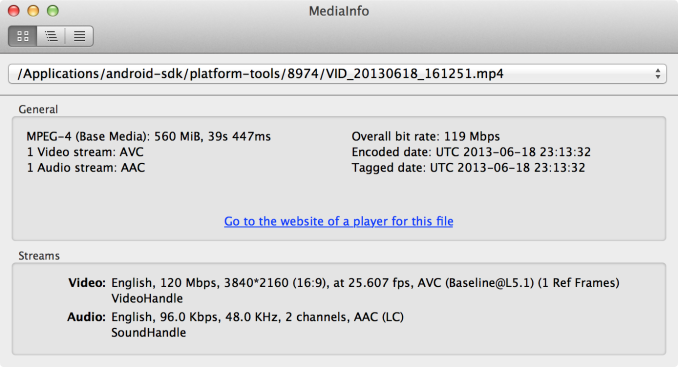 Snapdragon 800 should begin popping up in phones and tablets fall 2013. Anyhow let's take a look at MSM8974 performance.