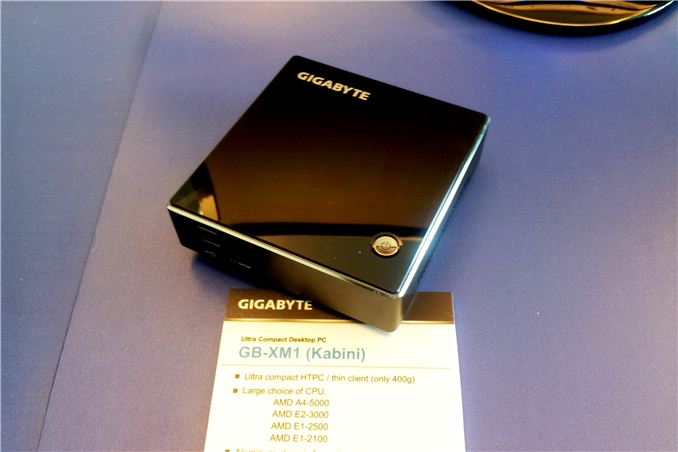 Despite Computex not officially starting yet, I am spending most of today in the Gigabyte suite. Before my booth tour I took a quick look around and a couple of little devices caught my eye: Kabini (and Haswell) in a BRIX. So BRIX is Gigabyte's take on the Intel NUC, and the first designs of BRIX could be found on the web a while ago - the first models with the BRIX design should be on sale shortly, with these Kabini and Haswell models to follow.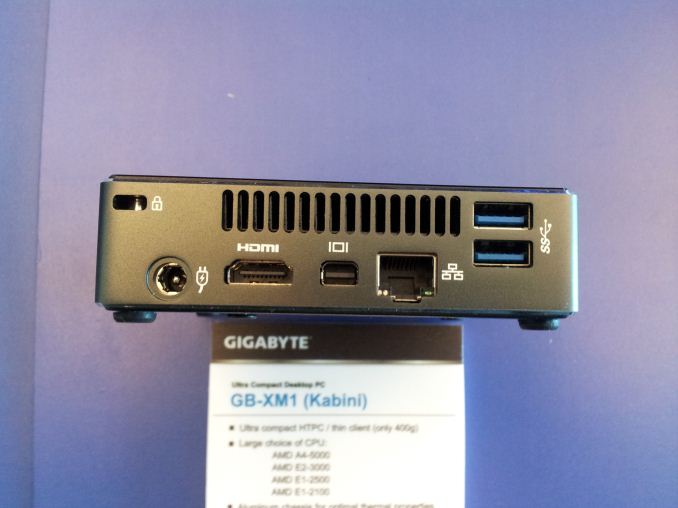 The Kabini model was placed with a list of compatible APUs: A4-5000, E3-3000, E1-2500 and E1-2100. Similarly the Haswell model is placed next to a sign stating compatibility up to an i7-4500U.
Connectivity includes a pair of USB 2.0 (not shown above), headphone output, two USB 3.0, ethernet, dual display (HDMI/mDP) and a Kensington lock.
Clearly the ideal chip in this form factor would be a GT3e/Crystallwell part. I am having a full guided tour of the booth later today and will ask questions such as storage, price/release date, and hopefully some internal shots!