I calibrate every monitor using CalMAN V5 with an i1Pro spectrometer and a SpectraCal C6 colorimeter. Our first calibration target is for 200 nits of light output, the sRGB color gamut, and a power gamma of 2.2. For the calibration I used the Standard mode on the monitor, as that allowed access to the User Color Temperature control, which let me set 100% white correctly without using the video card LUT.
Using this setup, our grayscale really comes into line on the BenQ. Our average error is really non-existent, other than at 0 which we can't fix, and I can't exclude from this chart or I would. The color tint has been totally eliminated, and the gamma is almost spot-on. Our contrast ratio has risen to 820:1, a 16% increase in what is often the most important element of an image overall. As far as grayscale goes, this is essentially perfect.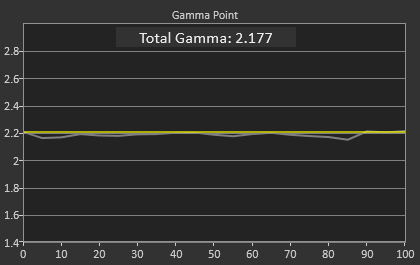 On the color side we see some improvement, but this is mostly due to the improvement in the grayscale. SpectraCal is going to improve CalMAN to remove White from the Gamut dE2000 number, to provide a more accurate data point on how much color error was improved in the future. The red primary is a little under-saturated and green is a little low in luminance, both errors that calibration can't correct. The color gamut is good, but not excellent.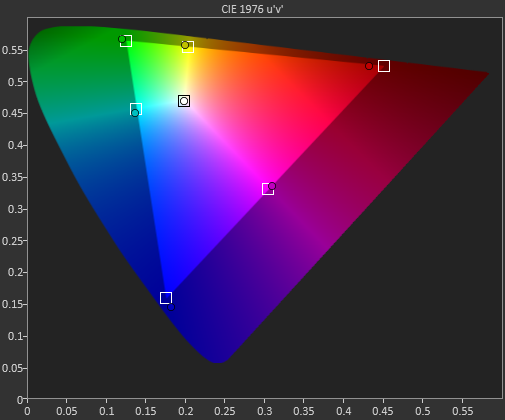 The Colorchecker data is better, but also not perfect here. The formerly high luminance has now been fixed, and luminance is nearly perfect. Those orange-yellow shades continue to cause issues however, with errors close to 3, and the same goes for a shade of blue that lies on the edge of the sRGB gamut. The numbers are much better than before but not as good as some other displays, especially on those orange-yellow colors.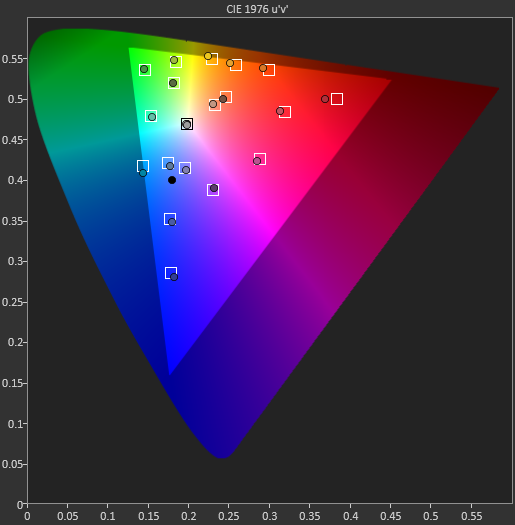 After calibration the saturations are almost worse at 100%, but better below that. Some people disagree on if it is better to have 100% saturation fixed or the values below that have a lower error, but overall the values are better than they were before calibration.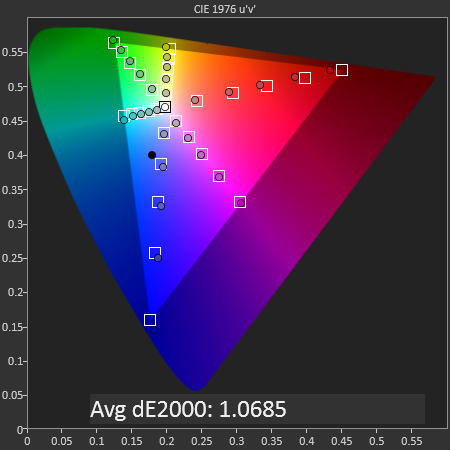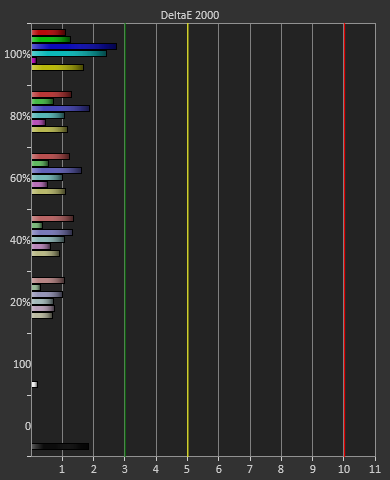 Post calibration, the BenQ is certainly better than it was before it. It is virtually perfect in the grayscale, but the gamut doesn't improve that much as the issues it has are ones that calibration can't fix, as calibration can't add luminance or saturation that isn't there to begin with. I was happy to see how much the BenQ improved, and you can do much better than the preset sRGB mode.