Introducing the In-Win GT1
If you've ever looked at a builder's guide for a desktop system on any major tech site (including this one), you've undoubtedly noticed that the first thing to get cut to make room in the budget is the enclosure. It's not hard to see why; as long as a case keeps things cool enough and runs quietly enough, for the most part it's doing its job. It's only when you look at the greater ecosystem of cases that the real sweet spot of the market ($99-$139) becomes more apparent. What this means, though, is that the sub-$99 market is very competitive, and when you start hovering between $50 and $70, it's downright brutal.
That competitive nature has forced manufacturers to get creative about fitting feature rich cases into lower price tags, and one of those cases is on hand today: the In-Win GT1. The GT1 features a hotswap bay, USB 3.0 connectivity, a semi-modular drive bay, and fan control, and comes in with an MSRP of $69. There's potential for this case, but does it offer enough to beat the incumbent in this bracket, the $10 cheaper Antec GX700?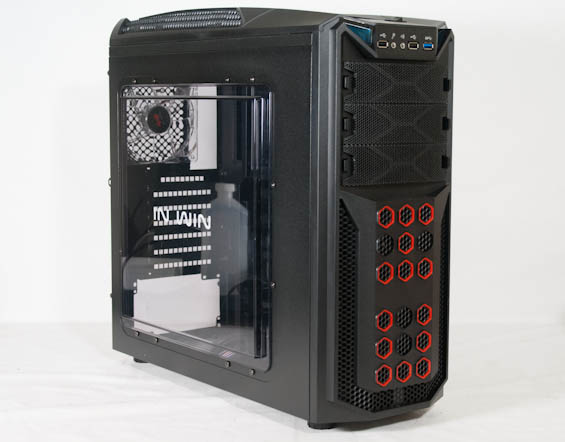 I hesitate to say "amusingly," but it's the word appropriate for how I feel about this: amusingly, the one place you almost always have to make a sacrifice in this market is aesthetics. The Antec GX700 is a stellar performer, but it's not much of a looker. The In-Win GT1 threatens to fall into the same trap and may only appeal to a specific type of user. In-Win's strapped the bulk of features in the GT1 to a case that's inspired by racing cars.
In-Win GT1 Specifications
Motherboard Form Factor
Mini-ITX, Micro-ATX, ATX
Drive Bays
External
3x 5.25"
Internal
6x 2.5"/3.5", 2x 2.5"
Cooling
Front
1x 120mm intake fan (supports 2x 120mm)
Rear
1x 120mm red LED exhaust fan
Top
2x 120mm fan mount
Side
-
Bottom
1x 120mm fan mount
Expansion Slots
7
I/O Port
2x USB 2.0, 1x USB 3.0, 1x Headphone, 1x Mic
Power Supply Size
ATX
Clearances
HSF
160mm
PSU
160mm with bottom fan / 220mm without
GPU
270mm with drive cage / 408mm without
Dimensions
18.7" x 8.3" x 19.3"
475mm x 210mm x 491mm
Weight
12.5 lbs. / 5.6 kg
Special Features
USB 3.0 via internal header
Dual-mode fan controller
Removable drive cage panel
Side window
Toolless drive installation
SATA hotswap bay
Price
$69
In-Win seems to have saved most of their scratch by only including two fans, which isn't unusual for this price range. More disappointing is opting to use 120mm fans instead of 140mm ones; Fractal Design in particular has been putting this foot forward and really, as far as fans go, bigger is usually better. The GT1 doesn't have the room for a 140mm exhaust fan, but it really should've fit one as an intake.
Unfortunately, In-Win also tags what's fast becoming one of my biggest pet peeves in case design: odd-numbered USB ports. I hate the idea that they might have omitted a second USB 3.0 port just to save a buck or two on manufacturing, and it's indicative of an old style of thinking that just doesn't fly on American shores. Designers need to realize that something like this can actually seriously hamstring a case's chances in the market; remember that Antec's GX700 features two USB 2.0 and two USB 3.0 ports.