At my first CES, one of the devices that caught my attention immediately was a slick looking single-DIN head unit running Android called the Parrot Asteroid. One of the things about Android is just how versatile the platform is and all the different places that forked versions of the OS have made their way into. It doesn't take much imagination to see how Android could be potentially disruptive in a car either as an infotainment or navigation system - media compatibility, maps, and a huge application ecosystem pretty much sell the thing.
Though it's already been announced, one of the products I was most excited to play with at CES 2013 was the original Parrot Asteroid's successor and bigger brother, the double DIN Parrot Asteroid Smart. This is a head unit with 6.2-inch capacitive touch screen running a heavily-skinned and car-tailored version of Android 2.3.7 atop an unnamed TI OMAP(3, maybe 4?) SoC. For connectivity there's 802.11n (no word on 2.4 or 5 GHz) WiFi and Bluetooth 3.0 onboard, likely from some TI Wilink series combo. On the back are three USB 2.0 ports and a fourth for iPods, iPhones, and iPads with 2A charging support. The head unit has audio outs for left, right, and sub, with 4 55 watt outputs. Of course there's compatibility with GPS and steering wheel controls. The rest of the specs are on Parrot's site for the Asteroid Smart.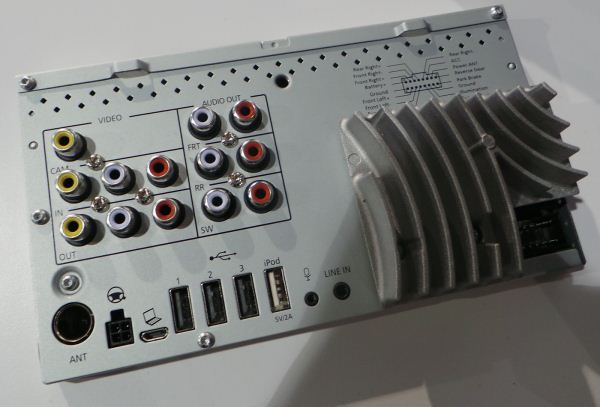 I spent a lot of time playing around with the Asteroid Smart since this the kind of convergence device for the car that I've been wanting for some time to replace my own aging head unit. The aftermarket head unit space seems full of strange one-off OSes and platforms and could benefit strongly from a coherent platform message.
The Asteroid Smart hasn't yet passed Google CTS (Compatibility Test Suite) and thus doesn't yet have GMS (Google Mobile Services) approval to use Google Apps or the Play Store, although I'm told that Parrot is working to make this happen if at all possible. In the meantime, they've created an application marketplace of their own called the Asteroid Market to showcase and sell applications designed to be used with the Asteroid lineup and the decidedly different UI requirements for a car versus a phone. The news out of Parrot about Asteroid for this CES is the unveiling of a developer portal and SDK for building apps and getting them on the Asteroid Market.
I played with the Asteroid Smart a lot and came away pretty impressed with the device, though there are some caveats. All controls are exposed through the UI on the Asteroid Smart, there are no physical volume buttons or toggles, other than a power on button and faceplate eject button. There's no CD input, though I've lived without a CD player in my car with my current head unit for long enough to know that isn't impossible — instead media will come from an attached USB storage device, on an SD card, or from attached smartphone. I suppose the lack of physical buttons is mitigated by the compatibility with steering wheel buttons, but I could imagine the two-tap volume change UX to be a possible problem. Although it runs 2.3.7, the UI felt smooth and performant basically everywhere, swiping through menus, changing media, and in the custom launcher. Oddly enough Parrot has crafted a UI that looks suspiciously like 4.x atop it — I just wish it was Android 4.x to begin with instead of 2.3.7, but thankfully there's still enough application compatibility that this shouldn't be a huge problem. There's also the normal Android launcher buried inside if you look for it, along with browser and a maps application that uses Google's map tiles.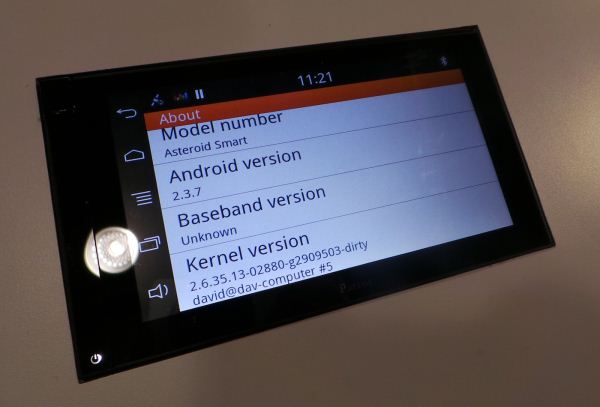 Again, Parrot can't bundle the Google Maps application until they've obtained a GMS license, but for now they're getting around that by bundling a stripped down version that just uses the APIs in Android. There's also a microUSB port on the back for sideloading applications, which I'd imagine is something users would do who actually want Google Apps regardless of GMS approval. Parrot is targeting a price around 599USD for the Asteroid Smart with availability early 2013.
If nothing else, this is the kind of convergence device that really interests me and seems to be a major theme of CES. We have connected cameras now, why not connected cars and head units?