Software
Impressively, this new set of contenders boast both fan control software and even, in the case of Corsair's H80i and H100i, upgradable firmware. The Prolimatech Megahalems and Noctua NH-D14 may be big, beefy air coolers, but they don't include those kinds of goodies (though there's something to be said for not having to futz with hardware). The H80i and H100i along with NZXT's Kraken coolers all plug into one of the spare USB 2.0 headers on your motherboard to interface with the rest of your system, and require drivers and software to be installed for you to take full advantage of them. This may seem like a nuisance at first, but it does allow for pretty detailed and specific control.
Corsair Link
Of the two software solutions on hand, Corsair's Corsair Link software is definitely more mature. I've actually been familiarizing myself with it over the past year, both in my home desktop and in my case testbed, and while it's far from perfect (fan control of third party fans has proven to be a substantial hurdle), there's a lot to recommend it.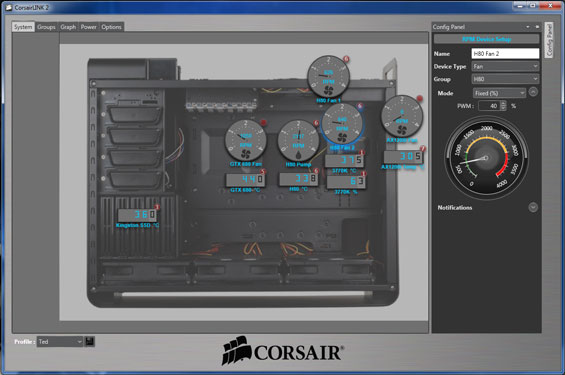 The screenshot above is from my home system, but it's a good indicator of how well Corsair Link can work. Corsair's software can provide basic HWMonitor-level monitoring for system components, while an "i" series PSU like the AX1200i can have its individual rails monitored as well as its fan controlled. Individual fan control options for the H80i and H100i include the three presets I tested with (Quiet, Balanced, and Performance) along with fixed percentage and RPM, or you can even manually set your own cooling curve. You can also use the Corsair Link to configure the LED lighting of the waterblock.
Where you benefit from Corsair Link is really in buying into the whole ecosystem that Corsair is assembling. While the individual Corsair Link box concept never seemed to quite get off the ground, a unified Corsair Link ecosystem that runs at the component level looks to be a more promising route. The H80i and H100i waterblocks both include an additional connector input for other Corsair Link-enabled accessories, making them ideal companions for Corsair's fan controller, LED lighting kit, or especially an "i" series power supply.
Kraken Control
While Corsair Link is pretty robust, Kraken Control still feels very fresh and obviously has some kinks that need to be worked out.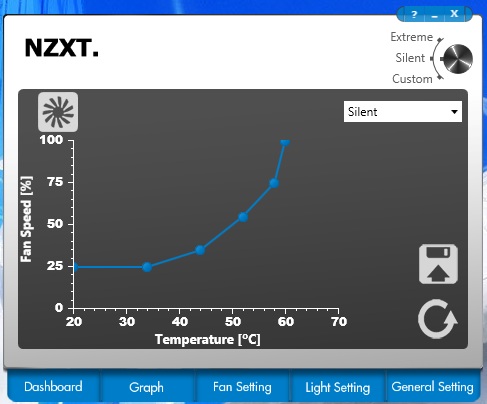 The software is certainly stable and features a programmable fan curve just like Corsair Link, but the fan control is handled entirely by percentage as opposed to also being RPM-configurable. It's also more confusing to work with in some ways, and when the fan is running silently the software actually reports it as being at 0 RPM. Like Corsair Link, NZXT's software lets you control the lighting of the waterblock.
Kraken Control definitely still needs work, but where it scores big is its simplicity. Corsair Link may be robust, but it's also a big program and sometimes it feels a little sluggish. Kraken isn't too much snappier, but it's much simpler to use once you get the hang of it. NZXT doesn't have a whole ecosystem of components to incorporate like Corsair does, and the software is serviceable. The main drawbacks are its relative youth and the open source hardware monitor that has to run separately alongside it, software which really should just be integrated in the first place.