Introducing the In-Win GRone
It's been a very long time since we've had an In-Win case in house for review. In fact, the last one we checked out was the BUC, an affordable enclosure that was able to hit just the right balance between silence and performance for its price class. The BUC was and remains a reasonable value for end users who want a flexible case and don't mind the slightly gaudy aesthetic, but today we have In-Win's recently launched GRone.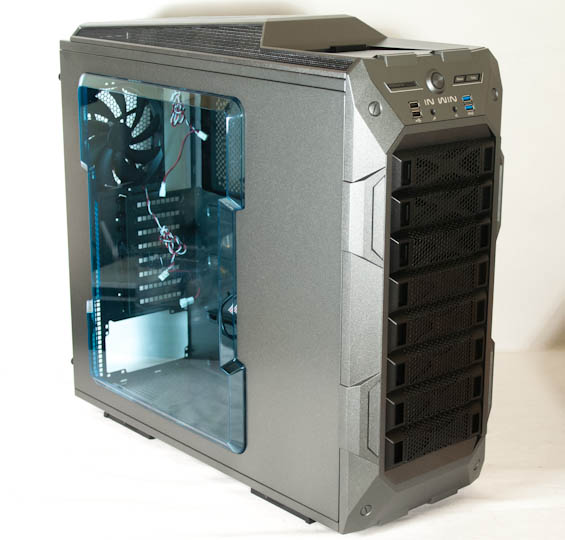 The GRone is poised to be one of In-Win's flagship enclosures, an E-ATX-capable case with a built-in fan controller, attractive if understated LED lighting, five large fans, and a wealth of features even beyond those. Yet it also comes with a substantial asking price of $160, which puts it directly up against some serious competition from vendors like Antec, Corsair, and SilverStone. This is around the price point where we stop making trades between acoustics and thermal performance and start demanding both. Does the GRone fit the bill?
My gut instinct with the GRone is admittedly not a great one. I'm inclined to take aesthetics off the table for the most part; cases that look like the GRone does have a tendency to split audiences into "love it" or "hate it" camps, and many users simply don't care what the case looks like as long as it performs well. Yet the sheer abundance of plastic on a $160 case is disconcerting, though that unease is staved off somewhat by the substantial amount of features In-Win has crammed into this design.
In-Win GRone Specifications
Motherboard Form Factor
Mini-ITX, Micro ATX, ATX, E-ATX
Drive Bays
External
3x 5.25"
Internal
1x 5.25", 8x 2.5"/3.5"
Cooling
Front
2x 140mm intake fan (1x internal 140xmm intake fan); all support 120mm
Rear
1x 140mm exhaust fan (supports 120mm)
Top
1x 140mm exhaust fan (supports 120mm), 2x 120mm/140mm fan mounts
Side
1x 120mm/140mm fan mount (behind motherboard tray)
Bottom
2x 120mm/140mm fan mount
Expansion Slots
8
I/O Port
2x USB 3.0, 2x USB 2.0, 1x Headphone, 1x Mic, SATA hotswap dock, two-speed fan controller
Power Supply Size
Standard ATX
Clearances
HSF
170mm
PSU
200mm
GPU
13.5" / 343mm
Dimensions
22.13" x 9.65" x 23.35"
562mm x 245mm x 593mm
Weight
26.5 lbs. / 12kg
Special Features
USB 3.0 connectivity via internal headers
Removable drive cages
Integrated two-step fan controller
Support for 360mm radiator in top of enclosure and 240mm radiator in bottom
SATA hotswap dock
Price
$160
In-Win is probably most anxious to catch your attention with the tremendous number of fans included; five fans are nothing to sneeze at, and it's interesting to see how the "behind-the-drive-cage" fan has caught on in recent months despite the fact that I'm not really sure just how effective this decision is. The two-step fan controller is worth paying attention to as well, though, as is the SATA dock integrated into the top of the enclosure. SATA docks aren't uncommon, though I personally would still like to see card readers integrated into more case designs since they're absolute bog standard on notebooks these days.