Performance is right where you would expect, solidly in the middle of the Ultrabook class. Ultrabooks are approaching CULV levels of dull performance metrics—all of them perform roughly the same, because there are only a handful of CPU parts (only three of which are commonly seen in review units) and they've all got roughly the same baseline performance specs otherwise (the differences between 4GB and 6GB RAM are rarely statistically significant in our benchmark suite). Obviously, some Ultrabooks come with optional dedicated graphics cards, like the ASUS Zenbook UX32Vd and Acer TimelineU M5, but other than that, the spec sheet a lot of times boils down to SSD vs cached HDD. Here's our current list of candidates:
The U845 falls at the midlevel of the class, with the i5-3317U, a 1.7GHz dual core 17W Ivy Bridge part with a max turbo clock of 2.6GHz and a GPU clock of 1.05GHz. This is the standard CPU in sub-$1000 Ultrabooks, and typically the only step lower would be the SNB i3 or i5 that's used in the base U845 and other entry level systems. Performance is adequate if uninspiring, with the lack of a dedicated SSD definitely being noticeable during regular use.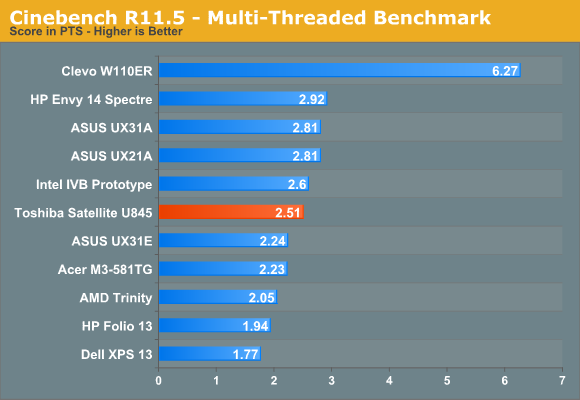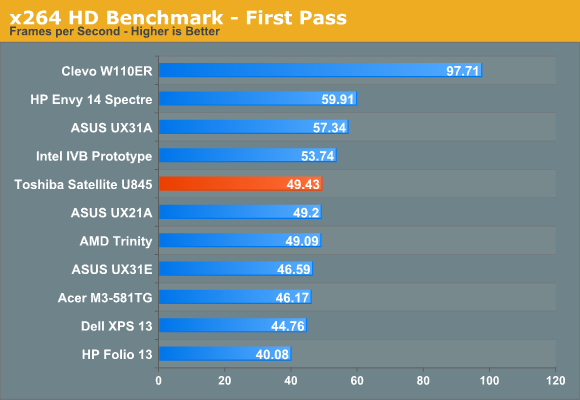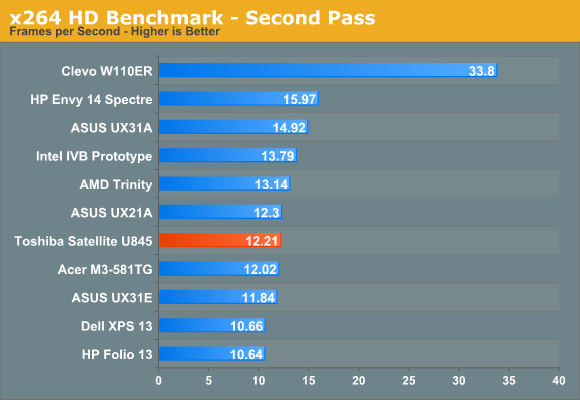 Toshiba has always been pretty bad at bloatware, so much so that I once wrote them a letter about it halfway through my review of the Portege R700. Unfortunately, things have not gotten too much better since then, with Toshiba loading the U845 with a Norton Internet Security trial, NetZero, and about 30 different Toshiba utilities that are for the most part pointless. (Okay so I went back and counted—the actual number is 29, but close enough right?) Of those 29, I'd say they could dump about 18-20 of them. This is 2012, bloatware should not be acceptable as standard operating procedure when selling a computer. Microsoft's Signature optimization on PC hardware sold at the Microsoft Store proves that. There is simply no excuse.