Battery life is hugely important, and in the case of the SGS3 USA variants the question is just how long you can go with the combination of even beefier air interfaces like LTE and DC-HSPA+, an even larger 4.8" display, and dual core 28nm MSM8960. The SGS3 includes a very large 7.98 watt-hour battery with a higher 3.8V nominal chemistry (2100 mAh * 3.8 V = 7.98 watt hours).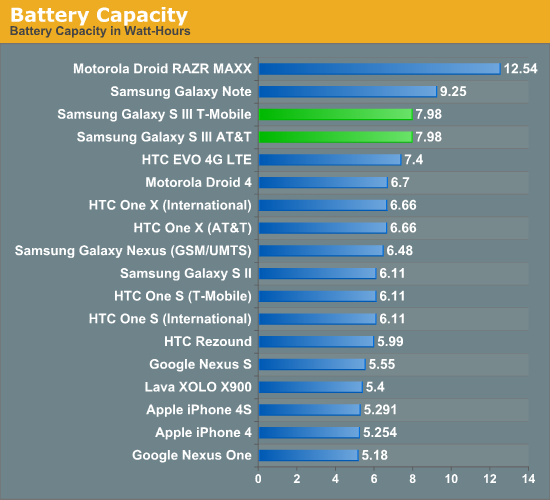 I spent a big part of my limited time with the SGS3s battery life testing, and turned to our Smartphone 2011 suite of battery life tests which I've described in detail before. The web browsing tests consist of a few dozen pages which are loaded every 10 seconds with the display set at precisely 200 nits (using a meter) until the phone dies - this is done over WiFi and cellular data. The tethering test consists of a single client notebook attached to the device using its onboard WiFi hotspot function, and four tabs of our page load test alongside a 128 kbps streaming MP3 station are loaded on that notebook until the phone dies.
I was supplied the AT&T and T-Mobile SGS3s, which differ in air interface and band support. The T-Mobile version is on the carrier's DC-HSPA+ network for testing, and the AT&T version supports both HSPA+ (single carrier) and LTE. Unfortunately AT&T LTE is not lit up in my Tucson, AZ market yet (which would make my life so much easier), so I could only run the 3G WCDMA result. 4G LTE results from that particular device will come shortly and I'll update appropriately.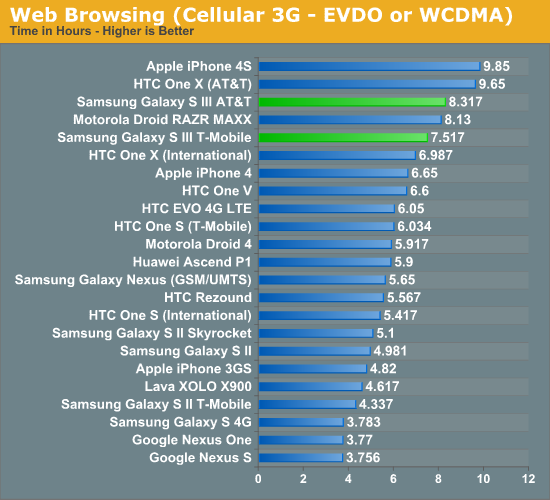 Immediately we can see that the combination of MSM8960 and Samsung's big battery really pay off for the SGS3. Both the T-Mobile and AT&T versions (on DC-HSPA+ 42.2 and HSPA+ 14.4, respectively) post impressive numbers around 8 hours. This is with the display set at 200 nits in the browser, which is one tick short of all the way to maximum on the SGS3. Samsung has included a ton of battery saving display analysis features in the SGS3 browser, which were turned off for this test. Obviously if you turn those on (I would) you'll be able to push battery life even further. It is shocking how close we come to the previously untouchable iPhone 4S.
As soon as I get the AT&T LTE numbers (I have to travel to an AT&T LTE market and carry out the test there) I'll update with that graph here.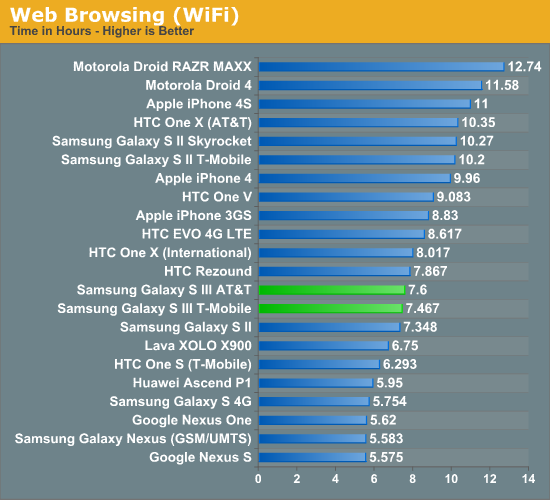 Next up is the WiFi battery life test, which posts numbers right around where the 3G cellular test was. You might be wondering why this is since the SGS3 includes an even lower power WiFi stack (BCM4334 even in the Krait-based USA variants). The result indicates to me that we're almost entirely dominated by display power draw here. If we ran with a lower brightness, I expect you'd see WiFi longevity pull in front of cellular like you'd expect.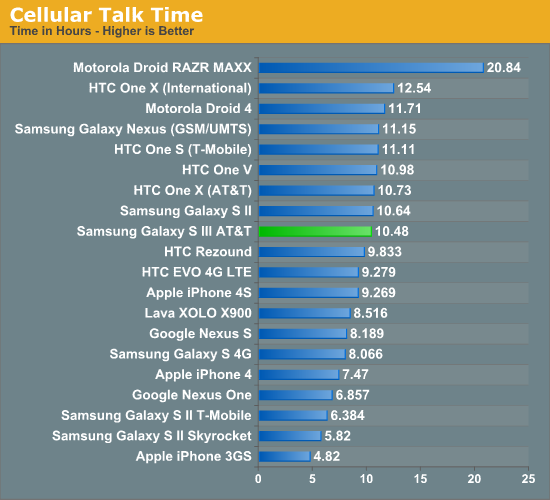 Cellular talk time is starting to get so long that it's hard to test - I essentially lost an entire day of playing with the AT&T SGS3 to running a call time battery life test. This is a good problem to have, though I'm surprised it didn't go just a bit longer and match or beat the One X AT&T result.
The 3G hotspot test really tells what things are like with the display turned off. Quite honestly I'm surprised the SGS3 doesn't do much better here – it's possible there's room for further optimization of the WiFi hotspot mode on SGS3. Likewise, I'll update with 4G LTE numbers for the AT&T model as soon as I'm in an area where it's lit up and I can burn a few hours testing.
Overall, in my time with the SGS3 I would subjectively describe battery life as above average. With AMOLED, 200 nits is actually pretty bright, and you see Samsung and other OEMs clamping display brightness well below the physical limits to both save power and prevent burn-in.
Obviously the other interesting question is how the SGS3 fares on its battery saving mode with the CPU clock capped at 1.0 GHz. That's also next in line for testing.