Build and Power Consumption
Where I think the HP Z420 winds up really losing step with the Dell Precision T3600 (and where HP's current workstation lineup loses step with Dell's pending update) is build quality. The Z420 isn't badly built, but not much seems to have changed in some time. It's easy to rest on your laurels when you're on top, and that seems to be the case with the...uh...case.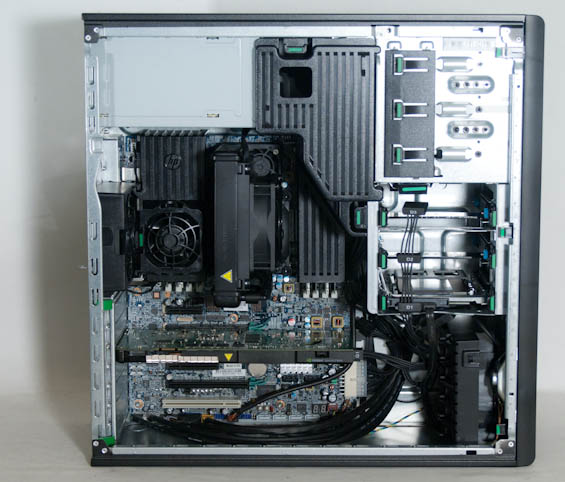 The side panel pops off via a quick-release lever, and most of the individual parts are accessible via internal quick-release levers. Our Xeon is also cooled with a custom liquid-cooling solution (required with this upgrade), but HP sticks with an 80mm fan instead of moving up to a potentially more powerful (and quieter) 120mm fan, wasting some of the radiator surface area.
I personally prefer the internal layout of Dell's Precision T3600, with its easily swappable power supply and just generally cleaner interior design, but where HP wins and Dell loses out is memory capacity: the Z420 sports the full eight DIMM slots that Sandy Bridge-EP supports, while the T3600 is forced to make do with just four.
Unfortunately for HP, Dell's system looks better and is ultimately easier to service. The best thing HP has to compete with the sturdy aluminum handles built into the Dell chassis is a $30 upgrade to a service handle that occupies the top optical bay. Clearly the money is in enterprise, but a $30 handle is the kind of thing you expect to see on a government expense report.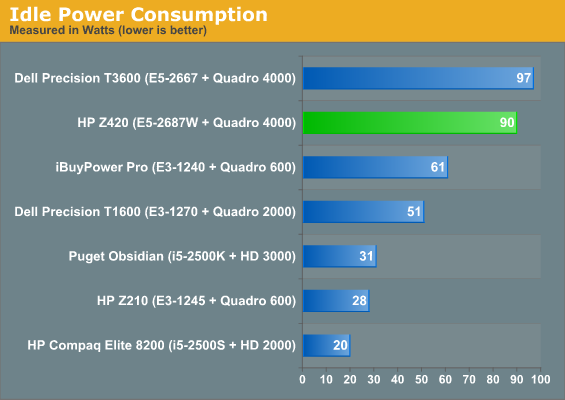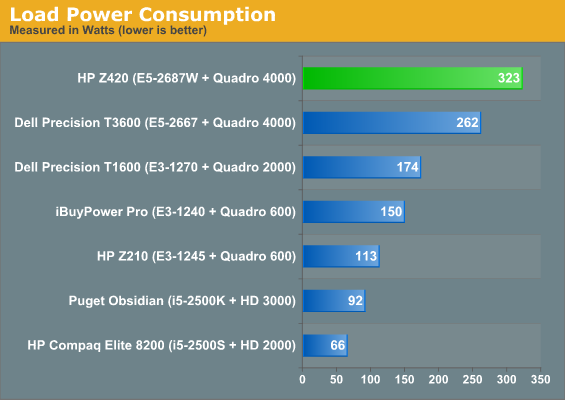 HP's system is also a lot less efficient than Dell's under load. The idle difference isn't major and can probably be chalked up to the extra pair of hard drives in Dell's build. Unfortunately, under load the extra 20 watts off of the processor, the closed-loop liquid cooler, and the four extra DIMMs all seem to take their pound of flesh. I have a hard time believing that accounts for a full sixty watts of power; HP may need to go back and tinker with their power supply.