Conclusion: Last But Not Least, New All-in-Ones
While the vastly improved fit and finish of the new Satellite and Qosmio notebooks is worthy of attention and Toshiba definitely seems to be trying some new and exciting things with their tablets, it's important to note Toshiba isn't standing still with their all-in-one line, either.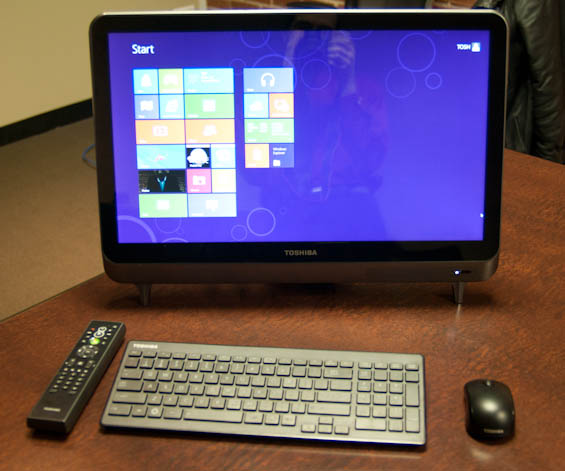 The new LX815 and LX835 all-in-one systems will be employing desktop-class Ivy Bridge processors, but otherwise (wisely in this editor's opinion) foregoing dedicated graphics hardware. Toshiba has redesigned the exterior shells of these units as well. MSRP for the 21" LX815 starts at $599, while the 23" LX835 will start at $879, and like almost everything else Toshiba expects these systems to be available at the beginning of 3Q12.
My personal impressions during the briefing in San Francisco were generally very positive. Toshiba seems to be bringing new blood into the company and it's paying off; the new designs are vital and distinctive, and they shed a lot of that "also-ran" feeling that has plagued them over the past few years. I'd still like to see them attack the ultraportable market with a little more fervor, but the new line of tablets has some life to it beyond just being another set of Tegra 3-powered Android devices.
We'll be looking forward to getting some of the new hardware in for testing (including the Excite line) and seeing how it all holds up in practice.