Introducing the Toshiba Satellite P755D
While the launch of Trinity isn't too far away, it's important to remember there are still plenty of Llano notebooks available today with a lot to offer on their own. AMD's APU may be weak on the processor performance side, but the GPU side achieves something Intel historically couldn't touch: decent gaming performance at a budget price.
The problem now is that with Ivy Bridge also due soon, Sandy Bridge-based notebooks are going at fire sale prices while any of NVIDIA's 500 series graphics that haven't been rebranded also need to be purged, resulting in a substantial number of notebooks with gaming potential hanging out in Llano's neighborhood. Toshiba's Satellite P755D features AMD's fastest 35-watt Llano processor and a Blu-ray drive at a reasonably low price, but is it still going to be competitive?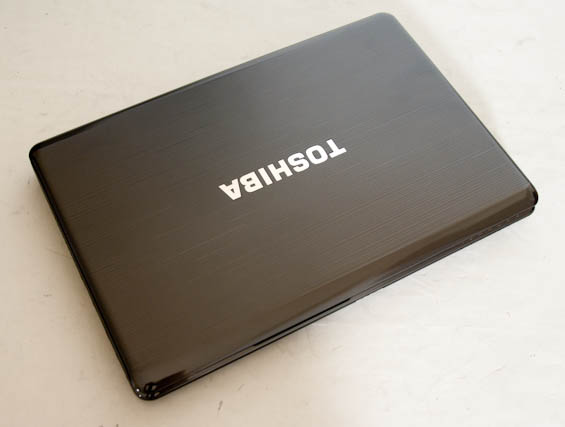 As product lines age, parts get refreshed and good deals begin to appear near the end of a generation of hardware in preparation for the premiums that the next generation often commands. The same can be said for the Satellite P755D; the review unit we have on hand is essentially where the AMD-equipped versions of Toshiba's P750 series peak, condensed down to one model to make room for the new blood due over the next few months.
Toshiba Satellite P755D Specifications
Processor
AMD A8-3520M
(4x1.6GHz, Turbo to 2.5GHz, 32nm, 4MB L2, 35W)
Chipset
AMD A68M
Memory
1x4GB Samsung DDR3-1333 and 1x2GB Samsung DDR3-1333 (Maximum 2x8GB)
Graphics
AMD Radeon HD 6620G
(400 Stream Processors, 444MHz core clock)
Display
15.6" LED Glossy 16:9 768p
LG Philips LP156WH4-TLA1
Hard Drive(s)
Toshiba MK-6475GSX 640GB 5400RPM SATA 3Gbps HDD
Optical Drive
TSST TS-LB23D BD-ROM/DVD-RAM
Networking
Atheros AR9002WB 802.11b/g/n
Realtek PCIe Gigabit Ethernet
Bluetooth 3.0
Audio
Realtek ALC269 HD Audio
Stereo speakers
Headphone and mic jacks
Battery
6-Cell, 11.1V, 47Wh
Front Side
SD Card Reader
Right Side
Headphone and mic jacks
2x USB 2.0
Optical drive
AC adaptor
Kensington lock
Left Side
Exhaust vent
VGA
Ethernet jack
HDMI
USB 3.0
USB 2.0
Back Side
-
Operating System
Windows 7 Home Premium 64-bit SP1
Dimensions
13.4" x 9.01" x 1.1-1.4"
340mm x 229mm x 28-36mm
Weight
5.4 lbs
2.45kg
Extras
Webcam
USB 3.0
Blu-ray reader
Harmon/kardon speakers
Warranty
1-year limited
Pricing
$699 MSRP
Starting at $678 Online
As I mentioned before, AMD's A8-3520M is the fastest APU in their mobile lineup before jumping up to the 45W TDP chips. This is a fully equipped Llano chip featuring all four cores running at a nominal 1.6GHz and able to turbo up to 2.5GHz depending on the workload and thermals. The GPU half sports the full 400 shaders, 20 texture units, and 8 ROPs, and shares a 128-bit dual-channel DDR3-1333-specced memory bus with the CPU half.
Toshiba's other big selling point with the P755D is offering a Blu-ray reader at a price the competition generally just doesn't. While this may not be of use to many users, I can tell you that I've known at least a few people who have deliberately sought out Blu-ray drives for their notebooks. Toshiba knows about those customers, and I get the feeling that the P755D is geared towards serving them specifically.
The rest of the notebook is pretty par for the course for an entry-level system, but thankfully USB 3.0 is at least becoming increasingly pervasive. It's joined by three USB 2.0 ports, HDMI, VGA, and an ethernet jack, but the battery is the kind of middling-capacity hardware you'd expect from a notebook in this end of the market. You'll also have to cope with Toshiba's slow 5,400-RPM 640GB mechanical hard drive, which gets the job done but is definitely going to be the bottom rung on the performance ladder.
Where things get a bit sketchy is that $699 price tag. Fire sale Sandy Bridge notebooks have resulted in systems from Lenovo (never thought I'd see the day the vendor of ThinkPads would aggressively chase the bottom dollar) and Acer with i5 processors and dedicated NVIDIA graphics coming in $30 to $80 below the Satellite on NewEgg. The flipside is that none of those notebooks feature a Blu-ray drive, and while that accessory is going to be of questionable value to a lot of users there's a subset that will be willing to take the performance hit to get that flexibility.