Looking Forward to WUXGA and QXGA Tablets
In a similar vein to the 4K displays, it looks like many tablets are getting a serious resolution bump in the next few months. When I complain regularly about the state of laptop displays (I can count the number of good laptop LCDs we saw in the last year on one hand), it gives me hope to see tablets pushing for higher quality, higher resolution panels. Amazingly enough, ASUS has announced that the Eee Prime Transformer will receive a 1920x1200 update in Q2 this year (and for the record, they're not the only ones planning on using such a panel). Rumors suggest that the iPad 3 will go one step further and offer a QXGA (2048x1536) panel, sticking with the 4:3 aspect ratio of previous iPads—though of course Apple hasn't officially announced anything yet—and there's even talk of some QSXGA (2560x2048) and/or QWXGA (2560x1600) tablets shipping later this year.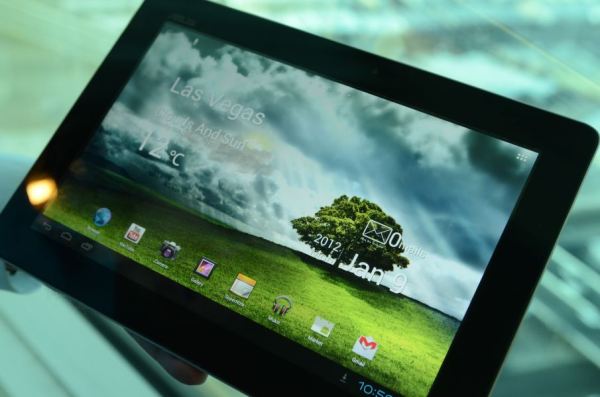 I had the chance to play with the upcoming Eee Prime Transformer TF700T, and I loved the increased resolution. Surprisingly, the Tegra 3 chipset appeared able to handle WUXGA quite well, though I didn't get a chance to test any games. Gaming at WUXGA is going to really stress current SoC GPUs, however, at least if you want decent quality settings. Many desktop users—even those with high-end cards like the GTX 570/HD 6970—run at 1920x1200, albeit with significantly higher quality textures and geometry than seen in tablet games. Even so, pushing ~2MP on a tablet at decent frame rates will very likely need more memory bandwidth and faster GPUs; I expect many games will run at a lower resolution and simply scale the image to the screen size. Outside of gaming, however, higher resolutions can be very useful. Browsing the web at 1280x720 is doable, 720x1280 not so much; 1080x1920 on the other hand is wide enough for all the 1024-width websites that you won't have to zoom out to see it. Plus, text and images in general will be improved.
What really irks me is that all of this comes in a 10.1" IPS package, exactly what I've been asking for in laptops for the past several years. What's more, the price point for these is in the <$600 range, and we're still getting 16:10 aspect ratio panels instead of being forced into 16:9. I asked several manufacturers, "How is it we're getting 16:10 aspect ratio tablets with IPS WUXGA displays, and you still can't put anything better than a low quality 1366x768 TN panel into your laptops?" Naturally, they blamed the display manufacturers and consumers for not being willing to buy better quality laptops.
There's certainly some truth to that, but it's also a matter of supply and demand; if ASUS for instance were to order a million ~13.3" 1920x1200 IPS laptop displays, I'm sure they could get prices down to <$1000 for a quality laptop. Naturally, they're worried that the laptops wouldn't sell well enough and they'd get stuck with a bunch of "too expensive" laptops. With all the $500 Best Buy laptops floating around they may be right, but I wish I could convince more people to stop settling for low quality displays in their laptops. That brings me to my final top-three device/tech that impressed me at CES.