Llano is still selling strong for AMD, as shown by the relatively recent reports of representing a major aspect of their CPU profit margins. Building on our Llano and A75 review base, ASUS gave us the opportunity to look at their F1A75-M Pro motherboard - e-tailing at the time of writing for around $110. Here at AnandTech we have reviewed other offerings from ASUS in A75, in full ATX from the F1A75-V Pro, and the mini-ITX F1A75-I Deluxe. This time, it's the turn of micro-ATX.
If we do a direct comparison between the three ASUS boards, we see:
ASUS F1A75-V Pro
ASUS F1A75-M Pro
ASUS F1A75-I Deluxe
Size
ATX
Micro ATX
Mini-ITX
Price (01/16)
$120
$110
$140
Power Phase
6+2
4+2
4+2
Memory
4 x DDR3
4 x DDR3
2 x DDR3
PCIe
1 x PCIe x16
1 x PCIe x4
2 x PCIe x1
3 x PCI
1 x PCIe x16
1 x PCIe x4
1 x PCIe x1
1 x PCI
1 x PCIe x16
CrossfireX/SLI
APU + Normal CrossfireX
APU + Normal CrossfireX
APU CrossfireX
Audio
Realtek ALC892
Realtek ALC892
Realtek ALC892
LAN
Realtek 8111E
Realtek 8111E
Realtek 8111E
SATA 6 Gbps
7 + 1 eSATA
6
4 + 1 eSATA
USB 3.0
4 + 2
4 + 2
2 + 2
USB 2.0
2 + 8
2 + 8
4 + 2
Size obviously has advantages - a full size ATX board has room for better power delivery, a broader range of PCI/PCIe options, and scope for more controllers (e.g. SATA 6 Gbps). In the micro-ATX smaller form factor, most of the features are still there - ALC892 audio, gigabit Ethernet, at least 6 SATA 6 Gbps ports, 4 USB 3.0 ports, and opportunities for up to 16 GB of memory with 4 GB DIMMs. It's only on the mini-ITX we lose some functionality - only 4 SATA 6 Gbps on board (plus one eSATA), room for only 8 GB of memory, and no PCI/PCIe x1 slots. But the advantage of a small board is primarily its size, for a sleeker and slimmer system. The question then becomes whether the F1A75-M Pro, the micro-ATX board, is worth $10 less than the ATX board as a whole.
Visual Inspection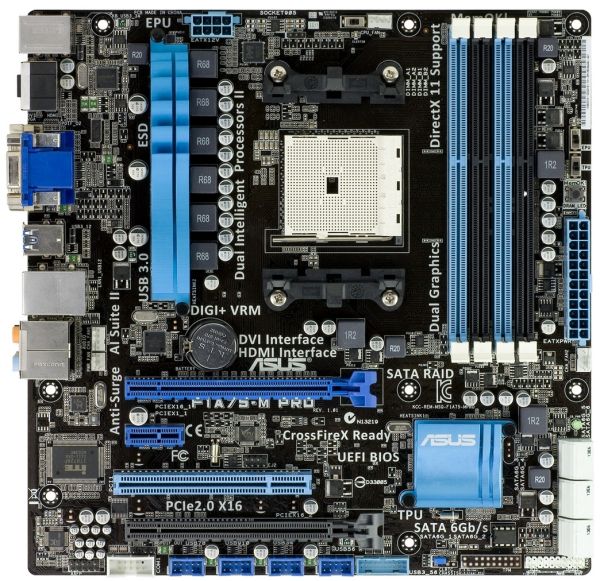 The black and blue livery of ASUS systems of late has been the stalwart of their consumer level line-up, and appears again here on the F1A75-M Pro, with a little white for the SATA ports. The wavy design with pretty substantial fins for both the VRM and South Bridge heatsink could be considered more style rather than substance, but due to the motherboard supporting 100 W processors, the VRM heatsink may be required to shift a lot of heat and it should be sufficient to cope due to ASUS' careful attention to detail in their design.
We also have EPU and TPU (Energy Processing Unit and Turbo Processing Unit) chips present. These two have separate roles - to reduce the carbon footprint of your computer with the EPU processor, and the TPU processor is there to diagnose the system for an optimal overclock when either the TPU switch is used or the BIOS option is enabled.
Working our way around the board, you will notice that there are four fan connections available. The CPU fan is located above the socket, and in the lower left half of the socket area there are two more fan connections available - one of them is a PWM based chassis fan header whilst the other is the PWR header which is 3-pin. The final header can be found on the right-hand-side of the motherboard just below the 24-pin power and it is a chassis fan which is also PWM based. Unfortunately, you do not have option to control the two chassis fans independently in the BIOS nor in the software.
Looking at the expansion options on this motherboard; there are two PCIe x16 slots which run at x16/x4 when in a CrossFireX setup, resulting in limited bandwidth of the second GPU, as detailed in our previous A75 reviews. Also on board is a PCIe x1 as well as a single PCI slot.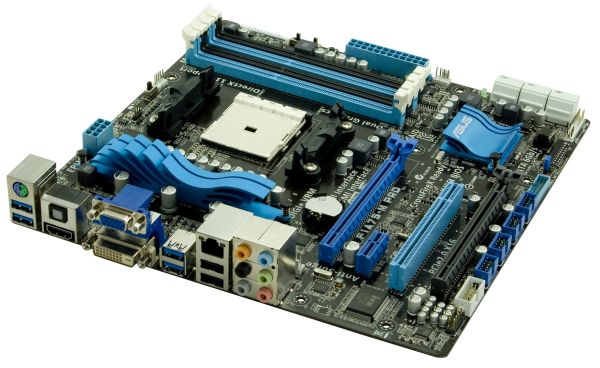 As SATA 6 Gbps is native on this platform, there are no SATA 3 Gbps ports to be found. There are six ports in total and they support RAID with the option to use RAID 0, RAID 1, RAID 10 or JBOD. These are all in white on the bottom right of the board.

On the back panel of the board, from left to right, we have a combined PS2 port, two USB 3.0 ports, a HDMI output, an optical SPDIF output, as well as VGA and DVI-D ports for your display outputs. Further along, there are two more USB 3.0 ports and two USB 2.0 ports with a gigabit LAN port above. Lastly, there are the six ports for your various sound inputs and outputs.