Switching Circuits and Components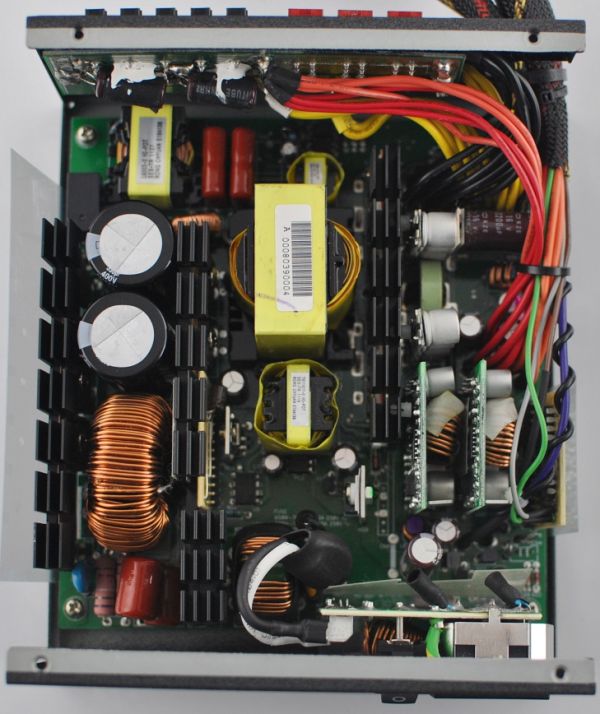 The 750W Platimax PSU uses a multi-layer PCB design similar to the Modu87+ series, as well as similar components. The biggest difference is in the transistors, which have a slightly lower turn-on resistance. Enermax still relies on the resonant converter with Zero Voltage Switching (ZVS). Its core is the resonant circuit consisting of a capacitor and a coil; these have specific loading characteristics that make the voltage waveform nearly sinusoidal. The transistors switch at the zero-crossing, which greatly reduces power dissipation. This compensates for the slightly higher losses during saturation (which is no problem with a low resistance between drain and source).
With the improvement in efficiency, manufacturers can also reduce the heatsink size(s). However, even on the secondary side Enermax still uses through-hole components for synchronous rectification instead of SMDs (Surface Mounted Devices). The efficient MOSFETs there could even be cooled by the conductor path. With THT (Through Hole Technology) Enermax is playing it safe, but it also means the fan should be able to run at lower RPMs.
Note that the inductive components get very hot in a switching power supply, which requires additional cooling. The temperature of the chokes can heat all the neighboring components. Enermax seems to know this is a potential problem, which is one reason why they're not making this a passively or semi-passively cooled PSU.
Most of the capacitors are of Japanese make, which is nice to see. Enermax uses a buck converter for -12V, an interesting development. Not long ago -12V was regulated by a linear regulator with large voltage drops. Usually the power dissipation is not a problem on this rail, since the current is low, but even so this is an improvement.