Once in a while, we encounter a gadget performing a niche, yet handy function. A month or so back, we received a pitch for a palm sized portable SATA duplicator (with eSATA / USB dock) from StarTech.com with the model number SATDUPUE.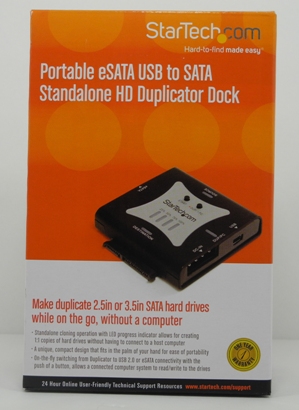 Before going into the details, a summary of the product's features is given below:
Standalone sector-by-sector SATA drive copying with LED progress indicator
Push-button switching between Duplicator mode and Docking Station mode
Compact, pocket-sized form factor
SATA II compliant eSATA host interface and USB 2.0 compliant host interface
Support for both 2.5" and 3.5" SATA drives
Support for hot-swap and plug-and-play operations
This product caught my eye because there are not too many players in the niche SATA duplicator market. While it is possible to use a PC to make a sectory by sector clone of the hard disk, there are many situations where one might want to avoid the hassle of finding a PC and installing the appropriate software on it. PC-independent SATA duplicators might find use are:
Forensic investigators wanting to back up hard drive evidence
Computer technicians at customer sites without access to a desktop PC
Computer users wanting quick and painless backups
In addition to StarTech.com, some of the contenders in the casual (2-bay) SATA duplicator market are Aluratek, Kanguru, Bytecc etc. A quick search seems to reveal that almost all of these are based on the JMicron JMB352 class of SATA bridge chips.

Since 'StarTech.com portable SATA duplicator / dock' is too lengthy to type, I will refer to it with its model name (SATDUPUE) in the rest of the review. The JMicron JMB352U used in the SATDUPUE is a USB 2.0 / SATA II combo to dual SATA II port multiplier (1 to 2) bridge. The bridge chip also has a 8051 microcontroller embedded.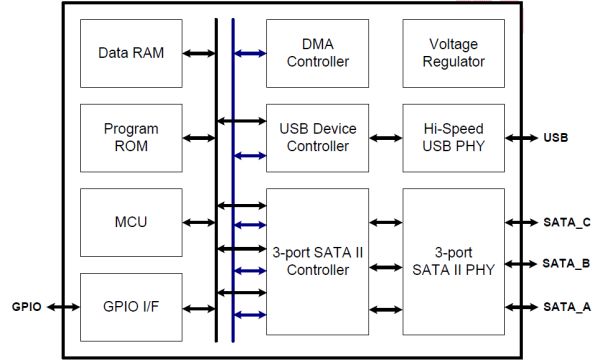 The SATDUPUE uses the above bridge chip in the following configuration.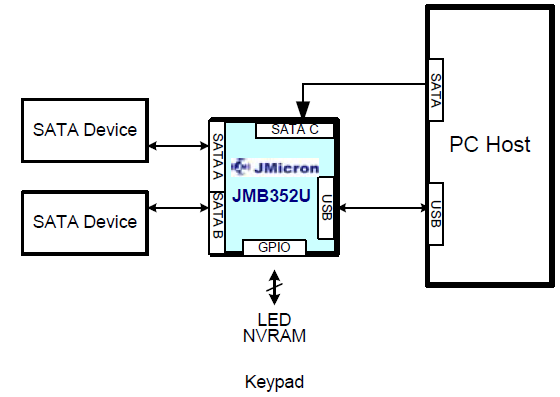 Note that the PC host and USB connection are not necessary in the standalone duplicator mode.