Battery Life
I ran through our standard general use battery life test for tablets on the Galaxy Tab 10.1 4G LTE. The test involves looping MP3s while browsing a predefined list of web pages (without Flash). At the same time a high volume email account is checked periodically. The display is set to never turn off/dim, auto brightness is disabled and screen brightness is calibrated to 200 nits.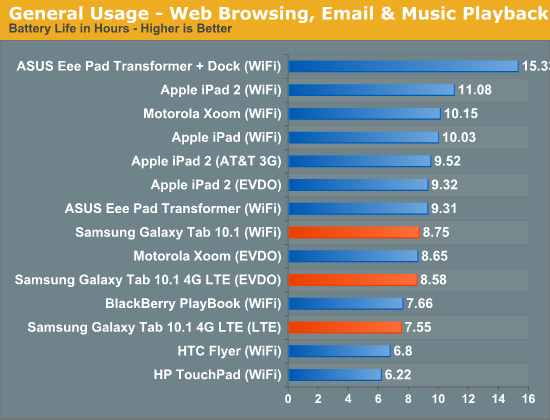 With LTE disabled, the Galaxy Tab 10.1 lasts about as long as the Motorola Xoom on EVDO. Our test isn't incredibly network intensive so moving to LTE doesn't change things all that much. The Galaxy Tab 10.1 lost about an hour with LTE enabled. With a huge battery, getting 7.55 hours of use on LTE isn't bad at all. In fact I'd say I'm pretty impressed by battery life of Samsung's first LTE tablet.
The Best LTE Hotspot?
It would be a downright shame if the LTE Galaxy Tab 10.1 didn't support the creation of a WiFi hotspot. Thankfully it does. Like almost all modern Android devices you can share the cellular modem in the Galaxy Tab 10.1 4G among multiple clients over WiFi. You can also share the connection with a single client via Bluetooth or USB.
I ran our standard hotspot battery life test on the Galaxy Tab 10.1. I used a single computer connected over WiFi to the LTE Tab to run four instances of our web browsing battery life test (two with flash and two without). Our test also plays back a 128Kbps stream from smoothbeats.com. During all of this the test tablet was asleep with its display turned off.
I also ran another hotspot battery life test on the tablet to look at the worst case scenario. For this test I downloaded files from a server to a WiFi tethered PC at the maximum speed of the LTE connection, averaging around 2MB/s. I continued to download until the tablet's battery died.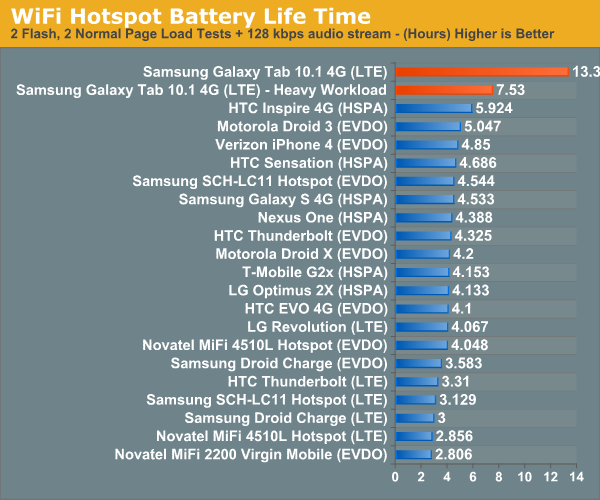 The results are just awesome. In our standard test the Galaxy Tab 10.1 lasted over 13 hours as a LTE hotspot. In our worst case scenario, we still got over 7 hours of continuous use out of the Galaxy Tab 10.1. If you were considering an LTE MiFi and a tablet, the Galaxy Tab 10.1 4G may be a good option. My only complaint here is the LTE connection is only shared over 2.4GHz WiFi. Although the Tab's hardware supports 5GHz, you can't choose to use the higher frequency 802.11n for the WiFi hotspot. This is a problem in areas where there are a lot of users occupying the 2.4GHz spectrum. At least there's USB tethering support.