Introducing the Puget Systems Obsidian
Today's review unit marks our third from Puget Systems. Thus far they've all been remarkable builds and this one proves to be no exception. Designed expressly for users (including businesses) who need the most reliable machine they can get, Puget has shipped us their Obsidian tower. On paper this machine is reasonable if unexceptional, but the choices behind its design are anything but ordinary.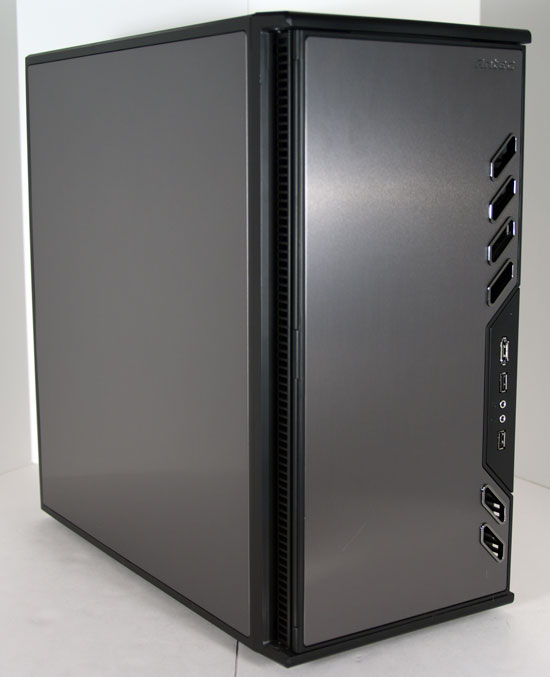 If you read our review of the Puget Systems Deluge Mini gaming machine, some of this configuration is going to seem a bit like deja vu. We mentioned in that review that Puget qualifies and chooses components through fairly rigorous testing and data collection, and we've been able to actually look at some of their data thanks to their CEO, Jon Bach. The seemingly unremarkable Obsidian line is most emblematic of that philosophy. Geared specifically towards enterprise and government use, the Obsidian is designed and backed expressly for maximum reliability.
Puget Systems Obsidian Specifications
Chassis
Antec Mini P180
Processor
Intel Core i5-2500K (4x3.3GHz, 32nm, 6MB L3, 95W)
Motherboard
ASUS P8H67-M EVO (Rev. 3.0) Motherboard with H67 chipset
Memory
2x4GB Kingston DDR3-1333 @ 1333MHz (expandable to 16GB)
Graphics
Intel HD Graphics 3000
Hard Drive(s)
Western Digital Caviar Black 1TB SATA 6Gbps HDD
Optical Drive(s)
ASUS DVD+/-RW Drive
Networking
Realtek PCIe Gigabit Ethernet
Audio
Realtek ALC892 HD Audio
Speaker, mic, line-in, and surround jacks for 7.1 sound
Optical out
Front Side
2x USB 2.0
eSATA
Headphone and mic jacks
Optical drive
Top
-
Back Side
PS/2
6x USB 2.0
2x eSATA
6-pin FireWire
DisplayPort
HDMI
VGA
DVI-I
Optical out
2x USB 3.0
Ethernet
Speaker, mic, line-in, and surround jacks for 7.1 sound
Operating System
Windows 7 Professional 64-bit SP1
Dimensions
8.3" x 17.2" x 17.1" (WxDxH)
Weight
20.9 lbs (case only)
Extras
Antec TP-650 650W Power Supply
Scythe Katana 3 Air Cooler
Warranty
1-year limited parts warranty and lifetime labor and phone support
2-year and 3-year warranties available
Pricing
Obsidian starts at $1,149
Review system configured at $1,307
On paper, the Obsidian is going to seem pretty unexciting. The included Intel Core i5-2500K has four physical cores specced to run at 3.3GHz, up to 3.7GHz in turbo, along with 6MB of L3 cache, but the real reason Puget opted for it in this build was due largely to Intel's freakishly bizarre market segmentation on their Sandy Bridge desktop processors. Intel opted to castrate the Sandy Bridge integrated graphics on every desktop chip except the ones no one would care about them on: the unlocked K-series processors. Given the decision to rely on integrated graphics for this build (especially because the ASUS P8H67-M EVO motherboard has every type of modern display connection available), it's easy to understand why the i5-2500K was chosen.
The rest of the parts are going to appear just as unexceptional, but when you check out the configurator on their site, you'll notice there are even less options for parts in the Obsidian than there are for any of their other machines, and this is by design. The Obsidian is very specifically meant for enterprise-class work with an extremely low noise level and power draw. As a result the industry standard 1TB Western Digital Caviar Black is a given, and as with the Deluge Mini only Intel SSDs are offered.
Again, pay attention to the details. Thanks to the ASUS P8H67-M EVO the Obsidian has every type of modern connection you could conceivably ask for--though it's fair to suggest that in enterprise situations serial or parallel connectivity may yet be required, as some larger businesses have a tendency to keep old hardware on hand without moving forward with the times. The Antec Mini P180 coupled with the Scythe Katana 3 air-cooler ensures the system runs cool and quiet.