Welcome to Honeycomb
The first Android tablets were laughable. Without changes to the UI Android doesn't scale well to a larger screen, not to mention the lack of tablet specific apps Oh but what's this? Android's all grown up: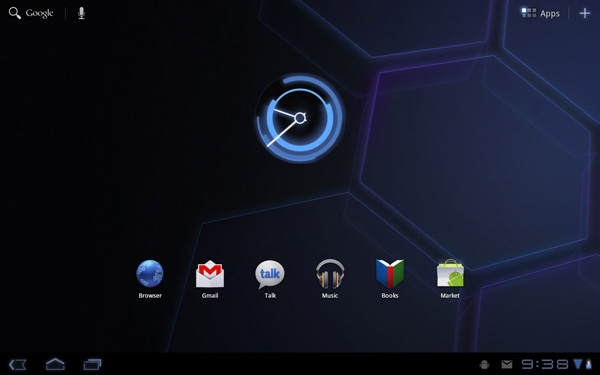 It doesn't look like iOS but it surely doesn't look like any version of Android we've seen before. Honeycomb is Google stating plainly that it can tear up blueprints and reinvent itself with the best of them.
Pick up any Android phone and you'll see four buttons, either capacitive touch or physical switch, along the bottom of the front face: Home, Menu, Back and Search. The order was up to manufacturer interpretation but all four had to be present. Honeycomb nixes two (Search and Menu) and adds one (Tasks). Google also moved the buttons from the screen bezel to on the screen itself - the buttons aren't just capacitive, they are a part of the OS.


Back, Home, Tasks
The order is fixed: Back, Home and Tasks. As of now there's no customizing the Honeycomb UI - say goodbye to Motoblur, Sense and TouchWiz. The location is also fixed: bottom left. My biggest complaint here are the icons themselves, they are unnecessarily ambiguous at first sight and do take some getting used to for Android and iOS users alike.
The entire UI motif is Tron meets Robocop. Swipe between home screens and you'll get a thin blue outline of the previous/next screens as you move. The fonts used for links at the top of the page are more expected, while everything along the bottom of the screen is a bit more 80s sci-fi. I don't personally believe this is ultimately what Google will settle on for tablet UIs, but it shows a willingness to try something new and different, which is the quickest way to ensure that Android will remain relevant as this market evolves.
I suspect the ideal tablet UI is probably not too far off what modern desktop OSes have become. While a smartphone's UI must be dramatically different due to the lack of screen real estate, a tablet UI just needs to be more efficient than its desktop counterpart - not necessarily very different.
I believe Google is beginning to realize this as Honeycomb has some very desktop-like elements in its design. What was once a pull down shade at the top of the UI is now a notification bar in the lower right of the screen, eerily reminiscent of the Windows system tray - just not as frustratingly cluttered.


Notifications
There are also clock, WiFi and battery status indicators down there, but I'll stop drawing parallels. The point is that this works well and I expect that we'll continue to see a lot of convergence between the desktop and tablet OS UIs (and eventually the OSes themselves, isn't evolution fun?).
Overall the UI is amazingly clean and very well done. It's not perfect, but I'm pleasantly surprised - all this time I thought Android was just super functional, who knew it could look great as well?