Conclusion
Credit must at least be given to Logitech for ingenuity: a clamp-on, USB speaker bar for laptops is a great idea. While sharing a laptop for viewing movies runs into all kinds of problems (like those dire notebook screens Jarred, Vivek and I are only too fond of griping about), at least with the Z305 sound isn't going to be an issue.
Actually, the funniest thing about the Z305 is the way it outclasses the pricier Z515. All the Z515 has going for it is wireless connectivity, and for a notebook replacement speaker (among other things), where the heck do you put it? To the right of your laptop? To the left? What kind of stereo listening experience is that? The Z305 winds up solving the practical issues the Z515 possessed: no need to worry about the battery or speaker placement. The Z515 winds up ultimately being the more flexible of the bunch, but jack-of-all-trades-master-of-none doesn't really cut it here.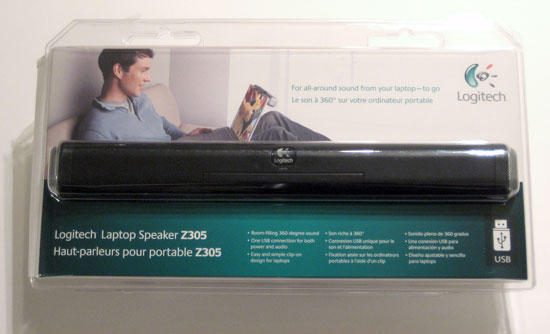 If you need decent external, travel-size speakers for your notebook, the Logitech Laptop Speaker Z305 is basically the only game in town. Mercifully, that's not necessarily a bad thing: while sound quality left something to be desired, it's still reasonable for the size of the speaker bar and the price. I listen to a lot of music and don't like being tethered to headphones, so I'm reasonably certain when I go to meet most of the cast and crew of AnandTech at CES in a month I'll be packing the Z305 to fill my hotel room.
That said, I'm not entirely sure how I feel about the price tag. While the sound quality is generally commensurate with a $60 pair of computer speakers, and you do get the bonuses of portability and a generally smart design, it's still not the kind of deal Ron Popeil or Willy Mays would be screaming at you about. At about ten bucks less the Z305 would be a lot easier to recommend, but Logitech seems to be putting a bit of a premium on their portable speakers these days.
At the end of the day, if you have a use for the Z305, you're not going to feel ripped off by parting with sixty bucks to get it. I'm just hoping that with the holiday season hanging around a sale will bring it from the realm of "reasonable exchange of funds for goods" to "excellent deal." [Ed: A quick search indicates that TigerDirect now has a $15 instant rebate, bringing the total to around $50 shipped.]