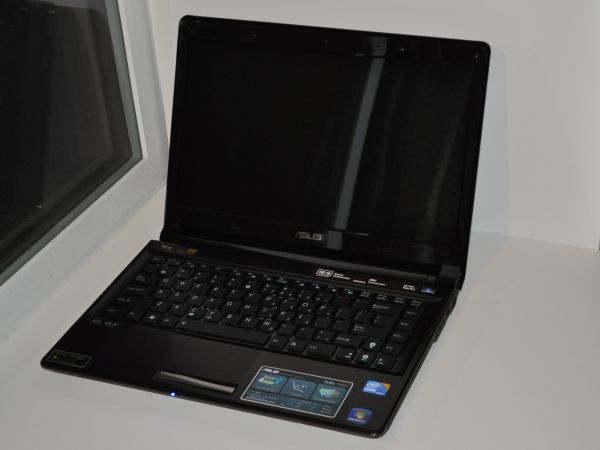 Back when ASUS released the UL80Vt last year, we gave it a glowing review, praising its balance of performance and battery life without breaking the bank. The UL80Vt had an overclocked Core 2 Duo SU7300, an NVIDIA G 210M with a manually switchable option, and ASUS' now standard (for the U/UL series) 84Wh battery. This gave it pretty solid performance, on par with larger mainstream notebooks, and close to 13 hours of ideal-case battery life, even with Turbo33 mode enabled. Today, we've got the UL80Jt, an updated version running the new Core i3-330UM processor and NVIDIA's Optimus-enabled G 310M graphics.
ASUS UL80Jt-A1 Specifications
Processor
Intel Core i3-330UM
(1.20GHz, 32nm, 3MB L2 cache, 18W)
Overclockable to 1.60GHz
Chipset
Intel HM55
Memory
2x2GB DDR3-1066
Graphics
NVIDIA GeForce G 310M 1024MB
(16SPs, 608/1468/1240 Core/Shader/RAM clocks)
Intel HD Graphics (Optimus Switchable)
Display
14.0" LED Glossy 16:9 768p (1366x768)
Hard Drive(s)
500GB 5400RPM HDD (Seagate ST9500325AS)
Optical Drive
8x DVDR SuperMulti
Networking
Atheros AR8131 Gigabit Ethernet
Atheros AR9285 BGN
56K Modem
Audio
HD Audio (2 stereo speakers with two audio jacks)
Battery
8-Cell, 15V, 5600mAh, 84Wh battery
Front Side
None
Left Side
Headphone/Microphone jacks
2 x USB
HDMI
VGA
Cooling Exhaust
AC Power connection
Right Side
Optical Drive (DVDRW)
Flash reader (MMC/MS/MS Pro/SD/xD)
1 x USB 2.0
Gigabit Ethernet
Back Side
None
Operating System
Windows 7 Home Premium
Dimensions
13.5" x 9.6" x 1.1" (WxDxH)
Weight
4.8 lbs (with 8-cell battery)
Extras
Webcam
86-Key keyboard
Flash reader (MMC/MS/MSPro/SD/xD)
Multi-touch touchpad
ExpressGate OS (8-second boot)
Warranty
2-year global warranty
1-year battery pack warranty
1-year accidental damage
30-day zero bright dot LCD
Pricing
ASUS UL80Jt-A1 starting at $869
Like its predecessor, the UL80Jt is a thin and light 14" notebook, sharing the same dimensions and form factor. Not much has changed on the outside, as we'll get to in a moment, but the insides are pretty different. The Core i3-330UM has a default clock speed of 1.20 GHz, and ASUS' Turbo33 utility gives it a 33% overclock, raising the total to a much livelier 1.60 GHz. The i3, unlike its more expensive i5 and i7 brethen, does not benefit from Intel's Turbo Boost technology, which will automatically adjusts clock speed for single or multi-threaded applications. The other change here is the not-so-new G 310M and the Optimus graphics switching technology. We've extensively covered both of these in the past, so I'll just gloss over them in the intro and go more in-depth in the graphics performance section.

As for the rest of the specs, we've got a 1366x768 resolution 14" screen, 4GB memory, 500GB hard drive, 2.4 GHz wireless-G, and that glorious 84Wh 8-cell battery. What's interesting to note is that there is no Bluetooth to be found here, even with an $869 pricetag. We'll have to see if the revised UL80 can top the equally well rounded and more powerful U30Jc that also earned our Bronze Editor's Choice award.