From a variety perspective, the Radeon HD 6800 series is certainly the most interesting Radeon *800 series launches in recent history. AMD typically launches with (and only with) reference cards, and then in time partner-customized cards show up as AMD approves the designs and partners have the time to do the engineering legwork to make custom cards. In the case of the 5800 series this was a particularly long period of time, as TSMC's production shortage meant that AMD was intentionally shipping out reference cards as fast as humanly possible; and as a result we didn't see our first custom 5800 series card until 6 months later in February of 2010. It was a much more controlled launch than normal for AMD.
The 6800 series on the other hand turns that on its head, giving us a much more liberal launch when it comes to card designs. While the 6870 series launched and is still all-reference, the 6850 is the opposite, having launched with a number of custom designs. In fact you won't find a reference 6850 in North America unless you're a hardware reviewer. With an all-custom launch the door is opened to a wide variety of cards with a wide variety of performance characteristics, so we have wasted no time in collecting a few cards to see what they're capable of – after all we've seen what the non-existent reference card can do, but how about the cards you can actually buy? And how about overclocking, do the latest 6850 cards continue the tradition of the *850 being strong overclockers? Today we're going to answer all of that and more.
| | | | | |
| --- | --- | --- | --- | --- |
| | AMD Radeon HD 6850 | XFX Radeon HD 6850 | MSI R6850 OC | Asus EAH6850 |
| Stream Processors | 960 | 960 | 960 | 960 |
| Texture Units | 48 | 48 | 48 | 48 |
| ROPs | 32 | 32 | 32 | 32 |
| Core Clock | 775MHz | 775MHz | 820MHz | 790MHz |
| Memory Clock | 1GHz (4GHz effective) GDDR5 | 1GHz (4GHz effective) GDDR5 | 1.1GHz (4.4GHz effective) GDDR5 | 1GHz (4GHz effective) GDDR5 |
| Memory Bus Width | 256-bit | 256-bit | 256-bit | 256-bit |
| Frame Buffer | 1GB | 1GB | 1GB | 1GB |
| FP64 | N/A | N/A | N/A | N/A |
| Transistor Count | 1.7B | 1.7B | 1.7B | 1.7B |
| Manufacturing Process | TSMC 40nm | TSMC 40nm | TSMC 40nm | TSMC 40nm |
| Price Point | $179 | ~$189 | ~$199 | ~$185 |
The first wave of 6850 cards launching were stock-clocked cards. Our intention had been to grab all stock-clocked cards, but manufacturers have been racing to get factory overclocked cards out the door, and we ended up with 2 overclocked cards after all: the Asus with a token 15MHz core overclock, and the MSI with a more serious 45MHz core and 120MHz(480MHz effective) memory overclock. Expect to see many more overclocked cards soon, as manufacturers are eager to get their more profitable overclocked cards out, typically rolling them out along with additional levels of customization such as custom PCBs.
As we'll see in our performance results, it's interesting to note that while no two cards are alike in terms of temperature and acoustics, the resulting overclocks were all highly similar. At stock voltage all of our cards could hit at least 850MHz core, and with 6870 voltages (1.172v), all of them hit 940MHz. At even higher voltages such as 1.22v we're able to push a couple of these cards up to 960MHz core, but it looks like 940-950MHz is the sweet-spot for the 6850 based on the results we're seeing today. Meanwhile the memory hits a solid wall at 1150MHz (4.6GHz effective); none of our cards would do 1200Mhz (4.8GHz effective) which makes sense given that AMD purposely used a slower memory controller as a tradeoff for a smaller die.
It's also interesting to note that while the load voltage on our reference 6850 was 1.094v, all of our cards here today (even the non-overclocked XFX) feature a higher voltage of 1.148v. At this point we're still trying to get to the bottom of this, as AMD hasn't been able to get back to us with a reason for why we're seeing this discrepancy. The load voltage is a significant factor for the amount of power drawn (and heat generated) by cards, which means none of our partner 6850s have been able to match the reference 6850 in this aspect. We're trying to make sure that 1.094v is indeed the 6850's stock load voltage, or if we need to revise our previous results.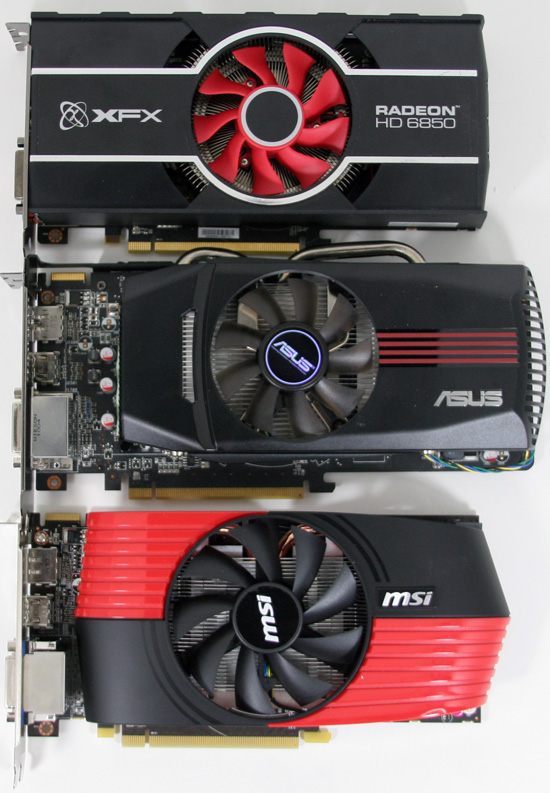 In any case, today we'll be looking at 3 partner cards alongside our reference 6850: the XFX Radeon HD 6850 (HD-685X-ZNFC), the Asus EAH6850, and the MSI R6850 OC. This represents a diverse group of cards, ranging from short & stubby cards to longer cards with custom PCBs, and everything in between.