The GoFlex ships with a driver CD supporting both Microsoft Windows and Apple's Mac OS. Seagate uses an Axentra based OS with a front end provided by Memeo for software control of the GoFlex drive (we're testing the Windows version here):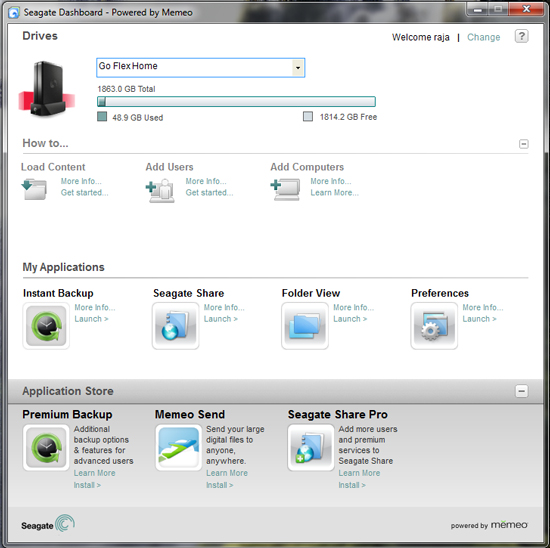 First-time setup is painless, the software will prompt you to setup a master account (mandatory for access), install the Seagate Dashboard user utility to the system tray and then proceed to map three folders to the OS:

Media/music files placed in the Public folder are available to DLNA/iTunes by default.
As soon as the master user account has been created, you're free to upload files to the GoFlex Home. If it's media/music streaming you're after, simply upload files into the Public folder and they'll be available on the network to DLNA and iTunes.
The Dashboard utility is supplied by Memeo, and allows complete/partial system backups, file shares, admin control and also provides a link through to Seagate's Premium services, which allow an unlimited number of user accounts to be added at a cost of $19.99 per annum - by default only five user accounts can be created although multiple logins per account are allowed. Personally we'd have preferred it if Seagate had allowed the creation of more than five user accounts for "free" considering that we've got 2TB of storage on tap here.
Here's a breakdown of the features on offer in the standard and Pro versions of Seagate Share: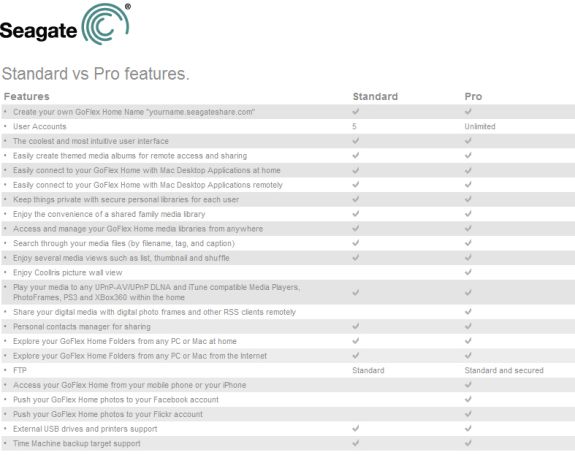 Unlimited user accounts, secure FTP and direct publishing to Facebook and Flickr accounts all come at a price...
Seagate Share
The Seagate Share web utility is accesed via Dashboard and has three options: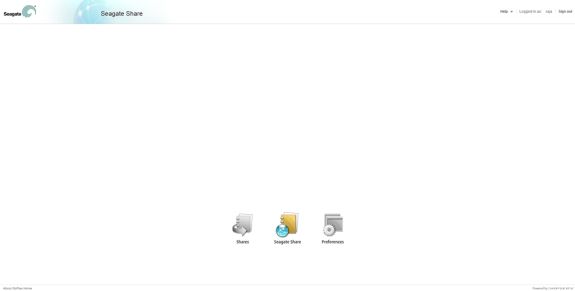 Click to enlarge
Share: access to personal shares (media files, directories that you've shared with other users).
Seagate Share: this provides the logged in user with access to the public folder as well as private and backup files under their ownership – from here one can add these to a public share folder (or create a new public share folder) for global access. This section also provides access to any USB drives plugged into the GoFlex base unit.
Preferences: Admin control for user accounts and device settings.
Most of what is needed is available in the admin control section. One thing we don't like about the GoFlex though is that if you assign a static IP address to the unit, the settings will be lost in the event of a power cycle/power outage. True, most people won't need to assign a manual DHCP address in a home environment, but one would expect a static IP address to hold if need be.
Remote Access
One of Seagate's key features with the GoFlex Home is that you can access the drive remotely via the internet - WWW.SeagateShare.com. Again it's all about ease-of-use, provide the drive with a name for recognition and the software takes care of all setup criteria incuding the router for port forwarding to the GoFLex's IP address. Once at WWW.SeagateShare.com, simply enter the drive name and provide user account details, which will log you in and take you to the Seagate share screen (shown above) - it couldn't be simpler.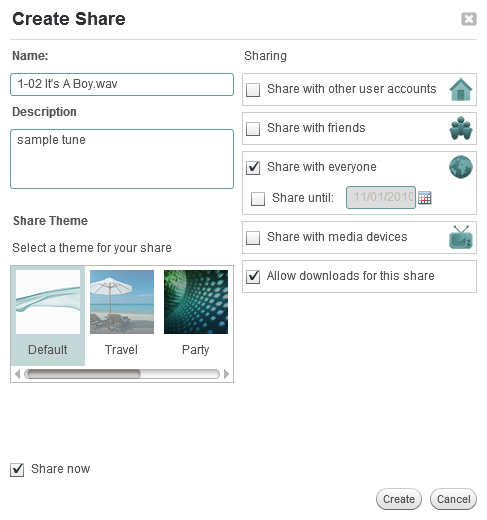 Creating a share is a doddle, the GUI is well laid out and lets you select specific users or media devices to share with. You can also make a global public share that will provide a hyperlink that you can email to friends so that they can view or download files.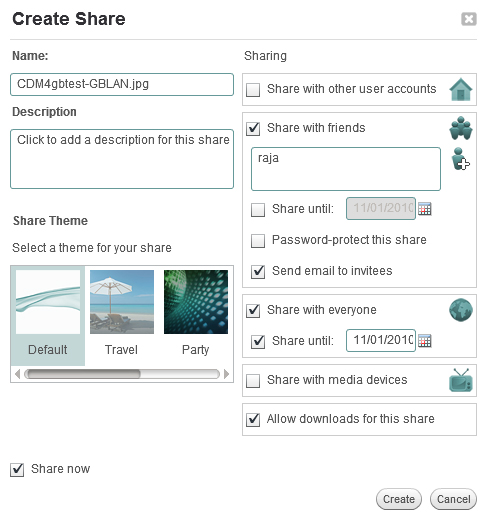 Lastly, there's Memeo Backup, which we've already covered here.