Appearances and Impressions

Out of box, the Dell G2410H makes a good first impression, though you'll fast notice that it's a relatively straightforward design approach. It's the same Dell styling, no-nonsense feel wrapped up in a classy but businesslike manner. The frame is matte black plastic, and although it's made up of recycled plastics, you wouldn't know it from how it looks or feels - it's solid all over. There isn't anything artificial about that.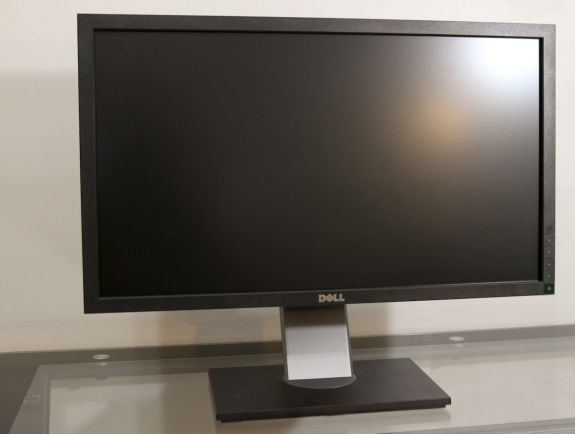 Considering this higher-end stand is the refresh that merited the H in G2410H (for height adjustable), we'll go over what's changed. The new supplied stand, as mentioned before, is essentially the same as you'll find with other height adjustable Dell monitors. Dell quotes a vertical travel of 4 inches, which is what we measured in practice as well. From the pictures in the gallery, you can see that the monitor goes all the way to the bottom (leaving a few mm of space), and all the way to the top, an impressive amount of travel. The mechanism is balanced just as it should be, requiring just enough force for adjustment yet enough tension to keep the display securely at your preferred height while rotating. You do get about ±30 degrees of rotation, which is welcome. Unless you're using a VESA mount (which the G2410 and the G2410H do have) there's no excuse for not offering a height-adjustable vertical stand at very minimum. It's good to see that Dell went this route.

What's puzzling about the G2410H is its aspect ratio. At 24" and 1920x1080, this display is 16:9. Considering that its market target is likely business and office productivity, we find ourselves wondering why 16:10 wasn't a better choice. Compound the lack of HDMI or component video inputs, and the 1080P choice seems puzzling indeed. The preponderance of 1080P displays on the market has been overwhelming over the past year as HDTV standards have become the norm. As of this writing, just over 60% of the 24" LCDs on Newegg are 1920x1080. The deciding factor between 16:9 and 16:10 ultimately comes down to application. Console videogaming and HD movie playback undoubtably benefit from a native 1080P display; there's less worry about the panel properly implementing 1:1 pixel mapping or having some bad scaler. On the other hand, it's very arguable that 16:10 is the more dominant PC gaming resolution, and lends itself to more native side-by-side window productivity. Suffice it to say, for a business monitor, 16:10 seems the logical choice.

On the front of the panel are the OSD controls, and just above them is the ambient light sensor. The sensor lies at the core of the G2410H's eco-friendly universe, modulating the backlight intensity with ambient light levels. Suffice it to say, this is something you'll either love or hate. Rest assured that the LCD is still an energy-sipper regardless of how far you push it, but we found the ambient light sensor to be a bit too aggressive. The OSD is straightforward and responsive, and you'll notice that "Energy Gauge" up top, which we'll again explain in detail in a second.
The G2410H has minimal input processing lag as we'll show later, and we didn't notice any delay powering up the LCD or changing resolutions. Display lag changing resolutions and detecting the appropriate scaler settings can be particularly annoying when dealing with BIOS POST (is it F2 or F12?!) or playing games at non-native resolution; thankfully we didn't encounter anything greater than a standard 1-2 seconds. This is (at least for us) a critically important detail that makes the difference between making it into our bootloader or BIOS menu instead of another reboot and subsequent gnashing of teeth.

Viewing angles are good for a TN panel, blatant color distortion doesn't occur until you're viewing the monitor from very steep negative vertical angles, a safe place to sacrifice. Horizontal angles are very good out to the extremes, with no visible distortion


First impressions with the G2410H are overall pretty good. It's an interesting and unique display (that really does use little electricity) in a segment packed full of rather bland 24" offerings that fail to really inspire. But enough of that subjectivity, how really good is it?